20 Best Shopping Experiences in Phnom Penh
Where to Shop and What to Buy in Phnom Penh
Phnom Penh shopping experiences may not be on par with shopping destinations in Southeast Asia like Bangkok or Singapore, but it's something you shouldn't dismiss. The city has a lot to offer the discerning shopper, as well as souvenir and bargain hunters.
It's not just about steamy local markets or cheap knock-off bags and watches any more. Local markets (you can find a phsar on almost every corner of Phnom Penh), modern shopping malls and individual boutiques are all waiting to greet you, and all with that famous Cambodian hospitality. This list of the best shopping in Phnom Penh comprises spots from all over the city so you can be sure you won't miss out on anything.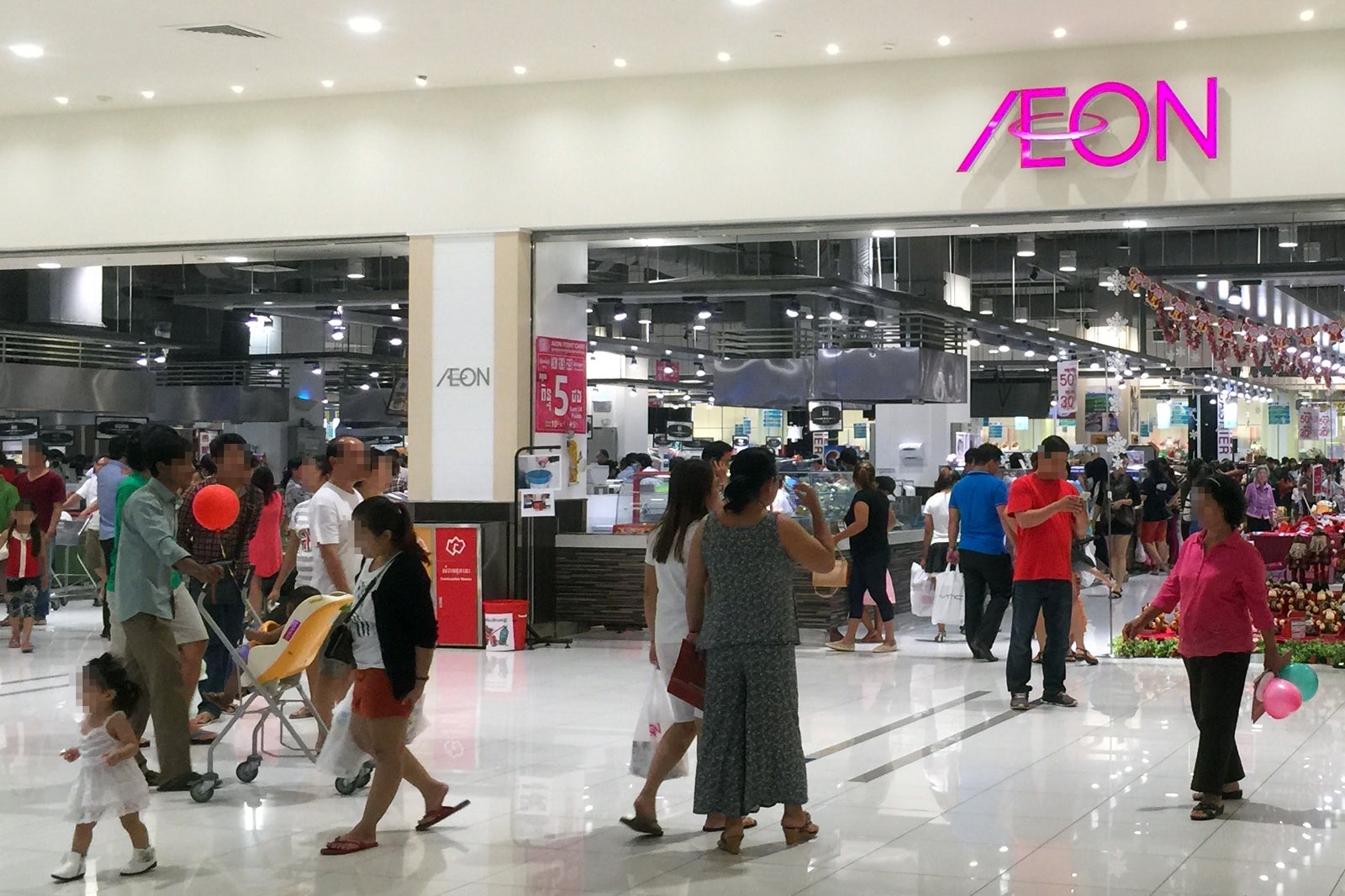 The 68,000-sq-m Aeon Mall opened in mid-2014, giving Phnom Penh a world-class shopping mall. It houses brand stores such as Sheridan, Mango, Levi's and Adidas to name just a few, along with Aeon's own store selling well-known brands, homeware and groceries.
There's an extensive food court on the top floor, along with a modern entertainment complex, including a movie theater, karaoke lounge, bowling, arcades, and even ice skating! Among the services at the mall, you'll find an airline sales center on the ground floor, along with dry cleaners, western chemists, travel agencies and banks.
Like any mall, the food venues are many and varied — from food hall vendors to top-class restaurants — but don't expect Cambodian street food or street food prices. It's the place to shop and relax in air-conditioned comfort to escape the heat, noise and smells of the Phnom Penh street.
Location: 132 Samdach Sothearos Blvd (3), Phnom Penh, Cambodia
Open: Daily from 9am to 10pm
Phone: +855 23 901 091
photo by Vanquish0 (CC BY-SA 4.0) modified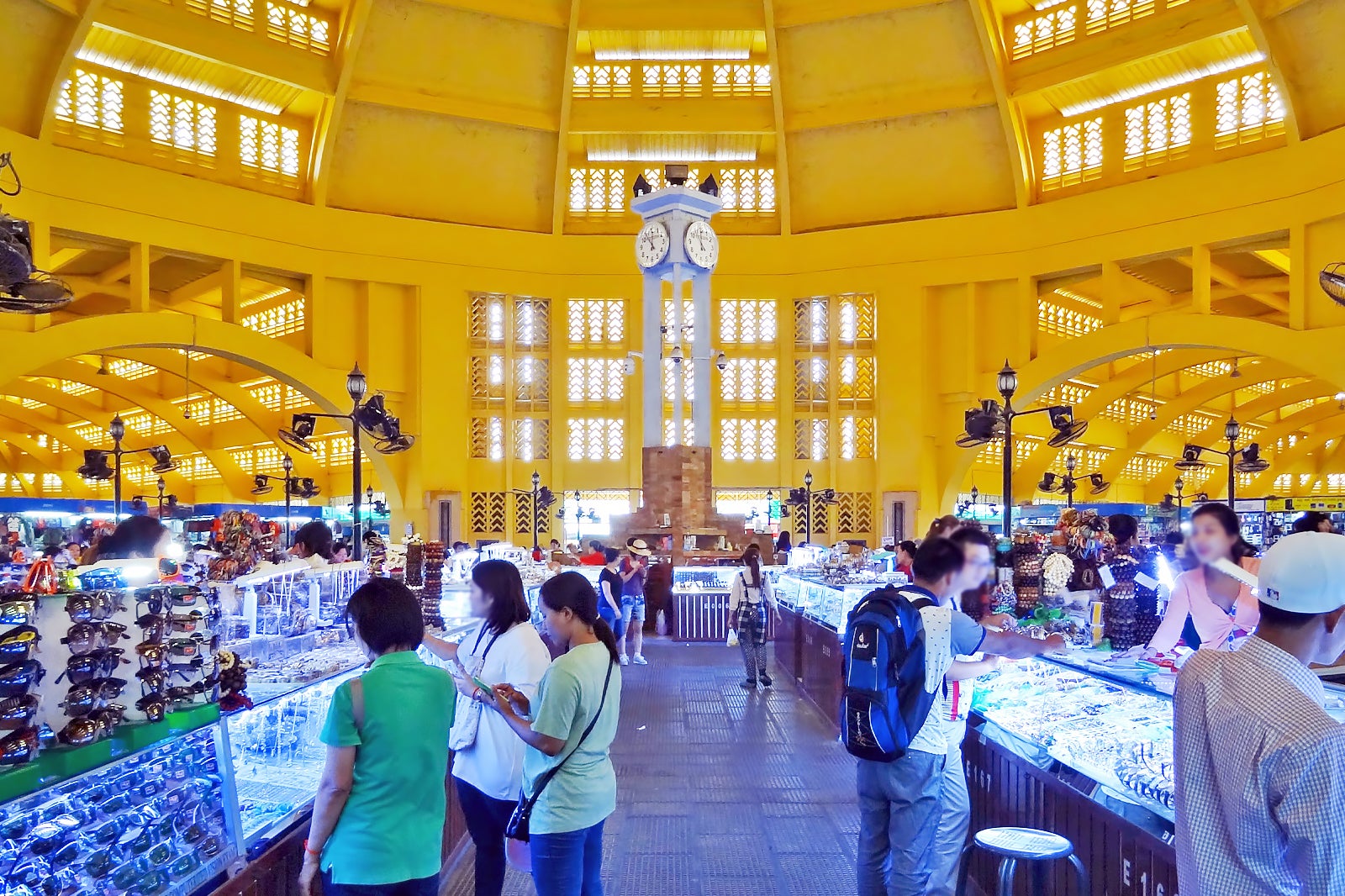 Central Market (Phsar Thmei)
The Central Market in Phnom Penh is an architectural stand-out that was the work of famous Cambodian architect Vann Molyvann. The art deco-inspired and cross-shaped building sits under a golden dome. It's worth a look even if you're not hunting for souvenirs and knick-knacks.
Jewelry, watches and gold stands dominate the central area under the dome. Some of the gems are real, from Cambodia's near-exhausted gem fields, and most of the silver and gold items are real, though you'll pay current trade prices, so don't expect to get them for a steal.
Each of the 4 wings sell clothing, shoes, household items, and electronics. It's fairly haphazard but adds to the enjoyment of wandering around inside the huge space. Around the outside – in the space between the wings – you can find some stands selling tourist favorites (T-shirts, Buddha statues, Angkor Wat paintings) and souvenirs as well as a good selection of stands selling fresh flowers. The food stalls are on the western side, towards Monivong Boulevard.
Location: Calmette St. (53), Phnom Penh, Cambodia
Open: Daily from 7am to 6pm
photo by Olaf Tausch (CC BY 3.0) modified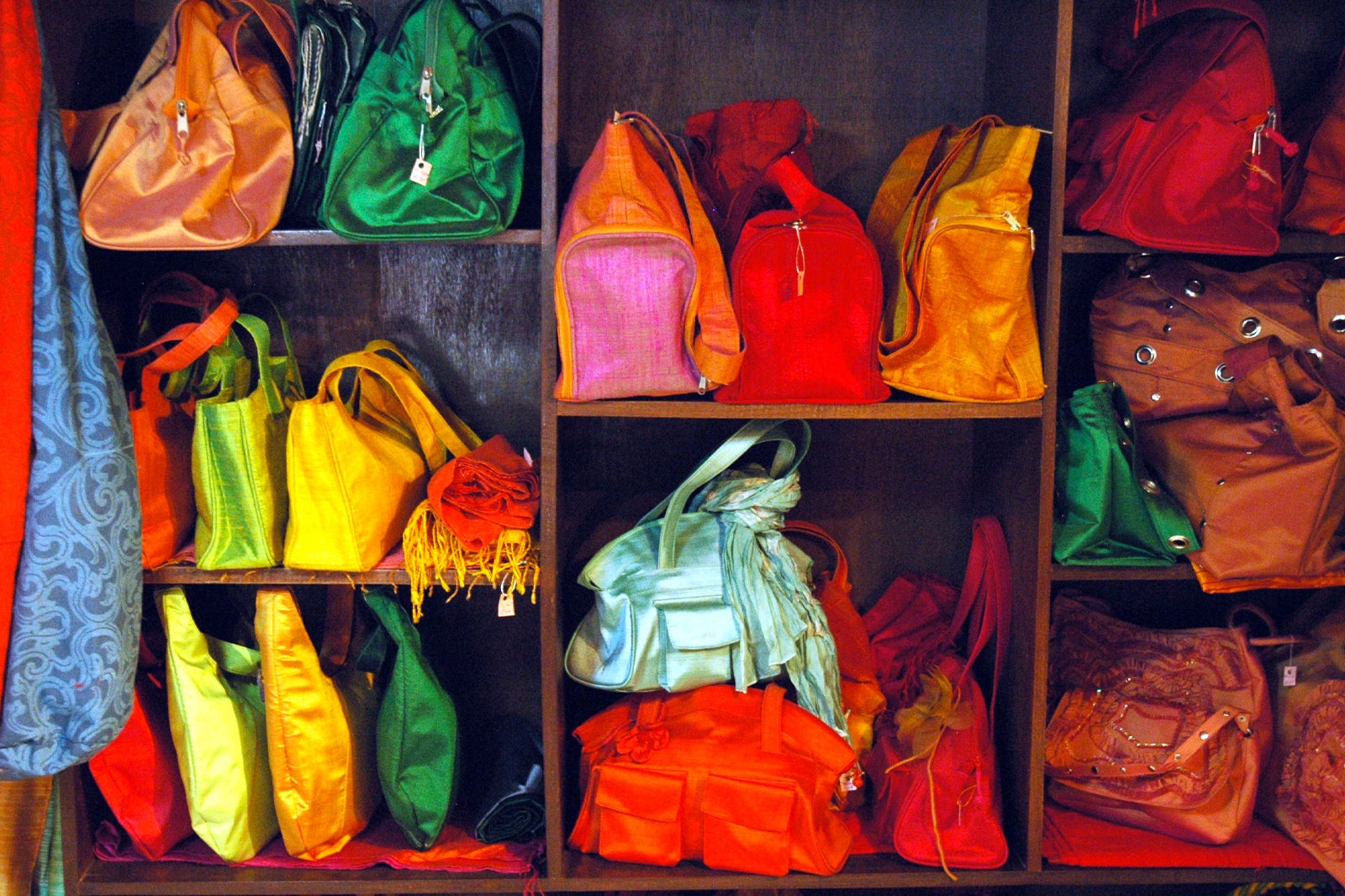 Kravan House was established in 2003 to help land mine victims and family groups. They have a line of quality silk clothing, accessories, and souvenirs. Kravan works directly with individuals and groups to improve their quality of life and support their families through the income they earn by producing these products.
Location: #13 Street 178, Phnom Penh, Cambodia
Open: From 08:00 to 21:00
Phone: +855 12 731 770
photo by MGA73bot2 (CC BY-SA 4.0) modified
Lucky Supermarket has several locations in Phnom Penh and Siem Reap. Lucky is the largest supermarket chain in Cambodia. They are not quite on the scale you would find in more developed countries, but they are actual supermarkets with a good selection of local and international brands. There's also a department store at the Sihanouk Blvd. store.
Location: Preah Sihanouk Blvd (274), Phnom Penh, Cambodia
Open: Daily from 8am to 9.30pm
Phone: +855 81 222 028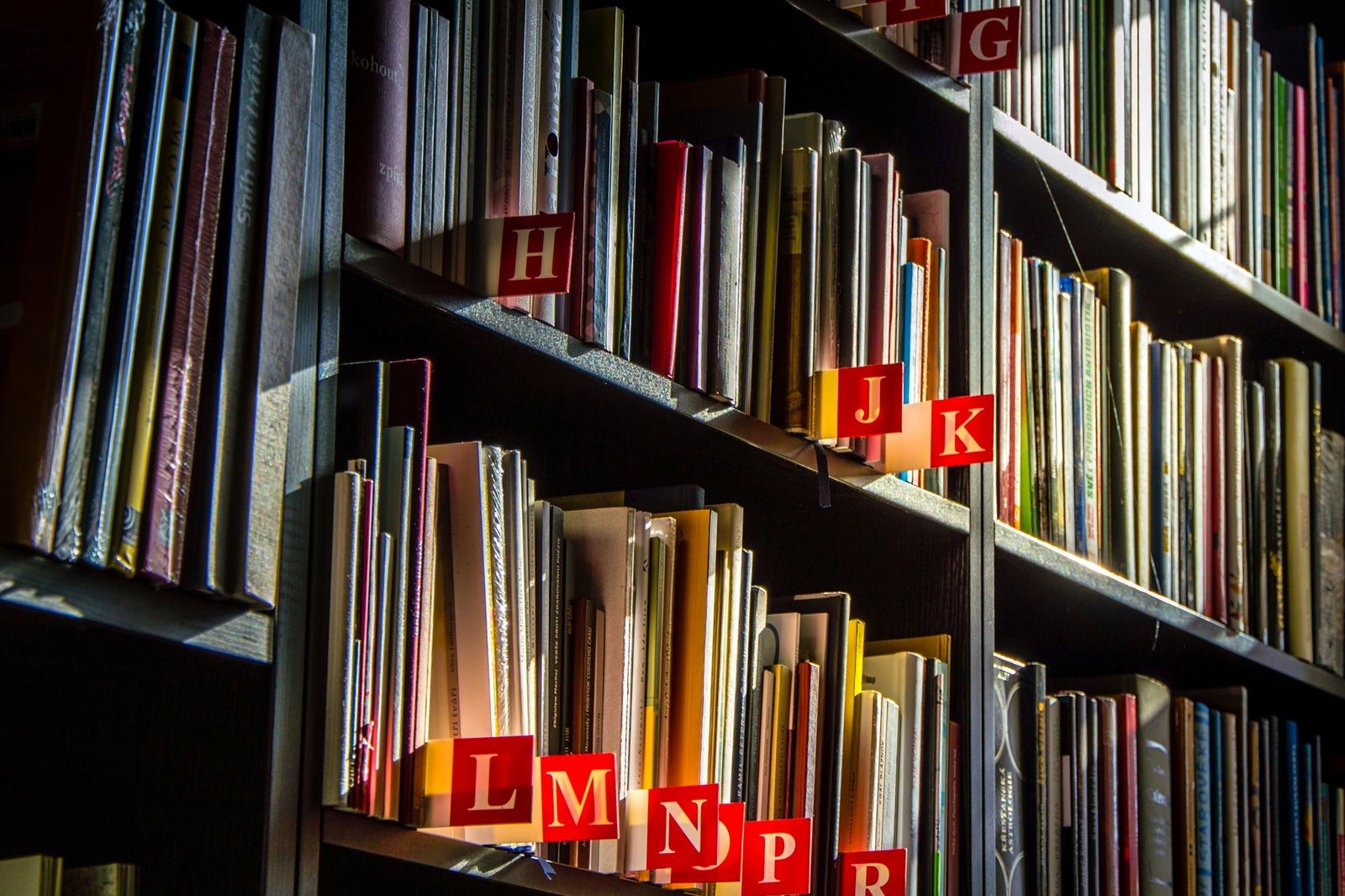 Monument Books is a full-fledged book store with a huge selection of international newspapers, magazines, travel guides, children's books and toys, as well as books on a wide range of subjects, of course.
Most publications are in English, but other languages are available as well, including Khmer and French. You can find most publications and periodicals you are looking for here. There's a café upstairs. They also have a shop in Phnom Penh International Airport.
Location: Norodom Blvd (41), Phnom Penh, Cambodia
Open: Daily from 8am to 8pm
Phone: +855 23 217 617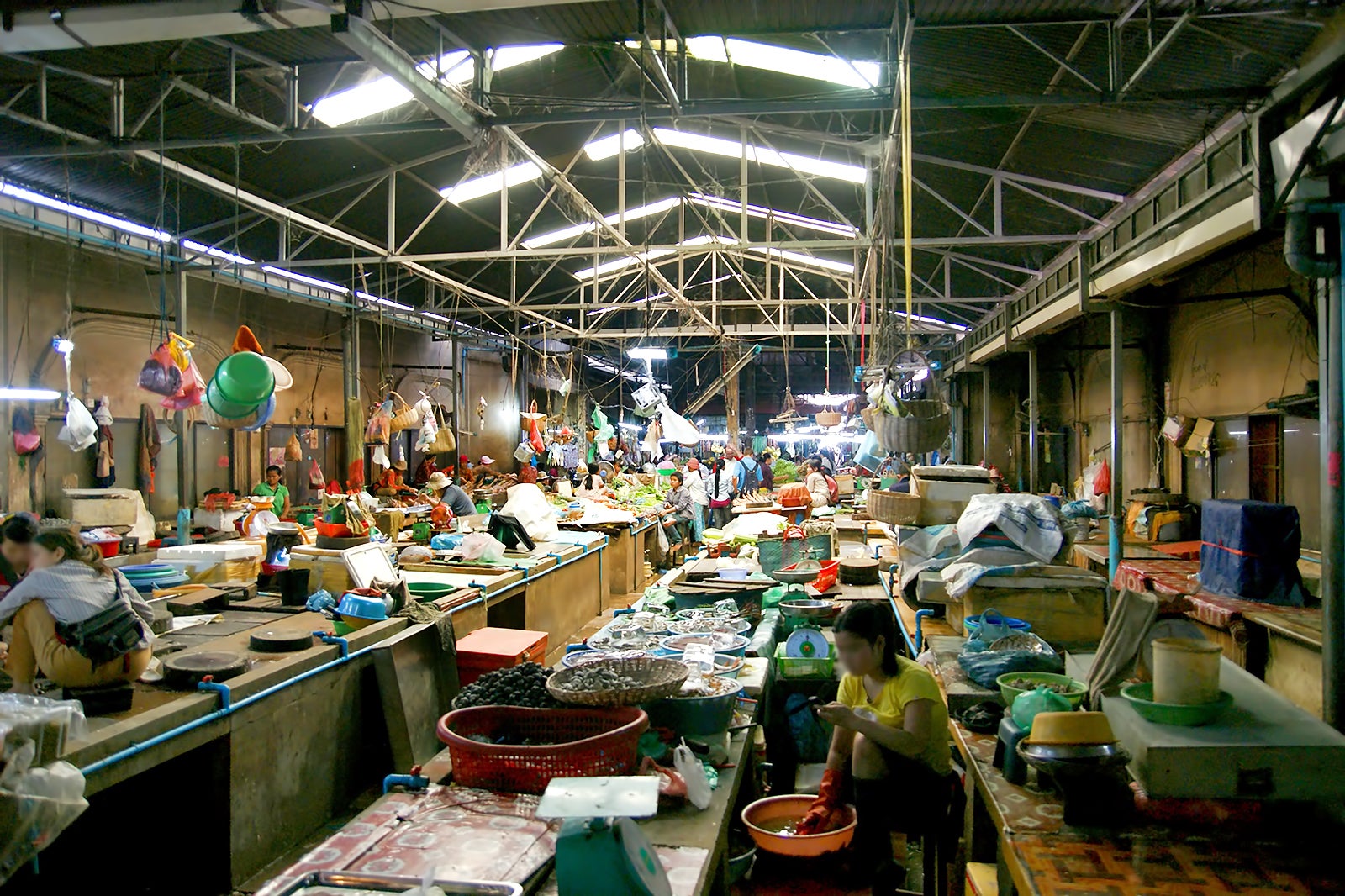 The Old Market in Phnom Penh has been in its current location since the French colonial times and is the oldest market still operating in Phnom Penh. This is truly a locals' market, popular with Khmer people, so a visit will give you the experience of a truly authentic market.
Phsar Chas offers a wide range of clothing, handicrafts and textiles, along with motorcycle parts and fruits and vegetables. Towards the evening on weekends, the food vendors will set up mats along Street 13 for the evening market. The market closes at sunset, but the stands located on the south side selling souvenirs will often stay open until well after 8pm. You can reach the market on Street 108, just behind the Night Market and next to Freedom Park.
Location: Phsar Chas, Phnom Penh, Cambodia
Open: Daily from 5am to 6pm
photo by Allie_Caulfield (CC BY 2.0) modified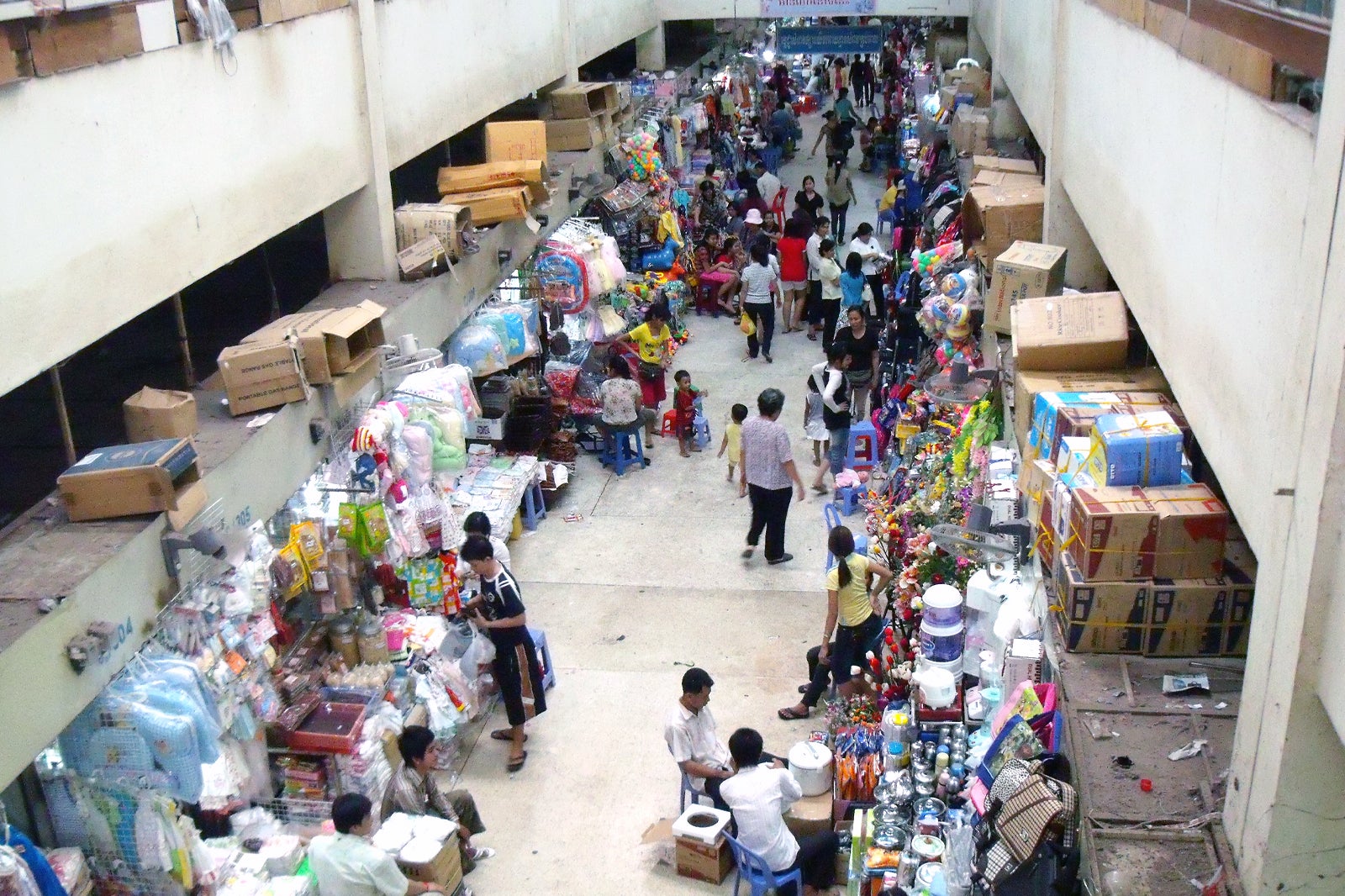 Olympic Market (Phsar Olympic)
Olympic Market is a triple-storey market near the Olympic Stadium, and features mostly wholesale goods. For this reason, it's popular with local residents buying in bulk. They have fabrics, clothes, religious items and traditional Khmer dresses. Buyers can sometimes find big discounts.
Location: 95 St 286, Phnom Penh, Cambodia
Open: Daily from 8am to 6pm
Phone: +855 23 216 666
photo by GuillaumeG (CC BY-SA 3.0) modified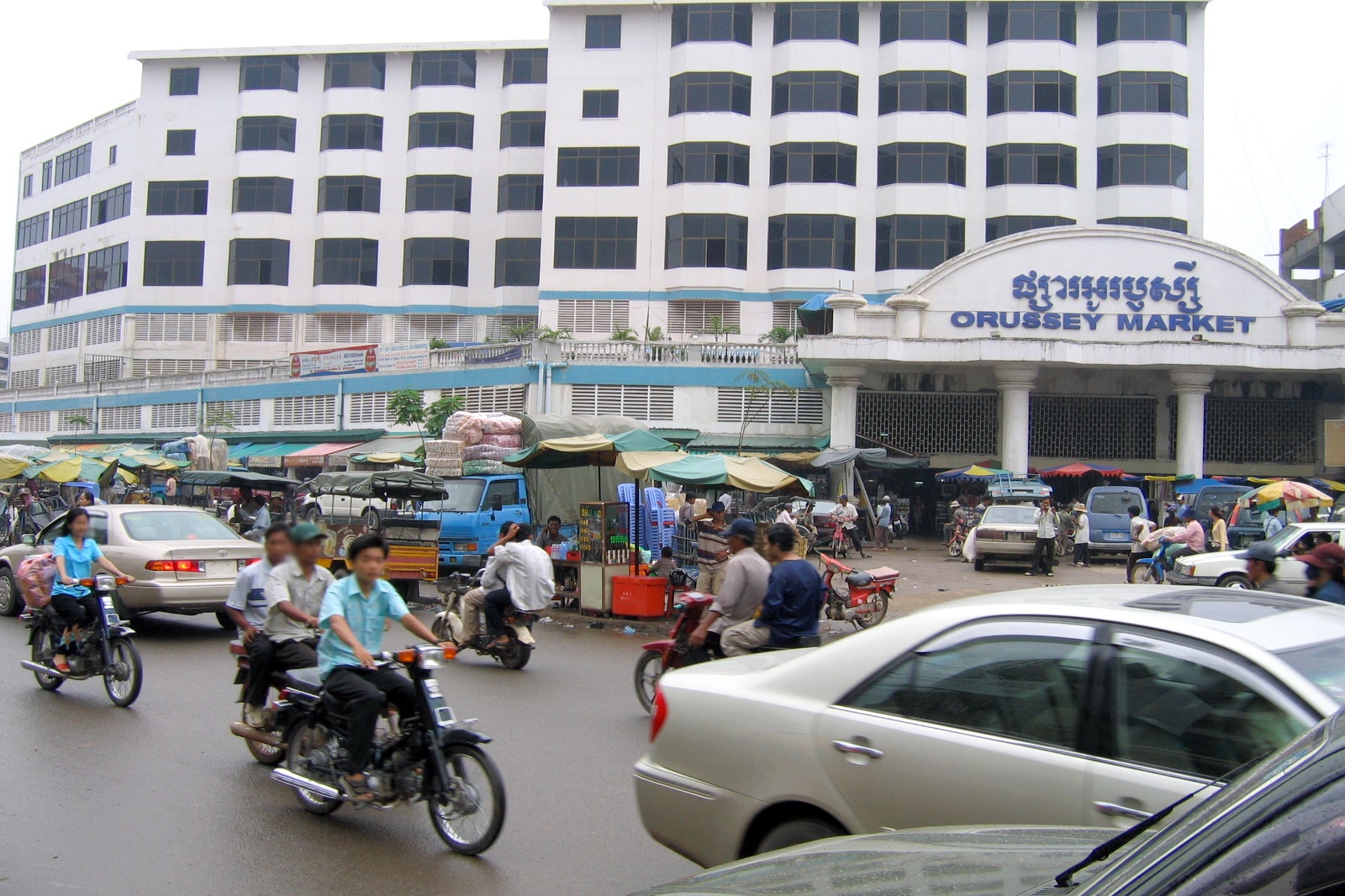 Orussei Market (also called OuRuessei Market or Phsar Orussey) is the largest old-style market in Phnom Penh, which is spread across 3 floors. Not very well-known to tourists or even expats, this large building is just 5 minutes by tuk tuk from Central Market, and is the place where many Cambodians shop for everyday items.
You can find everything from food, household items, garden tools and electronics on the ground floor to jewelry, tailors, fabric and clothing on the 2 other floors. The top floor is especially popular with locals as a factory-style outlet for a lot of the well-known brands that manufacture their clothes in and around the city.
Prices at Orussei Market are much cheaper than you will pay at home, but you'll find mostly smaller sizes to suit the Cambodian shoppers. While bargains can be had, this market is so big that you can easily get lost in the labyrinth of aisles and stalls. You can find the market on Street 182, west of Monivong Boulevard.
Location: Oknha Tep Phan St. (182), Phnom Penh, Cambodia
Open: Daily from 8am to 5pm
Phone: +855 85 833 315
photo by Sundgauvien38 (CC BY-SA 3.0) modified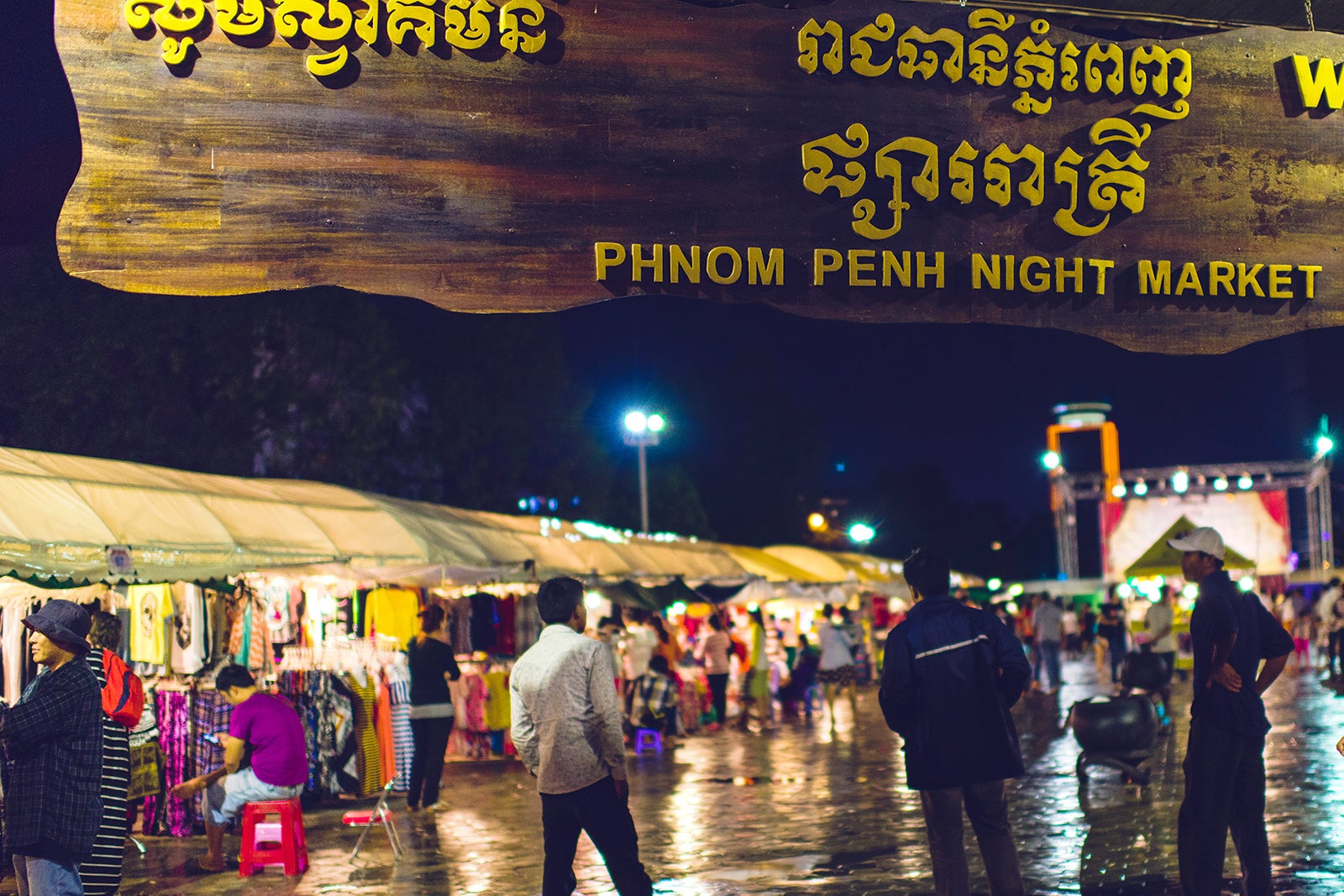 Phnom Penh Night Market (Phsar Reathrey)
The Phnom Penh Night Market is a popular spot for tourists and locals and has a relaxed atmosphere. The locals mostly come for the evening entertainment on the main stage (such as singers, performers or company promotions) and to eat at the food stalls.
While there is more on sale by locals for locals here, tourists and visitors can find handicrafts, clothing, wood carvings, etc. The main reason to come here is to mingle with the locals and try the local food at the open-air food court behind the main stage. You'll be able to sample some traditional Khmer street food while eating with the Khmer families sitting down on mats, set up on the grass, or (if you're lucky) at one of the tables with plastic chairs.
Location: Sisowath Quay, Phnom Penh, Cambodia
Open: Daily from 5pm to midnight
Phone: +855 23 222 839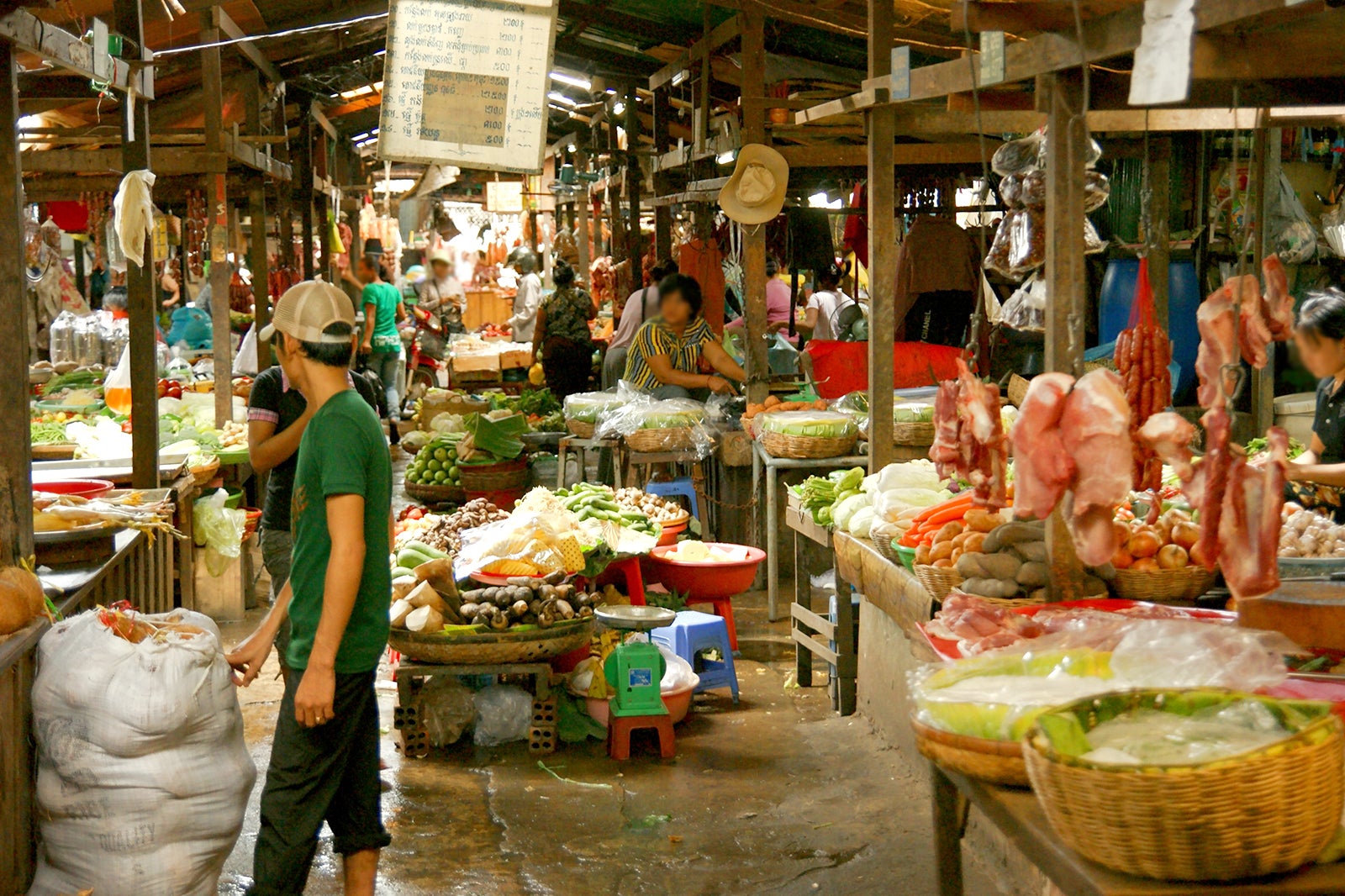 Russian Market (Phsar Toul Tom Poung)
The Russian Market gets its name from the 1980s, when it was first popular with foreigners, most of whom were Russian. That's contrary to the popular myth that this is where Kalashnikov rifles were readily sold! These days, you'll find expats, locals and tourists from all over the world winding their way through the market's inner maze.
You can find almost everything here: clothing, souvenirs, artifacts, antiques, paintings, jewelry, lamps, kitchen utensils, shoes, silk scarves — even parts for your scooter! You also have a nice display of the usual tourist fare in the form of knock-off watches and luggage. The food area is very interesting to wander around, though be careful of the wet floor near the fresh food area as it can be slippery. Stop for lunch or a snack on the delicious local food offerings to recharge between your bargain hunts.
The streets immediately surrounding the Russian Market also house many interesting shops that are worth checking for antiques, silk or even western food. Find the market on the corner of streets 440 and 155, south of Mao Tse Toung Boulevard in Boeung Keng Kang.
Location: St. 163 Corner of St. 444, Phnom Penh 12310, Cambodia
Open: Daily from 6am to 5pm
Phone: +855 77 333 818
photo by Allie_Caulfield (CC BY 2.0) modified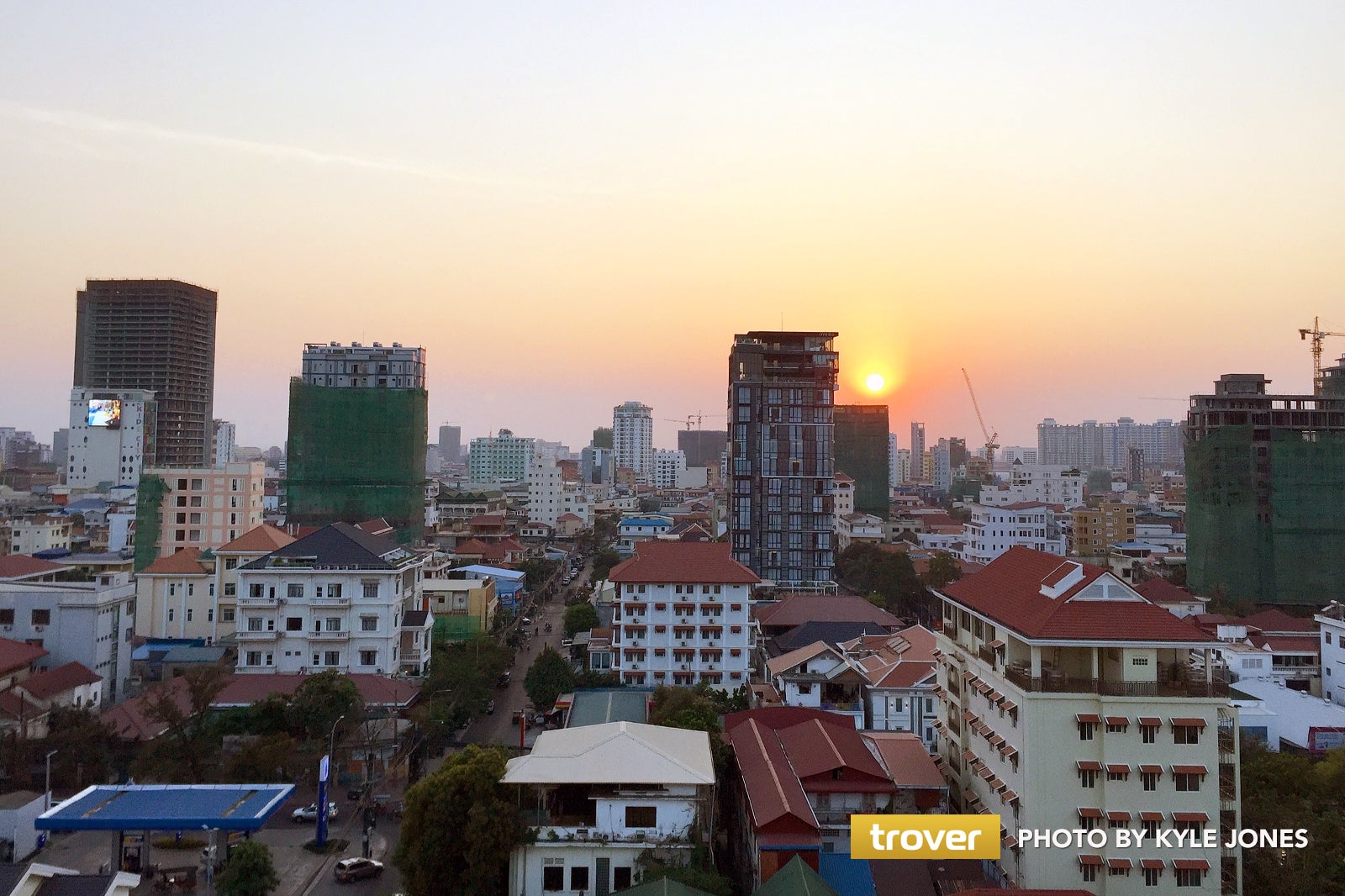 Street 240 is a nice, quiet street behind the Royal Palace in Phnom Penh, with a lot of shops and eateries in old French colonial houses. You'll find a mix of boutique fashion shops, souvenir shops, cafés, shops belonging to charities, and NGOs promoting fair trade and goods made by locals.
The street is a great place to find small, independent fashion boutiques selling unique clothing made of local fabrics and silk, as well as unique jewelry shops tucked away behind a garden and selling items made of "buttons". There are also stores selling second-hand books and a volunteer library offering a reading room. Textile shops offer their wares for home decoration or clothing, and cooperative clothing stores showcase fabrics locally designed and woven, providing a fair wage to employees. If you're tired of the usual Southeast Asian trinkets gifts and souvenirs, this is the place to find something different.
Location: Oknha Chhun St. (240), Phnom Penh, Cambodia
Open: Most shops daily from 8am until late
Sorya Center Pint Mall is a mall that's centrally located in Phnom Penh. The multi-storey building is packed with shops and restaurants and was the first mall of its kind in Phnom Penh when it opened in 2003. The mall remains very popular with Cambodians. There's a number of general shops and some specialty stores, selling items ranging from clothes, shoes and jewelry to cosmetics, children's toys and electronics.
There's a large food court on the 4th floor, and the movie theater, arcades and entertainment complex are all on the top floor. It's only 1 block south of Central Market, so a good place to walk to on your Phnom Penh shopping expedition.
Location: Street 63, Phnom Penh, Cambodia
Open: Daily from 9am to 9pm
Phone: +855 16 556 608
Bliss is a unique location with both a boutique and a spa. The boutique specializes in unique Eurasian fashions for men, women and children. They feature silks, quilts, cushions, pillows, bags, bed covers, jewelry, and exotic soft home furnishings. You can relax at Bliss Spa, which offers a range of massage and skin treatments, as well as a steam bath, sauna and plunge pool.
Location: 29 Oknha Chhun St. (240), Phnom Penh, Cambodia
Open: Daily from 9am to 8pm
Phone: +855 12 613 386
Owned by the Lucky supermarket and hotel company, City Mall is another large mall a little outside of the tourist areas, but still easily accessible by a short tuk tuk ride. There's a Lucky Supermarket on the ground floor, along with various fast food outlets and other variety stores.
Across all of the floors, you'll find stores selling a large choice of clothes, shoes, jewelry, cosmetics and electronics, and the small shops sell mainly Cambodian brands. It's usually very quiet and not as hectic as other centres, such as Soryaor Aeon. The medium-size food court is on the top floor, just next to the Legend Movie theater, where you can view newly released blockbusters in Khmer and English.
Location: 1 Chamkar Doung Street (217), Phnom Penh 12253, Cambodia
Open: Daily from 9am to 9pm
Friends 'N' Stuff is right next to the Friends Restaurant. It's a fun shop selling an eclectic mix of souvenirs, clothes and accessories for both children and adults. Products are made by people involved in Friends projects, and you can get a personalized fitting for your clothes by the tailoring service provided by Mith Samlanh sewing graduates.
Location: Preah Ang Eng St. (13), Phnom Penh, Cambodia
Open: Daily from 11am to 9pm
Phone: +855 23 555 2391
Le Lézard Bleu offers quality and upscale home decoration items and furnishings. They have traditional and contemporary art and custom-designed pieces. If you're looking for art-deco furniture, tasteful home décor, custom frames, and furniture, you can most likely find it here.
Location: No. 61, St. 240, 12206, Oknha Chhun, Phnom Penh, Cambodia
Open: Monday–Saturday from 8am to 7pm, Sundays from 8am to 5pm
Phone: +855 23 986 978
Sentosa sells high-quality Cambodian Silk products produced by poor and disabled skilled craftspeople from rural Cambodia who are expert in the traditional forms of silk weaving.
Their luxury items are handmade from 100% pure Khmer silk in a wide range of colors and sizes. They specialize in soft furnishings, accessories, gifts, and offer expert tailoring. They have a reputation for consistency, quality and variety.
Location: No. 29-33, Sothearos (St. 3), Ang Makhak Vann, Phnom Penh, Cambodia
Open: Daily from 8am to 6.30pm
Phone: +855 23 222 974
Silk & Pepper is a silk shop where you can get made-to-order clothes and custom-designed home accessories by choosing your own design and colors. In addition to clothes, they have home decor items such as linens, cushions, curtains, Cambodian handicrafts, gifts, etc. They feature items with unique designs.
Location: #33, 178 Preah Ang Makhak Vann St. (178), Phnom Penh, Cambodia
Open: Daily from 7am to 11pm
Phone: +855-23-222692, 012-851234
Street 178 is known as 'Art Street' and is definitely the place to go for paintings, sculptures, statues and handmade silverware. If you're walking down 178 from Riverside, you'll first see small boutique shops selling designer clothing, bags and accessories. Some of these are charity partner stores, with money going to support the many programs offering artisan work to Cambodians.
As you move down the street, you'll see art galleries selling popular Cambodian art such as paintings, and stone and wooden statues. The local sculptors and artists work in shops and on the street in front of their stores next to Wat Sarawan. You'll see an impressive collection of giant stone Buddha statues displayed on the sidewalk – it's worth the photo opportunity even if you're not shopping for a 2-meter-tall statue.
Be sure to look around the corners as you walk down Street 178, as you'll also find a few galleries and silver stores in the area. Several private galleries, such as Reyum and Sa SaBassac, have regular exhibitions of contemporary and traditional artwork. And don't worry if you get a little tired from all that walking. There are plenty of restaurants, cafés, bars and street food vendors along the way where you can take a break. Opening times differ from shop to shop but are usually around 9am through to early evening.
Location: Samdach Preah Sokun Meanbon St. (178), Phnom Penh, Cambodia
Tabitha-Cambodia is a sustainable non-profit organization is involved in several programs helping the poorest people of Cambodia. They work with over 30,000 families in 11 provinces developing community programs. They use a community development model and are involved in training courses, family savings programs, water wells, house building, piglets, cottage industry, and patchwork quilts.
Workers receive a fair wage, providing regular income and employment. Stop in and see their beautiful Cambodian silk and handicrafts items including purses, pillows, bed covers, clothes, toys, silver, cards, etc., and learn about the work they do for poor families.
Location: Nos 173 and 174, Street 598, Phnom Penh, Cambodia
Open: Monday–Saturday from 8am to 6pm (closed on Sundays)
Phone: +855 23 231 038