Hotels in Casablanca, Morocco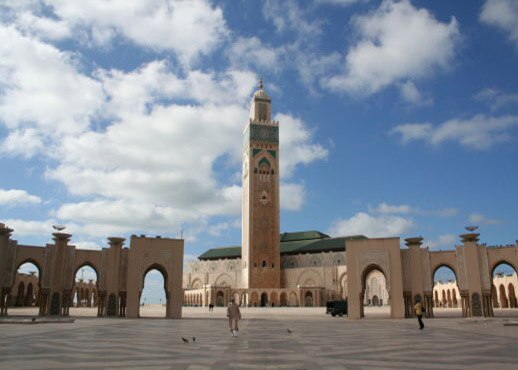 Search & Compare Casablanca Hotels
Find out more about Casablanca
Best hotels in Casablanca
How to find the best Casablanca hotels with Hotels.com

It's a place of outstanding beauty and inspired energy, and exactly the kind of dream destination that Hotels.com loves helping you discover. We have the best prices for an extensive range of Casablanca hotels to match whatever you're looking for during your stay. Whether you have a planned itinerary or are open to exploring whatever comes your way, we're ready to help you every step of your journey. Our dynamic search filters will help you find the perfect Casablanca hotels within your budget and amenity preferences, and if you're still not sure which accommodations in Casablanca to choose (or prefer chatting with a real live person over online booking), then give us a call! We enjoy hearing what our customers have in mind for a relaxing getaway, and making sure that your ideal picture of Casablanca hotels is met. We're ready to help you make this the trip of a lifetime.

Casablanca in a nutshell

Casablanca has its own unique Moroccan character, with a delightful blend of Old World charm artfully weaved into contemporary European flair. It's where couples go to take romantic strolls along the La Corniche beaches, to explore the hip and the traditional alike amidst the Place de Nations Unies, and soak up local culture at the Derb Ghraleef souks. You'll find accommodations in Casablanca with breathtaking views of the city and its Parc de la Ligue Arabe architecture. Friends travelling together can find Casablanca hotels near fantastic restaurants that serve the most delicious tagines, and countless shops offering one-of-a-kind treasures at Marché Central. You'll be making memories while having an espresso, fresh-pressed juice, or mint tea at the Patisserie Bennis Habous or Café Frederic Cassel, or while enjoying a treat of exquisite macarons or gazelle horns. This unforgettable city has innumerable adventures and priceless experiences awaiting, all within easy reach of the many luxurious and elegant Casablanca hotels we can find for you.

Our tips on how to soak up the local atmosphere in Casablanca

Once you step out of Mohammed V. International Airport (CMN), you'll immediately see and feel the "Casa" atmosphere, which you're sure to find in whichever of the fine Casablanca hotels you chose. Once you step out the door, try to have an idea of where you're headed so you'll know whether to take the private red petit taxi (small taxi), or the shared white grand taxi (big taxi). And don't forget that there's a tram for your daily excursions! Additionally, it's important to familiarize yourself with the rich local culture and customs. Not only will you get more out of your trip, but you also won't be surprised when you see stalls and markets temporarily on break for praying hours! Also, not every hotspot serves alcohol, so if you'd like to have a drink while out, you may want to find accommodations in Casablanca that are closer to the clubs and bars. Above all, let the people, food, historical sites, and natural wonder of the city guide you to having the best time of your life!