Hotels in Biarritz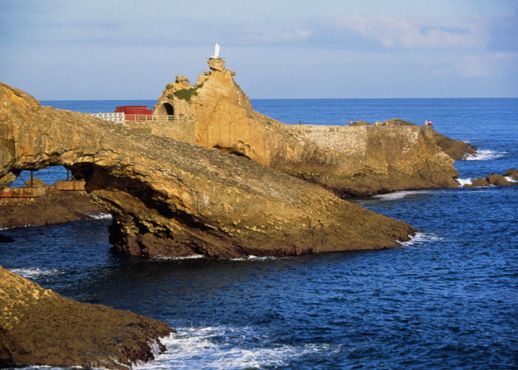 Search & Compare Biarritz Hotels
Find out more about Biarritz
Best hotels in Biarritz
How to Find the Best Biarritz Hotels with Hotels.com

Choosing Biarritz hotels is simple and quick with Hotels.com, and a clever system allows you to select exactly the quality and budget levels you prefer. You'll discover a wide selection of accommodation in Biarritz catering to all preferences, whether you're looking for 5 star luxury or for a friendly and welcoming family hotel. Hotels.com works in conjunction with some of the city's best hotels, and each has been candidly evaluated by genuine visitors just like you. You're can book with confidence; a range of clear photographs also enables you to see just what your room will be like. You might also make use of the handy location map to plan your trip from the airport or station, or to gage the distance of your hotel in Biarritz from the beach or other nearby attractions.

What's Biarritz like?

Biarritz is located in the Aquitane region of the Pyrenees Atlantiques department of south west France. The town boast 6 beaches, and the sandy Grand Plage is the town's biggest draw as it's perfect for sunbathing and swimming. Surfers are attracted to this Bay of Biscay resort by great Atlantic Ocean waves, and flock to the Cote de Basque beach near Boulevard du Prince de Galles. Adults can visit one of the two beach casinos near Biarritz hotels, though younger visitors may prefer a trip to the Museum of the Sea, a fantastic complex of aquariums where you can see seals and sharks. The Chocolate Museum is a great choice for family outings, while history fans will enjoy discovering local sights such as St Martin's Church which dates from the 12th century or the magnificent Russian Orthodox Church. Be sure to see the Chapelle Imperiale which was built for the Empress Eugenie, or plan a trip to nearby Bayonne to see the Cathedral of Saint Marie.

Tips for Getting along with Locals in Biarritz

Biarritz is a vibrant, cosmopolitan resort so most of the locals you encounter are likely to speak good English. Enjoy long leisurely meals in restaurants close to Hotels.com's Biarritz hotels where you can dine of Basque inspired cuisine such as pintxos, a version of tapas, or try a shot of patxaran a sloe based digestif that is served with ice and which is deceptively potent. Visit the local market in nearby Anglet, or take a walk in the old port where fisherman's cottages still nestle in the shade of the cliffs. You'll find more hints on how to make your break special at Hotels.com along with a selection of stylish and inviting accommodation in Biarritz.