Hotels in Nerja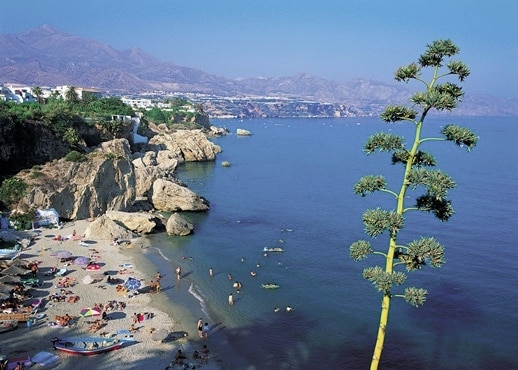 Search & Compare Nerja Hotels
Find out more about Nerja
Best hotels in Nerja
How to Find the Best Nerja Hotels with Hotels.com

Nerja is a dream. The small city sits on the shores of the Mediterranean coast, located in the sunny Costa del Sol in Malaga province. The town has a proud history that stretches back into prehistory. Over the years, a number of different peoples have lived here, and each left their mark on architecture and local traditions. It's easy to see why so many have wanted to call this place home. With a beautiful landscape marked by cliffs that fall away into the blue waters of the Sea, Nerja is the perfect place for everything from a family escape to a solo adventure. And what's more, Nerja hotels are easy to find on Hotels.com. With options for everyone, Hotels.com is a sure-fire way to start your holiday on the right foot. We ensure you can make the an informed choice by providing you with descriptions, customer reviews and map locations, so that when it comes to it you can have confidence that your choice was the right one for your holiday.

What's Nerja Like?

Nerja is primarily known for its primitive cave paintings, which were discovered back in 1959. Today, visitors can enter the caves to catch a glimpse of some of the region's first homes. The surrounding countryside is full of archaeological sites that date back to Roman times. Other points of interest include the Balcon de Europa, a viewpoint that stands high above the ocean, with a commanding view of the sun's sparkle dancing on the horizon. Another beautiful area is the Capistrano Playa, which is marked by white-walled buildings that cascade down the hillside toward a lilly pad filled lagoon. Grand churches like the Church of El Salvador are stunning examples of Baroque architecture. Many of the area's finest sites can be accessed after a short walk from one of Nerja's hotels.

Tips for Getting Along with Locals in Nerja

Nothing will facilitate an amazing stay like an open attitude. Here at Hotels.com, we've found that the best way to really want to delve into local culture and get friendly with some of the city's permanent residents is by making the small effort to learn a few words in Spanish. If you greet people in their native tongue, they will be much more likely to lend a friendly ear to your words or queries. In addition, it's important to demonstrate an actual interest in the local culture. This doesn't always require a firm grasp of the language, sometimes a smile will do. Always maintain a courteous composure and residents will respond in kind. At Hotels.com, we've had great success practicing at the front desk of Nerja hotels before venturing out into town, and we recommend you do the same.