Hotels.com makes it easy and rewarding. Always
Reward yourself your way
Stay where you want, when you want, and get rewarded
Free cancellation
Flexible bookings on most hotels*
5 Star Hotels in Sydney
8.2/10
Very Good! (1,486 reviews)
Top neighborhoods in Sydney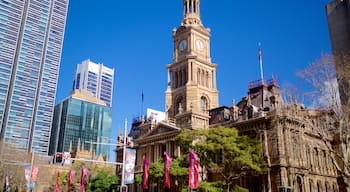 Sydney Central Business District
Sydney's lively Sydney Central Business District neighborhood is loved for its waterfront and opera house, and visitors often enjoy its varied attractions including Circular Quay and Sydney Opera House.
Sydney Central Business District
Top landmarks in Sydney
Explore the waterfront in Sydney with a trip to Circular Quay. Visit the area's shops or amble around its beautiful beaches.
Circular Quay
We do more than just hotels...
Enjoy 5-star hotels in Sydney 
What should I expect from 5-star hotels?
A 5-star hotel lets you experience what it's like to live the lifestyle of the rich and famous. These are top-of-the-line, luxurious hotels that boast comforts far beyond what a typical traveler may even expect and offer an unrelenting commitment to service and satisfaction. Book your stay in a hotel like this, and you won't have to lift a finger to enjoy everything it has to offer whether you want delicious fine-dining-quality food, high-end spa treatments, or potentially even access to a full golf course.
What are the best 5-star hotels like?
5-star hotels in Sydney are the best of the best, but you shouldn't settle for anything less than your ideal experience. To find the hotel that most ideally serves your vacation out of the 5,358 hotels available, you'll want to take advantage of several search filters. You can sort by amenities like hot tubs or spas, or you can sort by user reviews. Of course, you can sort simultaneously by all these factors and more to really pinpoint your search.
How much do Sydney 5-star hotels cost?
Being the most luxurious hotel options in Sydney, 5-star hotels here tend to be on the more costly end of the spectrum. Still, you may be able to find prices starting around $177 when you book. Keep in mind that the cost is dependent on several factors, including available amenities and the time of year you book.
Are their deals available for 5-star hotels in Sydney?
You may not think of deals and affordability when you consider 5-star hotels in Sydney, but there actually are some options. When you visit during the off-season in , prices tend to be cheaper compared to the busy season. Prices start as low as $177, though the cost depends on several factors, such as amenities and proximity to attractions.
How do you know if a hotel has 5 stars?
A 5-star hotel tends to stand out, as they're top-tier in terms of comfort and services. Often massive in size, you'll find gigantic rooms and several areas dedicated to fine dining, spa services, and more. When you search, you can implement the 5-star filter to only be met with these hotels on your results page.
Are there 5-star hotels in Sydney with free cancellation?
Yes, some of the hotels with 5-stars in Sydney have free cancellation. Every hotel that qualifies will be marked as such on the search results page, with more details available after clicking the specific property. You can even search for these kinds of hotels specifically with the free cancellation filter. Just remember that some hotels require 24 hours notice for cancellation.