Hotels in Sirmione, Italy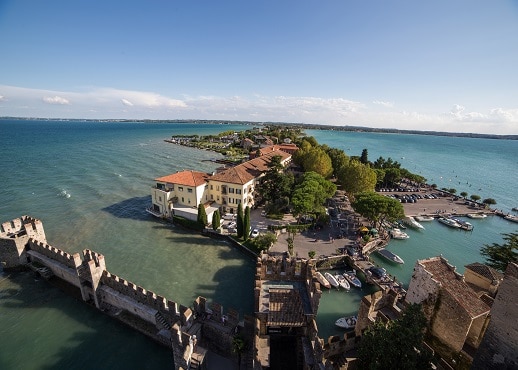 Search & Compare Sirmione Hotels
Find out more about Sirmione
Best hotels in Sirmione
How to Find the Best Sirmione Hotels with Hotels.com

Sirmione, on Lake Garda, is one of the most popular of the resorts surrounding this picturesque lake. It sits on a peninsula of land which reaches out into the lake's southern shore. Hotels in Sirmione offer you views of sparkling waters and Roman ruins, as well as the town's fairy tale castle. Staying in Sirmione is the perfect way to enjoy an Italian lakeside vacation. Hotels.com has partnerships with a great choice of Sirmione hotels. Using our rated guest reviews and multiple photos makes it easy to choose accommodation just right for you. Once you have made your choice, have fun planning the rest of your vacation.

What's Sirmione Like?

Sirmione provides a great base for exploring the town, the lakes and nearby cities. It doesn't take long to get to Verona with its Roman Coliseum. Sirmione hotels give you a choice of staying right in the heart of the old town or on the green peninsula. The center of old Sirmione is pedestrianized, with confusing narrow alleys. Don't worry if you get lost though, you will soon find your way out. These streets are a great place to stop for some coffee, lunch or to sample some real Italian ice cream. Be sure to visit the 12th century Scaliger Castle. This fortified building, surrounded by water at the tip of the headland, was part of Verona's defense system. Also on the headland is the Grotto of Catullus. This is not actually a grotto, but a breathtaking archaeological site where the remains of a large patrician Roman villa have been discovered. Wander the site and read about its history in the small museum. When you have finished exploring the town, take a gentle boat ride to some of the other Lake resort towns, such as Desenzano del Gardo. If you feel like something a little more exhilarating, try a high speed motor boat ride. A nearby attraction, designed for children, is the Gardaland theme park.

Tips for Getting Along with Locals in Sirmione

You will be impressed with how clean Sirmione and the surrounding area is. The locals you spot in the town will be wearing smart casual clothes, and they will appreciate your consideration in keeping your swimwear for the beaches. Sirmione is tricky for driving. The only access is over the drawbridge and entry for cars is restricted. You will need to bear this in mind when choosing your Sirmione hotels, especially if you are hiring a car. The accurate maps at Hotels.com will show you exactly where your chosen accommodation is located and whether it has parking.