3 Star Hotels in Kansas City
Hotels.com makes it easy and rewarding. Always
Reward yourself your way
Stay where you want, when you want, and get rewarded
Free cancellation
Flexible bookings on most hotels*
3 Star Hotels in Kansas City
Embassy Suites by Hilton Kansas City Plaza
Top neighborhoods in Kansas City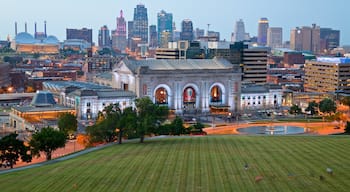 Kansas City's lively Downtown Kansas City neighborhood is loved for its entertainment and concert halls, and visitors often enjoy its varied attractions including Arrowhead Stadium and T-Mobile Center.
Downtown Kansas City
Top landmarks in Kansas City
Catch an event at Arrowhead Stadium during your trip to Kansas City. Experience the entertainment choices and acclaimed theater scene in this family-friendly area.
Arrowhead Stadium
We do more than just hotels...
Find 3-star hotels in Kansas City 
What should I expect from 3-star hotels?
A 3-star hotel is the first step toward a more upscale accommodation experience. These hotels tend to have more style and comfort than most lower-rated hotels and may have features like a pool and conference rooms. The hotel rooms themselves tend to be a bit larger, so they're more ideal for family travelers. Their location tends to be convenient as well, with attractions or highways located nearby.
What are some of the best 3-star hotels in Kansas City?
The best 3-star hotels in Kansas City depend on what you're looking for. You'll have 981 hotels to sort through, and finding the one most suitable for you is easy when you implement convenient search filters. You can search for hotels with specific amenities, high reviews, proximity to certain attractions, or a combination of several factors.
How much do 3-star hotels in Kansas City cost?
The cost of a 3-star hotel in Kansas City will vary quite a bit based on the time of year you book, what kinds of amenities you're looking for, and the specific location you're considering, along with an array of other factors. You can find 3-star hotels for as low as $105, but prices can fluctuate quite a bit.
How can I get deals on Kansas City 3-star hotels?
When booking 3-star hotels in Kansas City, it's important to try and book during , which comprise the off-season. More availability means lower prices in most cases. While prices start at $105, it's typically best to expect something a bit higher if you don't want to risk losing out on amenities and convenient location.
What's the difference between a 3-star hotel and a 2-star hotel?
A hotel with 3-stars in Kansas City adds some more luxurious features compared to a 2-star hotel. While a 2-star property is typically still focused on the basics, 3-star hotels add a bit of flourish and style with amenities like pools and fitness centers. Additionally, 3-star hotel rooms are bigger, so they can typically accommodate families more comfortably than 2-star hotels.
Can I get free cancellation on 3-star hotels in Kansas City
A significant number of Kansas City hotels offer free cancellation. They'll be marked as such right on the search results page, but you can always click the actual property to learn more about the specifics of their policy. If free cancellation is a necessity for your booking, you can implement a free cancellation search filter specifically to only show properties that qualify. Don't forget, however, that some hotels require you to cancel more than 24 hours before check-in.