From Beach Digs to Spa Villas - A Guide to Lodging in Santa Cruz
From Beach Digs to Spa Villas - A Guide to Lodging in Santa Cruz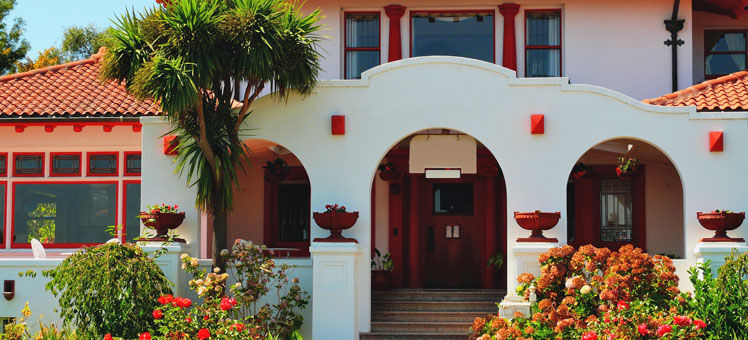 Santa Cruz is a storied destination, enviably positioned between mountains and the sea. Its lodging options cater to the visitor interested in enjoying its climate, outdoor pursuits, eclectic dining, and vibrant arts scene. Whether you stay in a vintage motel or an exclusive enclave, you'll find knowledgeable locals and proprietors - even other guests - who will help curate a worthwhile experience.
Downtown Santa Cruz is best explored on foot or bicycle, as many attractions, ocean vistas, shops, and restaurants are within walking distance of each other. This area attracts visitors who want to take full advantage of the area's outdoorsy activities and evening events, all within blocks of their lodging. Densely populated by retail businesses, downtown Santa Cruz is lively day and night - in a surf-village kind of way.
The lion's share of lodging choices are located here, including standard hotels, vintage motels, waterfront resorts, and bed-and-breakfasts. Santa Cruz hosts festivals and thousands of visitors year-round, so book early if staying downtown is your priority.
Capitola
Down the beach to the east, at the mouth of Soquel Creek, Capitola Village has the feel of a charming East Coast seaside town. With just a few points of entry and public parking on its fringes, Capitola invites you to settle in and stay, lingering over coffee or strolling down to lunch at one of its notable eateries.
Lodging in Capitola includes both chain hotels and higher-end bed-and-breakfasts with ocean views. While a frequent host to beach-based evening entertainment and events, Capitola enjoys a reputation as a quieter option for families and couples seeking respite.
Scotts Valley
About 6 miles north of downtown Santa Cruz - an easy 10-minute drive - Scotts Valley is tucked among the redwood trees in the Santa Cruz Mountains. Known for its proximity to 2 state parks (Big Basin Redwoods State Park and Henry Cowell Redwoods State Park), Scotts Valley also offers renowned golfing and a gravitational anomaly known as "Mystery Spot," a circle 150 feet in diameter in which objects appear to slant, rather than stand perpendicular.
Scotts Valley offers both traditional and high-end hotel lodging. Accommodation here may be more affordable and available than in downtown Santa Cruz, depending on the season, and appeals to families and visitors looking for a quiet stay.
Search for Scotts Valley hotels
Aptos
Just 15 minutes east of Santa Cruz, the village of Aptos (population 6,200) is known for Seacliff State Beach and a historic town center with boutiques and restaurants. Many Aptos residents live in the hills north of town, giving the commercial area an uncrowded, relaxed atmosphere. This area appeals to families and other visitors who want to treat downtown Santa Cruz as an excursion, rather than the focal point of their stay.
Lodging in Aptos ranges from traditional hotels to high-end beach resorts. Outside of the quaint town center, restaurants and points of interest are accessible by bicycle or car.
Watsonville
Midway between Santa Cruz and Monterey, Watsonville offers affordable accommodation and a closer look at California's agricultural heritage. About 6 miles from the oceanfront and boasting a balmy Mediterranean climate year-round, Watsonville is home to restored wetlands and acres upon acres of sweet, succulent strawberries, a major local crop. When the time is right and the strawberries are ripe, you can pick them at family-owned Gizdich Ranch. Visitors also rave about Sunset State Beach, perfect for a stroll or picnic any time of day.
Watsonville lodging includes several traditional hotels and drive-up motels. Families, as well as wetland birders of all ages, looking to explore the region by car appreciate these accessible and wallet-friendly options.
Discover
Find your perfect holiday in Santa Cruz (and vicinity)
From 100 hotels.