Where to Stay in Memphis - Upscale Boutique Hotels to Family Friendly Accommodation
Where to Stay in Memphis - Upscale Boutique Hotels to Family Friendly Accommodation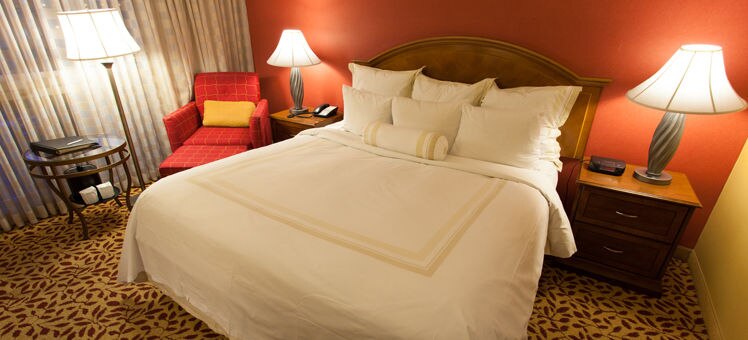 Memphis offers a range of accommodation options to suit your travel needs, from upscale landmark hotels in the heart of downtown to standard, family-friendly chains in the suburbs. You can find lodging at almost any price point within walking distance of famed Beale Street and minutes from the city's top attractions. Regardless of which part of town you choose, you'll enjoy southern hospitality and ample amenities.
Staying in downtown Memphis will put you steps from one of the city's famous settings: Beale Street. This area is home to multiple blues clubs and bars, so it's great for grabbing a drink and enjoying live music. You'll also be close to attractions like the legendary Sun Studio, the FedExForum, and Mud Island. The South Main Historic District, where you can find the National Civil Rights Museum and multiple restaurants, is located on the edge of downtown.
Accommodation in downtown Memphis run the gamut from world-famous, landmark hotels with shopping options and fine dining to budget-friendly motels with the basics. You'll find recognizable chains alongside locally owned boutique hotels, and all offer easy access to the city's top attractions.
Midtown Memphis is home to the hip Cooper-Young neighborhood, so you can easily enjoy a day of shopping at locally owned stores selling antiques and vintage clothing. Overton Park houses 2 of the city's must-see attractions, the Memphis Brooks Museum of Art and the Memphis Zoo. If you're traveling with the family, you'll find the Children's Museum of Memphis here as well.
Midtown hotels are great options for families. The area has many recognizable national chains that offer amenities like free breakfasts and pools, which kids are sure to enjoy. Parents will also appreciate finding accommodation near popular attractions that won't break the bank.
East Memphis is known for its green spaces. Here, you can explore the Memphis Botanic Garden or the Dixon Gallery & Gardens, which also houses an impressive collection of art by French Impressionists. Shelby Farms, the sprawling public park 5 times the size of New York's Central Park, is also located in the area. If you're looking for shopping, there are plenty of options at Laurelwood Shopping Center. Hotels also provide easy access to the University of Memphis.
One of the best things about East Memphis is that it offers a variety of lodging options. Here, you'll find everything from basic motels to hotels offering suites and extended stay accommodation. Of course, there are also plenty of standard hotels with amenities like pools and free Internet in the mix.
If you want to stay in Memphis but be outside of the hustle and bustle of downtown, Collierville is a good option. You can get to the downtown area in about half an hour on the interstate, but this suburb has plenty of its own charms. Go antique shopping at Sheffield Antiques Mall or browse selections from national retailers at Carriage Crossing. The area also has a noteworthy selection of locally owned restaurants, including a branch of Gus's World Famous Hot & Spicy Fried Chicken, that you'll want to try.
Collierville has a selection of nationally recognized chain hotels that provide budget-friendly accommodation within reasonable reach of downtown Memphis, plus Collierville's town square. Most hotels here offer convenient amenities like free Internet, pools, and complimentary breakfasts that add value to your stay.
Located east of Memphis, Germantown is an upscale residential area full of local shops and restaurants. There's plenty to see and do here, with live performances at the Germantown Performing Arts Center and green spaces, like the Shelby Farms Greenline, to explore. The Shops at Saddle Creek is a premier retail destination with stores like Talbots and J. Crew. Downtown Memphis is about 30 minutes away, so you can still easily explore the city's best attractions.
National chains dominate the hotel offerings in Germantown. Price points are reasonable, so accommodation here is ideal for families or travelers on a budget. In addition to standard hotel rooms, you can also find plenty of places offering suites for additional space.