Mountain Vistas and Shining Sea - Santa Cruz Captures California's Iconic Ideals
Mountain Vistas and Shining Sea - Santa Cruz Captures California's Iconic Ideals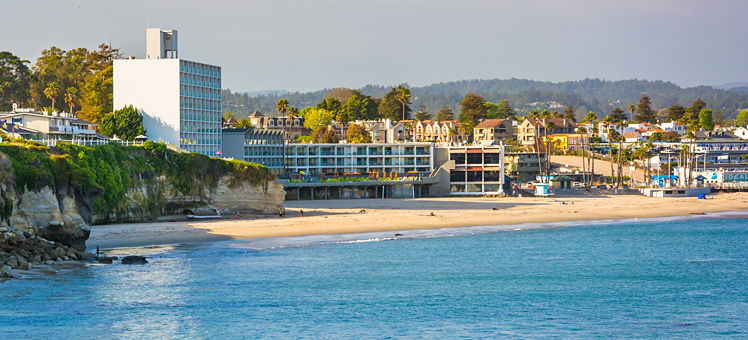 Santa Cruz, on California's Central Coast, is both beach town and mountain village. Though it's known for world-class surf, acclaimed artists, and one of the nation's grandest seaside amusement parks, the city still feels off the beaten path. You're as likely to find yourself latte-to-latte with a famous athlete as to hear the next generation of jazz greats riff beach-side. Relax, and you'll fit right in.
Natural beauty
Since its founding in 1850, Santa Cruz County has consistently focused on preserving its abundant natural resources. Its miles of beaches and handfuls of state parks are among the nation's most idyllic and well-maintained. Pack a lunch and an itinerary, and set out for a hike among old-growth giants in Big Basin Redwoods State Park. Or explore the tide pools and feel the waves lick your legs at Natural Bridges State Beach. From late fall into winter, Natural Bridges hosts up to 100,000 monarch butterflies.
Fresh local foods
Food is serious business in Santa Cruz, with fresh local flavors available throughout the year. One highlight is seafood straight from Monterey Bay. The bay is so renowned as a fishery that the system devised to monitor its health, Monterey Bay Aquarium Seafood Watch, is respected worldwide. Select from the day's catch at H & H Fresh Fish, which sets up its stands at various local farmers markets. The Central Coast is also celebrated for its world-class wine, particularly pinot noir, chardonnay, and cabernet sauvignon. Check out the Santa Cruz Mountains Winegrowers Association's website for descriptions of wineries you can visit.
All aboard the trolley
Santa Cruz is joyously pedestrian about transit. Almost everyone has a biking or walking commute built into some part of the day. Catch the car-free spirit by taking the Santa Cruz Trolley, a municipal nonprofit service, from downtown to the Santa Cruz Beach Boardwalk amusement park. Thanks to convenient stops along Pacific Avenue and Main Beach, you won't give a second thought to parking and instead will enjoy the city one step at a time. Hop aboard for 25 cents per person.
Festivals year-round
Just about any time of year you visit Santa Cruz, there's a festival or other must-do special event happening. In April, the city hosts National Dance Week, when live exhibitions from genres as diverse as break dancing and Brazilian samba pour into the streets. Summertime, Santa Cruz Shakespeare stages innovative takes on plays by the Bard and lesser-known writers - with performances out in the fresh air. There's the Greek Food & Cultural Festival in September, Glow: A Festival of Fire & Light in October, the Lighted Boat Parade in December, and more.
Art of all kinds
Creativity is the backbone of this community's identity, with artists in residence across all disciplines, from wet-suit designers and ocean videographers to painters, potters, and glassblowers. Check the Arts Council Santa Cruz events calendar online. Or visit their offices on the campus of Tannery Arts Center, a former tannery now comprising artists' studios, public art displays, a theater, and loft housing. The Santa Cruz Museum of Art & History, located downtown, features contemporary art and cool, interactive exhibits highlighting unexpected aspects of local history. Admission is free the first Friday of every month.
Discover
Find your perfect holiday in Santa Cruz (and vicinity)
From 100 hotels.