Art Galleries, Shopping, and Southwestern Cooking - What to See and Do in Santa Fe
Art Galleries, Shopping, and Southwestern Cooking - What to See and Do in Santa Fe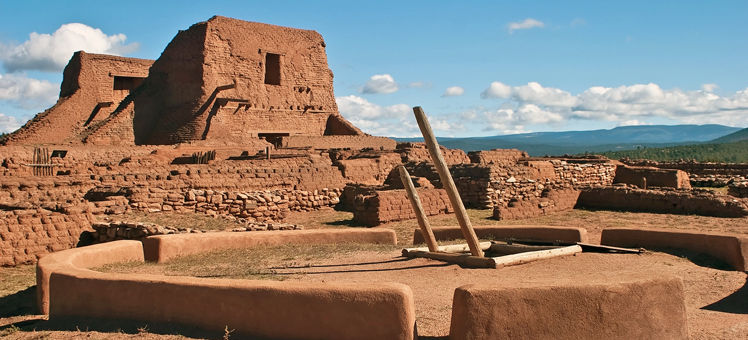 Visitors to Santa Fe will find a rich mix of historical and contemporary influences in its artistic, cultural, and culinary scenes. It's a hub for contemporary art and handicrafts, with a strong emphasis on its Spanish and Native American heritage. Nightlife is relaxed but very active: You'll find opera, ballet, and all genres of live music. The city has also become a popular food destination.
Galleries on Canyon Road
Canyon Road is an internationally recognized art hub and a prominent attraction in Santa Fe. Take time for a leisurely walk along this colorful street full of art galleries. At Tansey Contemporary and Alexandra Stevens galleries, you'll find contemporary paintings, sculptures, and photographs by artists from all over. When you're ready for a break, enjoy a coffee at Caffe Grecco or a refreshing cup of tea at The Tea House.
Santa Fe museums
Santa Fe has the finest history and art museums in the state. These include the New Mexico Museum of Art, Georgia O'Keeffe Museum, and New Mexico History Museum, all in the Plaza area. Just a few minutes from downtown, in Museum Hill, a cluster of museums around an open-air sculpture plaza share breathtaking views of Santa Fe and its surroundings. The Museum of Spanish Colonial Art has an impressive collection of artifacts from medieval times to the present. The Wheelwright Museum exhibits traditional and contemporary Native American art. Its gift shop, The Case Trading Post, is also well worth visiting.
Shopping for jewelry and handicrafts
Besides its focus on fine art, Santa Fe is equally well-known for its silver and turquoise jewelry. Stores around the Plaza and Railyard District, and the Native Americans that sell their work by the Palace of the Governors, have a wide selection of designs for every budget. And not just for women - James Reid specializes in men's belt buckles, cuff links, and money clips. Southwestern rugs, pottery, and apparel are great buys too. The Plaza Galeria marketplace has a variety of jewelry and apparel shops. Check it out when you stop by Santa Fe's Visitor Center nearby.
Food and drink
Santa Fe has become a center of fine dining. Based on Southwestern cuisine and taking pride in using fresh, local products, the town attracts food lovers from everywhere. There are plenty of excellent restaurants at different price ranges. But why stop at eating? Try your hand at cooking. Santa Fe has first-rate cooking schools, like Santa Fe School of Cooking, that will teach you how to get those special Southwestern flavors. Want to opt for craft beer or mead instead of wine? Santa Fe has 2 very good breweries and a Meadery that uses New Mexico honey.
Performing arts
Santa Fe has a vibrant performing arts scene. During summer, the Santa Fe Opera brings internationally renowned artists to its outdoor facility with a view of the mountains. The Chamber Music Festival also takes place in summer, with concerts and recitals by distinguished musicians. Year-round, live music is central to Santa Fe's nightlife. Jazz, blues, rock, country, Latin - all genres can be found on the music scene. Flamenco music and dance are also staples, and several venues showcase flamenco artists on a regular basis, including Aspen Santa Fe Ballet.