Sandy Beaches to Architectural Treasures - What to See and Do in Miami Beach
Sandy Beaches to Architectural Treasures - What to See and Do in Miami Beach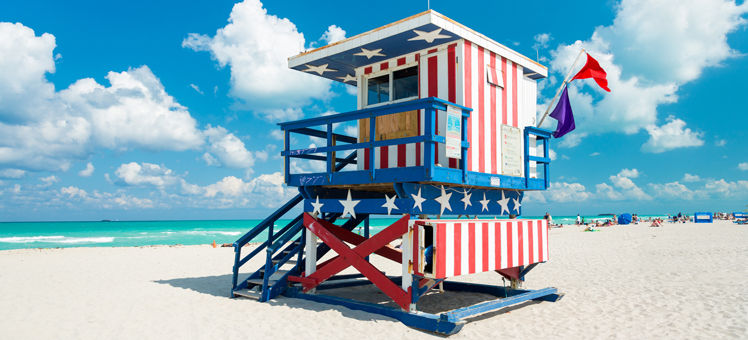 Thanks to its sunny skies and picturesque, sandy shores, Miami Beach has been a favorite tourist destination since the early 20th century. As the city's popularity has grown in recent decades, so have the amount of activities on offer, like world-class golf and deep-sea fishing expeditions. You'll also find a range of cuisines to enjoy, some of the world's most noted art deco architecture, and of course, endless beaches.
Hit the beach
Whether you're looking for crowded beaches or secluded ones, the city's miles of Atlantic Ocean shoreline offer a wide array of seaside options. For a workout packed with local sights, you can jog 1.5 miles down the boardwalk from Indian Beach Park and take in the luxurious hotels to your right, and the beautiful waves crashing on the sand to your left. In South Beach's hip Lummus Park, you'll find 2 outdoor fitness centers and plenty of hard-bodied athletes refining their form. There's often a game of volleyball underway or you can leisurely toss around a Frisbee.
Indian Beach Park, 4601 Collins Avenue, Miami Beach 33140; Website: Indian Beach Park

Lummus Park, Ocean Drive and 5th Street, Miami Beach 33139; Tel: +1 305 673 7779; Website: Lummus Park
Go fishing
Being right on the Atlantic Ocean means that deep-sea fishing is only minutes away. Many fishing charters in the area will take interested beginners or old pros out on the water for trips lasting between 4 and 8 hours. The experienced captains at Deep Sea Fishing Miami use high tech methods and navigational electronics to snag swordfish, tuna, and grouper. On the luxurious 58-foot-long Therapy-IV boat, you'll find comforts like a big screen TV and satellite radio. You can take a seat on the deck in one of the fighting chairs and await your catch of shark, marlin, or barracuda.
Take a tour
Miami Beach is home to one of the world's largest collection of art deco buildings, so you'll want to take a look around. Let the Miami Design Preservation League give you a walking tour of the hotels and restaurants that populate the Art Deco Historic District, located between 6th Street and Dade Boulevard. For a more active approach to sightseeing, the Bike and Roll Miami tour rides through 8 miles of the city. The excursion stops at the Art Deco Historic District, the Versace Mansion, the Holocaust Memorial, and winds down at Monty's Sunset restaurant in the Miami Beach Marina.
Golf
Florida is internationally known for its fine golfing opportunities. In Miami Beach, you'll find multiple 18-hole golf courses. Normandy Shores and Miami Beach Golf clubs play host to the annual South Beach International Amateur tournament every December. Originally created in the 1920s, both public courses were expertly redesigned by landscape designer Arthur Hills. Normandy Shores offers palm tree-lined greens and views of Biscayne Bay, while the Miami Beach course's spacious fairways give players a respite from the hubbub of nearby South Beach.
Food tours
To get a true taste of the city you can book a food tour. Miami Food Tours maps out a 3-hour jaunt through local eateries where you can sample dishes from Abuela's Cuban Kitchen, nibbles from Chalan on the Beach's Peruvian menu, and finish off with a refreshing kosher ice cream from The Frieze Ice Cream Factory. With Miami Culinary Tours, you'll follow a delectable international route where you'll sample Italian, Moroccan, and Spanish specialties, including Cuban empanadas and Colombian passion fruit ceviche.
Discover
Find your perfect holiday in Miami Beach
From 820 hotels.