Artisanal Goods, Flea Market Finds, and High-End Fashion - Shopping in Brooklyn
Artisanal Goods, Flea Market Finds, and High-End Fashion - Shopping in Brooklyn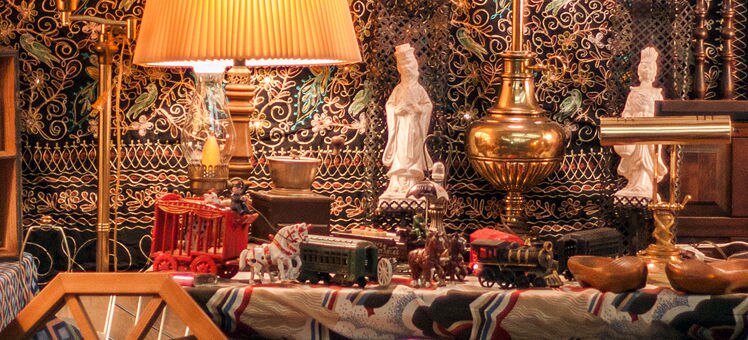 Brooklyn's retail charm lies largely in its abundance of homespun goods - be they fashion or food - and originality. The borough is teeming with independent shops, flea markets, and designers who work out of local studios. Of course, it wouldn't be New York City if you couldn't shop more mainstream labels, which is why you'll also find outposts for many of the country's famous department stores here.
Flea markets
Can you imagine going to a place where vintage Danish furniture and antique tableware mix with neon signage and taxidermy? That's what you'll find at one of Brooklyn's many flea markets. Meet Brooklyn Flea; markets that take place in various neighborhoods throughout the borough on Saturdays and Sundays from April through November. (The rest of the year, it operates out of one location in Crown Heights.) In addition to flea markets, Brooklyn Flea also operates a spin-off called Smorgasburg, a weekend food market that spices up a variety of locations throughout Brooklyn.
Local goods
If there's one thing Brooklyn excels at, it's maintaining the integrity of the borough while ushering in new and creative endeavors. For this reason, many local designers find creating and manufacturing their goods in Brooklyn accessible and functional. In God We Trust is a fashion collective that makes simple, streamlined fashions for women and men, as well as edgy gold and brass jewelry, all from a studio located behind their Greenpoint shop. Species by the Thousands, a contemporary jewelry line distinguished by folk art influences, is designed by Erica Bradbury, who works out of a studio above her Williamsburg store.
In God We Trust, 70 Greenpoint Ave., Brooklyn NY 11222; Tel: +1 718 389 3545; Website: In God We Trust

Species by the Thousands, 171 S. 4th St., Brooklyn NY 11211; Tel: +1 718 599 0049; Website: Species by the Thousands
Home decor
New York City may be notorious for offering residents tiny dwellings, but that doesn't mean they don't take pride in stocking them with stylish furnishings and quality kitchenware. At The Brooklyn Kitchen, you can peruse a vast selection of pots, pans, and bake ware from brands like Le Creuset, Kitchen Aid, and Finex, as well as quirky tabletop accents like a cow-shaped creamer. You can also sign up for cooking classes. If you're looking for decor items, A&G Merch has a range of products both large and small; from modernist sofas, to unusual bookends, and antique plates.
A&G Merch, 111 N. 6th St., Brooklyn, NY 11249; Tel: +1 718 388 1779; Website: A&G Merch

The Brooklyn Kitchen, 100 Frost St., Brooklyn, NY 11211; Tel: +1 718 389 2982; Website: The Brooklyn Kitchen
Department stores
Although Brooklyn's retail profile favors independent shops and artisanal goods, you can still find some of the country's top department stores here. Lovers of luxury fashion will want to hit up the Brooklyn Heights outpost of Barneys New York. Famed for offering a curated selection of fashion, accessories, and beauty products, Barneys stocks the latest womenswear lines from international labels like Chloe, Valentino, and Saint Laurent, as well as merchandise for men and kids. If you're looking for great deals, head to Nordstrom Rack and Neiman Marcus Last Call for up to 70 percent off retail prices.
Barneys New York, 194 Atlantic Ave., Brooklyn, NY 11201; Tel: +1 718 637 2234; Website: Barneys New York

Neiman Marcus Last Call, 210 Joralemon St., Retail Space B, Brooklyn, NY 11201; Tel: +1 929 324 3150; Website: Neiman Marcus Last Call
Discover
Find your perfect holiday in Brooklyn
From 130 hotels.