From Mountain Resorts and National Parks to Old West Extravaganzas - Exploring Jackson Hole
From Mountain Resorts and National Parks to Old West Extravaganzas - Exploring Jackson Hole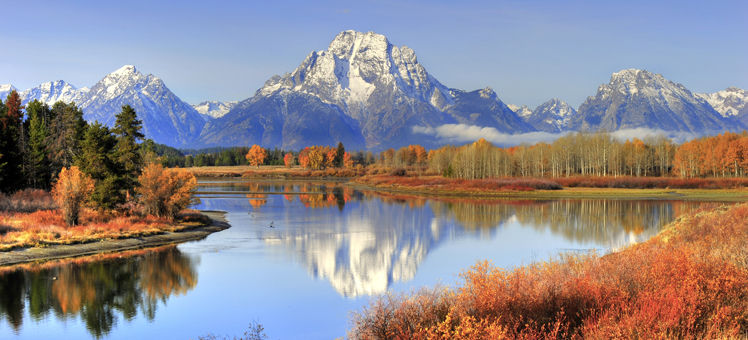 Jackson Hole is a low-lying valley filled with natural splendor, making it a magnet for skiers, hikers, and outdoor adventurers. World-class ski resorts and national parks attract millions of visitors annually. You can tap into the area's rich mountain heritage by touring a local historical attraction, or partake in a tribute to the Old West in Jackson Town Square where locals dressed in period costume reenact an old fashioned shootout.
Mountain resorts
Area ski resorts include Jackson Hole Mountain Resort, located in Teton Village, which features 2 mountains and 116 trails, and Snow King Mountain, the town's first ski hill. Although they are renowned for their miles of skiable land - both downhill and cross-country - they also offer summertime activities including hiking, paragliding, and golf. If you have a car and feel like taking a scenic road trip, you can drive 1 hour to Grand Targhee Resort where you'll find an endless network of ski, hiking, and biking trails, among other activities.
Snow King Mountain, 100 E. Snow King Avenue, Jackson 83001; Tel: +1 307 734 3194; Website: Snow King Mountain

Grand Targhee Resort, 3300 Ski Hill Road, Alta 83414; Tel: +1 307 353 2300; Website: Grand Targhee Resort
National parks
Grand Teton National Park's impressive mountains and crystalline lakes are Jackson Hole must-sees. In the summer, you can enjoy vibrant wildflower-lined hiking trails, while the winter brings on activities like snowmobiling and snowshoe trekking. Don't miss a trip to National Elk Refuge, where trumpeter swans glide along ponds and herds of elk roam the lush grasslands. Yellowstone National Park, the first national park in the U.S., is home to lakes, mountains, geysers, and roaming mammals, including the nation's oldest and largest herd of American bison.
Nature tours, wildlife safaris
Want to explore Jackson Hole's unspoiled mountain terrain and natural wildlife but don't know where to start? You can book a guided tour or safari no matter the season. Most itineraries include stops at Yellowstone National Park, Grand Teton National Park, or National Elk Refuge. Grizzly bears, coyotes, and bald eagles are among the animals you're likely to see, depending on the season and itinerary. Some companies specialize in walking and hiking tours, while others transport guests in 4-wheel drive vehicles and heated coaches. Budding and professional photographers will love a photographic tour focused on local wildlife and scenery.
Old West attractions
The history of Jackson Hole is a spirited chronology that includes the story of Native Americans, mountain men, and ranchers. You can delve into the past at Jackson Hole Historical Society and Museum, where artifacts bring the lives of local tribes, fur traders, and settlers to life. A 23-minute drive will take you to Mormon Row, a collection of historic homesteads and barns that date back to the late 19th century. For some lively entertainment, you can head to the local rodeo, ride through a valley in a horse-drawn wagon, or kick up your heels at a local cowboy bar.
Jackson Town Square
Jackson Town Square, formally known as George Washington Memorial Park, is among the top attractions in Jackson Hole and is characterized by dramatic arches made of antlers that adorn each corner of the park. In the summer months, it showcases the Jackson Hole Shootout, a reenactment of an Old West shootout that takes place each evening. After reliving a true Wild West moment, you can browse the galleries and shops around the square, or take in the local sights from the window of a horse-drawn stagecoach.