Historic Fredericksburg Offers Nature, Unique Shopping, and Tales of Ghosts
Historic Fredericksburg Offers Nature, Unique Shopping, and Tales of Ghosts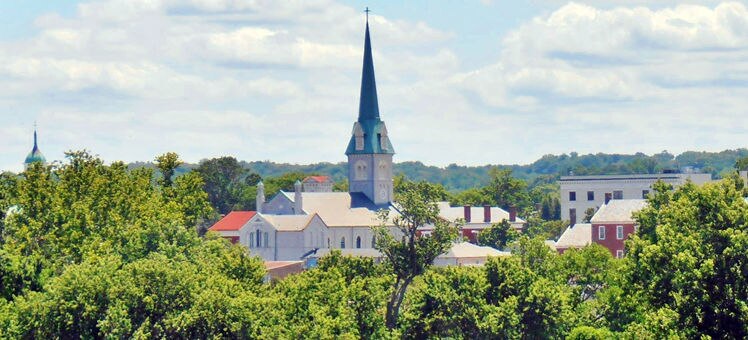 Named for Frederick, Prince of Wales, Fredericksburg was founded in 1728, and is rife with history and Old World charm. You can explore prerevolutionary life at preserved private residences, and step onto numerous Civil War battlefields for guided tours of old monuments and skirmishes. Restaurants tend to blend upscale and international fare with live entertainment, and golf courses and nature trails abound in the surrounding area.
Historic Fredericksburg
The Fredericksburg Visitor Center is located in the National Historic District and comprises 40 blocks of the downtown area. It's a great place to pick up passes to local historic sites, museums, and galleries. At Fredericksburg and Spotsylvania National Military Park, you can follow in the footsteps of Civil War soldiers as you explore numerous battlefields and monuments to hard-won victories. The 80-acre Ferry Farm, where George Washington grew up, offers a peek into his childhood, while the Georgian mansion at Kenmore Plantation, built by Washington's sister in 1775, is a testament to pre-Revolutionary War wealth.
Parks and nature trails
Fredericksburg's rolling lawns, lush forests, and deep blue rivers are a huge part of the town's allure. The Fredericksburg Parks and Recreation Department organizes a plethora of activities for participants of all ages, including tai chi in the park and pickleball lessons. Kids can stargaze through computerized telescopes and learn how to follow animal tracks, while adults can indulge in special interest classes like horsemanship and photography. Year-round parks events include the Fredericksburg Christmas Parade, Picnic in the Park, and the Soapbox Derby.
Food and entertainment
In Fredericksburg, dinner and entertainment go hand in hand. At upscale 16-lane bowling alley Splitsville, you can knock down pins while knocking back cocktails and hand-rolled sushi. Broadway productions such as My Fair Lady and Oklahoma! take center stage at Riverside Dinner Theater, where you can enjoy a 3-course gourmet meal during the show. Fredericksburg Square's Cabaret Supper Club, inspired by Frank Sinatra's classic club, features dining, live entertainment, and ballroom dancing in a historic mansion.
Riverside Dinner Theater, 95 Riverside Parkway, Fredericksburg 22406; Tel: +1 540 370 4300; Website: Riverside Dinner Theater

Splitsville, 51 Towne Centre Blvd., Fredericksburg 22407; Tel: +1 540 785 2695; Website: Splitsville
Shopping for artisan goods
In keeping with its historic charm, Fredericksburg has a plethora of charming boutiques that carry artisanal wares. After cuddling and posing for a picture with the 4-legged residents of Maranatha Alpaca Farm, you can pick up fluffy socks, sweaters, and blankets for your home. At Deep Creek Vintage, which is set on a historic Spotsylvania farm, a 1790s manor house and its grounds are the setting for myriad vendor stalls selling everything from antiques to upcycled art. Latitudes Fair Trade stocks community-conscious goodies, such as glass bead bracelets from Nepal and batik scarves from Indonesia.
Maranatha Alpaca Farm, 71 Coakley Lane, Fredericksburg 22406; Tel: +1 540 841 4878; Website: Maranatha Alpaca Farm

Latitudes Fair Trade, 806 Caroline Street, Fredericksburg 22401; Tel: +1 540 370 8778; Website: Latitudes Fair Trade
Ghost tours
The Civil War saw 100,000 soldiers fall during hard-fought battles in and around Fredericksburg, making it a contender for the most haunted place in America. Once dark falls, several ghost tours take to the streets. The Ghosts of Fredericksburg Tours offers 90-minute candlelit strolls led by a guide dressed in Civil War period costume. If you're particularly courageous, you can take a Phantoms of Fredericksburg tour that ensures you'll have a chance to photograph ghosts as you wander through the city's streets and graveyards, learning about the history of the city as you go.
Discover
Find your perfect holiday in Fredericksburg
From 40 hotels.