A City Guide to Baton Rouge - The Capital of Louisiana
A City Guide to Baton Rouge - The Capital of Louisiana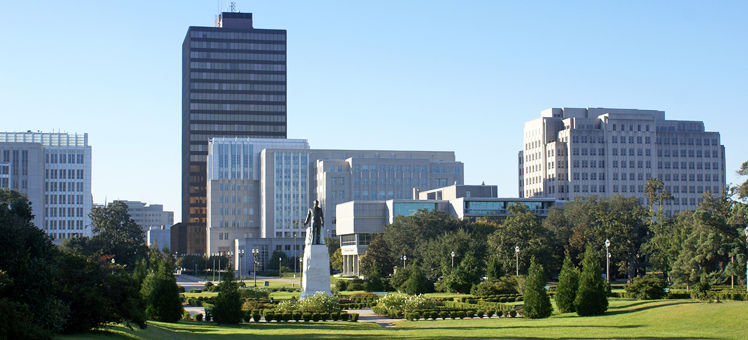 The name "Baton Rouge" automatically evokes the city's European foundation, while conjuring up images of elegant pre-Civil War plantation homes and gardens dotted with Spanish cypress trees. Alongside this exotic portrait, you'll find a flourishing business hub and buzzing college town that blends history, a salient sports culture, piquant local cuisine, memorable shopping, and outdoor fun.
The historic downtown
Spanning the Mississippi River, Baton Rouge's downtown district draws history buffs to the château-inspired Old State Capitol building (now the Museum of Political History) and the neighboring World War 2 Navy warship, the USS Kidd. You can take in the panorama from atop the current, Art Deco-styled State Capitol building - the tallest edifice in Baton Rouge. The neighboring Spanish Town district, the city's oldest area, offers a colorful ambiance and century-old shops.
Louisiana's Old State Capitol, 100 North Boulevard, Downtown, Baton Rouge, LA 70801; Tel: + 1 225 342 0500; Website: Louisiana's Old State Capitol

Spanish Town Market, 701 Spanish Town Road, Downtown, Baton Rouge, LA 70802; Tel: + 1 225 387 2691; Website: Spanish Town Market
Casinos and football
Baton Rouge's locals love to play, with casinos and football topping the list. Gracing the banks of the Mississippi River, stationary riverboats like the Belle of Baton Rouge lure vacationers with their waterfront setting, paddle wheels, slot machines, and blackjack tables. South of downtown, football fans can join the purple and gold wave of LSU Tiger supporters in a roaring cheer at Louisiana State University's Tiger Stadium.
A southern feast
Food is essential to Louisiana's culture, and Baton Rouge offers an ample taste of it. The Red Stick Farmers' Market began its Saturday morning tradition in 1996, and now displays a hearty balance of local produce and crafts within a short stroll south of Spanish Town; an area praised for the ubiquitous po' boy sandwich, the South's snack food supreme. When thirsty for a cool draft, you can join the natives at the Tin Roof Brewing Co., located between downtown and the university.
A shopper's heaven
Travelers to Baton Rouge flock to the boutiques both in and around the city. Luxurious handbags and fragrances are sold at Kiki in Perkins Rowe, while more budget-friendly finds can be had at the dozens of retail options at Tanger Outlets in Gonzales. Pierre Crawdeaux Company, Inc. is the place to shop for Cajun-influenced gifts, such as shot glasses decorated with crawfish and alligator motifs.
Outdoor adventures
Southeast of the university, the Bluebonnet Swamp Nature Center is home to a variety of wildlife, both along the hiking trails and within the center's large indoor facility. Rugby, tennis, and archery are the main activities at the Highland Road Community Park, while visitors can also get a cosmic view of space from the Highland Park Observatory.
Discover
Find your perfect holiday in Baton Rouge
From 140 hotels.