Exploring Santa Monica - A Guide to L.A.'s Laid-back Neighbor
Exploring Santa Monica - A Guide to L.A.'s Laid-back Neighbor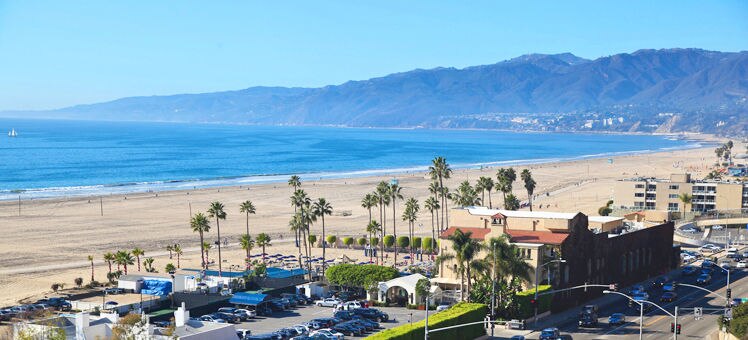 Year-round warm weather greets visitors who flock to Santa Monica for its outdoor recreation and cultural scene. Backed by mountains and sandstone cliffs, more than 3 miles of coastline with calm Pacific waters are a top draw. But a wander beyond the beach reveals stroll-friendly city streets lined with dining, shopping, and entertainment options that entice sightseers from across the globe.
Santa Monica Pier
Opened in 1909 and immortalized in movies like "Titanic" and "Forrest Gump," iconic Santa Monica Pier is a must-see. After perusing souvenir shops and open-air stalls, or dining at a seafood eatery, you can take a photo with the sign marking the end of Route 66. For family fun, a stop at Pacific Park® offers amusement rides like a high-flying pirate ship, a roller coaster, and a 130-foot Ferris wheel that puts on a pulsating light show at night.
Pacific Park, 380 Santa Monica Pier, Santa Monica 90401; Tel: +1 310 260 8744; Website: Pacific Park
Santa Monica sands
Tourists tend to favor beach spots by the pier, but exploring farther is made easy by The Strand, a car-free lane that runs along the shore. You can head north to take a surfing lesson, stop at a beachside café, or visit the Annenberg Community Beach House, an open-to-all center with a beachfront pool, playground, and volleyball courts. Rent a bike, skates, or Segway to zip 1.5 miles south of the pier to the Venice Beach Boardwalk, where hundreds of vendors and street performers create a funky haven that recalls hippie days gone by.
Third Street and downtown
At the heart of downtown lies the Third Street Promenade, a bustling pedestrian thoroughfare with restaurants, shops, and street performers that range from singer-songwriters to hip-hop dance crews. It's anchored by Santa Monica Place, a 3-level open-air mall with upscale shopping - think Louis Vuitton and Armani - and restaurants that serve on a rooftop dining deck. For more downtown action, it's a 1-block jaunt to Fourth Street, with more shops, restaurants, and bars that are popular with locals.
Main Street
Looking to explore beyond the town's tourist-heavy center? A 15-minute walk south of Santa Monica Pier brings you to Main Street, a tree-lined strip with art galleries, restaurants, and shops - all 2 blocks from the beach. Each Sunday, there's a farmers' market in front of the California Heritage Museum, where exhibits focused on the Golden State are housed in a landmark building dating to the 1890s. Continue south on the mile-long stretch and you'll hit the bohemian streets of Venice.
Montana Avenue
Often compared to Rodeo Drive in Beverly Hills, Montana Avenue's 10-block run of restaurants and high-end boutiques largely caters to well-heeled patrons. A 9-minute drive from Santa Monica Pier, it's where you can relax at sidewalk-café tables, enjoy a spa treatment, and sample artisan delicacies at stores like Andrew's Cheese Shop. Independent movies, Hollywood classics, and other silver-screen gems are shown at the Aero Theatre, which has been welcoming cinema lovers since 1940.
Discover
Find your perfect holiday in Santa Monica
From 40 hotels.