Nightlife in Milwaukee - Craft Brews, Raucous Sing-Alongs, and Classic Parlor Games
Nightlife in Milwaukee - Craft Brews, Raucous Sing-Alongs, and Classic Parlor Games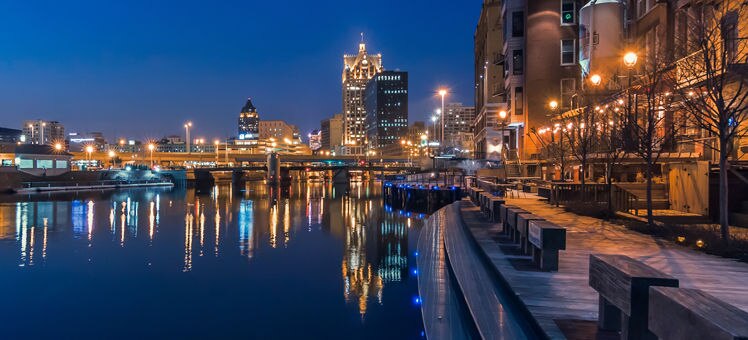 Milwaukee's Midwestern heritage shines at night as storied hangouts light up with live music and thumping nightclub beats, and offer revelers a taste of local craft beers and cocktails. For an evening of kitschy tradition, you can take in some polka music then head downtown to pose with the "Bronze Fonz," a sculpture of Fonzie from the Milwaukee-based classic sitcom Happy Days.
Milwaukee's bars
Milwaukee takes beer and cocktails seriously. Not only does each neighborhood throughout the city feature hotspots for getting the goods, but Milwaukee's servers are exceptionally well-educated in their craft. At Bryant's Cocktail Lounge, the city's oldest bar, servers recite the menu from memory. Just give an idea of what you like to drink and the bartender will craft the perfect cocktail. For the widest craft beer selection in town, you can head to Sugar Maple in Bay View.
Bryant's Cocktail Lounge
Come for the velvet walls and premium sound system, but stay for the Old Fashioned Happy Hour that runs Tuesdays through Sundays starting at 5 PM. You'll enjoy a selection of $5 cocktails.
1579 South 9th Street, Milwaukee 53204Tel: +1 414 383 2620
Bryant's Cocktail Lounge website
Sugar Maple
With 60 taps that feature a rotating selection of brews, Sugar Maple takes pride in serving and educating patrons on modern American craft beers.
441 East Lincoln Avenue, Milwaukee 53224. Tel: +1 414 481 2393
Sugar Maple website
Live music
Live entertainment is central to Milwaukee's nighttime scene. You'll find unforgettable performances in the city's smaller venues such as Lucille's Piano Bar & Grill, where pianists take requests all night, often culminating in raucous sing-alongs to go with the dinner and bar menu. At Fire on Water, local and traveling bands take the stage Wednesday through Saturday, and at Kochanski's Concertina Beer Hall, dueling stages pitch Polish and German folk music against bluegrass, surf punk, or rockabilly.
Fire on Water
Voted best for live music by listeners of WISN radio, you'll enjoy free pool tables, plenty of lounge seating, and a 120-inch projection screen.
518 North Water Street, Milwaukee 53202. Tel: +1 414 291 4411
Fire on Water website
Kochanski's Concertina Beer Hall
Tap into the city's Polish and German heritage at this historic beer hall with a night of live polka.
1920 South 37th Street, Milwaukee 53215. Tel: +1 414 837 6552
Kochanski's Concertina Beer Hall website
Evening games
Considering its proclivity for alcoholic drinks, it comes as no surprise that Milwaukee naturally cultivates sophisticated drinking games and activities. Walk into Evolution Gastro Pong on Old Third Street and you'll find a bar-restaurant that's also part table tennis tournament hall where you can rent tables in 30-minute increments. If you're looking for a more classic pursuit, head to Holler House, the oldest certified bowling alley in the country. You can enjoy a variety of beers and partake in antique practices like keeping score by hand. Don't forget to tip the human pinsetters.
Evolution Gastro Pong
You can come here to play table tennis, billiards, darts, and giant Jenga!. If you're a group of 10 or more people, reservations are recommended.
1023 North Old World 3rd Street, Milwaukee 53203 . Tel: +1 414 831 7746
Evolution Gastro Pong website
Holler House
In addition to its world famous bowling set-up, this bar is known for its ceiling, which is festooned with women's brassieres. The bra-flinging tradition was started by bartender and owner, Marcy Skowronski, nearly 50 years ago.
2042 West Lincoln Avenue, Milwaukee 53215. Tel: +1 414 647 9284
Holler House website
Nightclubs in Milwaukee
Milwaukee doesn't just groove to polka. You can join the Retro Dance Party at Mad Planet in East Side, a long-standing Friday night tradition that plays tunes from the '80s and '90s. For a night of Latin beats, head to Hot Water Wherehouse in Walker's Point, where Saturday evenings open with a free Latin dance lesson. LaCage NiteClub is the largest gay bar and entertainment complex in Wisconsin. Live DJs go to work Wednesday through Sunday and everyone is welcome.
Hot Water Wherehouse
Housing 2 dance clubs in 1 location - Hot Water and Wherehouse - you'll shimmy to Latin dance music, including salsa and Argentine tango, rock, and electronica.
818 South Water Street, Milwaukee 53204. Tel: +1 414 383 7593
Hot Water Wherehouse website