Santa Cruz Nightlife Heats Up With Live Music, Comedy, Movies, and More
Santa Cruz Nightlife Heats Up With Live Music, Comedy, Movies, and More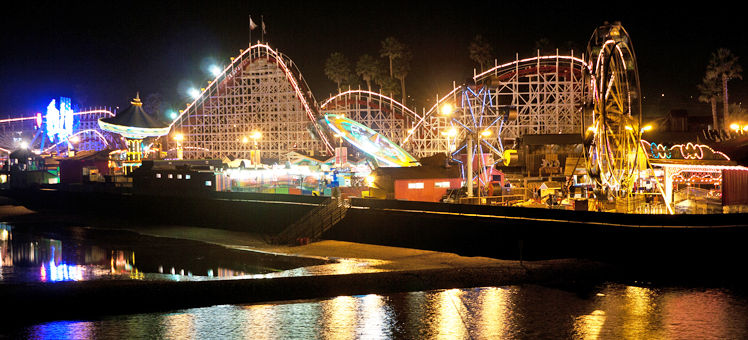 Known as a laid-back, friendly tour stop for artists traveling to the Bay Area, Santa Cruz is spangled with intimate nightclubs, music venues, and theaters from West Cliff to Aptos. Refreshing ocean breezes in the evenings invite you to stroll from venue to venue, or linger in conversation under the stars.
Nightclubs: rock, funk, blues
Nightclubs in Santa Cruz feature both big-name shows and new artists. Photography is usually allowed (without flash), so don't forget your smartphone or camera. The Catalyst Club is old-guard as clubs go: one big room with premium sound for the enjoyment of hard-hitting rock and funk. For a bluesier evening with a side of salsa and reggae, head to Moe's Alley, located about halfway between downtown Santa Cruz and Soquel.
The Catalyst Club
Shows here tend to be packed and loud, drawing the 20- or 30-something set. For a better view of the stage and dance floor, head to the second-story balcony, which has its own bar.
1011 Pacific Avenue, Santa Cruz 95060Tel: +1 831 423 1338
The Catalyst Club website
Moe's Alley
North of Cabrillo Hwy/Hwy 1, Moe's Alley is an intimate space with an outdoor patio and bar. Locals know that good shows will fill up fast, so get in early and plan to dance till closing time.
1535 Commercial Way, Santa Cruz 95065. Tel: +1 831 479 1854
Moe's Alley website
Classical music and jazz
With its easygoing, worldly mix of residents, Santa Cruz supports a rich range of musical traditions. New Music Works, founded by 5 composers, builds an annual concert series around classical works by contemporary composers. Downtown, Kuumbwa Jazz Center promotes both live performance and jazz education outreach, training young musicians for careers as professional performers.
New Music Works
This concert series features works by living composers. Some concerts are held outdoors, others in area theaters. Programs emphasize local composers, original music/theater works, and masterworks of the 20th and 21st centuries, performed by the resident orchestra and guest artists.
Tel: +1 831 425 3526
New Music Works website
Kuumbwa Jazz Center
"Kuumbwa" is Swahili for "an act of spontaneous creativity," and that's what you'll find anytime you visit this dynamic downtown institution. Its calendar is stacked with performances by smaller traveling ensembles, CD release parties, and bigger shows on weekends.
320-2 Cedar Street, Santa Cruz 95060. Tel: +1 831 427 2227
Kuumbwa Jazz Center website
Comedy and historic theater
Throughout the year, the city's nightlife calendar is chock-full of entertaining events. Comedy buffs enjoy the live shows Thursdays at The Blue Lagoon downtown, while locals and visitors alike flock to the revamped, retro-cool Rio Theatre, built in 1949 to accommodate the "high-tech" (for its time) Cyclorama screen. Shows run the gamut from pop and rock concerts to a surf-film festival. For big-name performances, it's a good idea to buy your tickets in advance via the Rio's website.
The Blue Lagoon
Within blocks of the Catalyst Club and Kuumbwa Jazz Center, the Blue Lagoon is a cocktail lounge known for its theme nights. Catch Blue Lagoonies stand-up comedy on Thursdays, '90s music on Fridays, or Goth night on Sundays.
923 Pacific Avenue, Santa Cruz 95060. Tel: +1 831 423 7117
The Blue Lagoon website
Rio Theatre
This historic venue at the corner of Seabright and Soquel avenues has one of the most eclectic lineups in town. From book readings to chant concerts to film screenings and big-name performers, you'll always find something entertaining in "Rio."
1205 Soquel Avenue, Santa Cruz 95062. Tel: +1 831 423 8209
Rio Theatre website
Music festivals
Two annual music festivals bookend summer in Santa Cruz, drawing locals and visitors outdoors to enjoy easy evenings of balmy weather. Memorial Day weekend, check out the Santa Cruz American Music Festival in Aptos Village Park, featuring blues, country, and Americana. In October, the rock-funk-punk lineup of Santa Cruz Music Festival takes over Pacific Avenue downtown, building alliances among restaurants, music venues, and retail stores along the pedestrian mall.
Santa Cruz American Music Festival
Enjoy traditional American music in the 10-acre Aptos Village Park, a natural amphitheater of oaks and redwoods surrounding a grassy meadow. A top-notch sound system and flexible general admission seating on the lawn ensure every ticket offers a memorable experience.
100 Aptos Creek Road, Aptos 95003.
Santa Cruz American Music Festival website
Santa Cruz Music Festival
With more than 100 events spread across 7 venues on Pacific Avenue downtown, this festival attracts both the college crowd and locals who love their metal. Some shows, like the "pre-party" at the Catalyst Club, are ticketed. Others are free.
Santa Cruz Music Festival website
Discover
Find your perfect holiday in Santa Cruz (and vicinity)
From 100 hotels.