Art Galleries, Native American Crafts, Classical Music - A Guide to Arts and Culture in Santa Fe
Art Galleries, Native American Crafts, Classical Music - A Guide to Arts and Culture in Santa Fe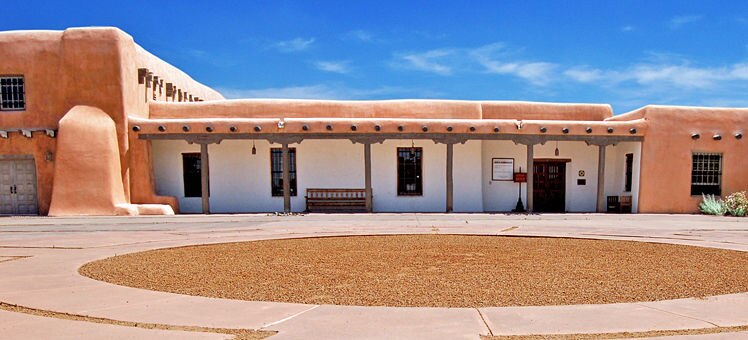 Santa Fe is a city rich in art and culture, with more than 250 art galleries, several art and history museums, a thriving opera house, and a symphony orchestra. It's well known as a center of Native American handicrafts, especially the silver and turquoise jewelry and pottery distinctive to the Southwest.
Art galleries
Santa Fe is packed with art galleries, and many are concentrated within a few blocks around the Plaza and along Canyon Road. Here you can browse and buy paintings, sculptures, photographs, pottery, and multimedia works. You'll find work by local, regional, and international artists, with many of them focusing mainly on contemporary and Southwestern art.
Gerald Peters Gallery
This gallery is considered one of the best in town. It sells 19th-century, modern, and contemporary American and European art, including works by Georgia O'Keeffe, Ansel Adams, and New Mexico modernists.
1011 Paseo de Peralta, Santa Fe 87501Tel: +1 505 954 5700
Gerald Peters Gallery website
Art museums
Santa Fe has some world-class art museums exhibiting regional, national, and international art. You'll find several museums on Museum Hill, a couple of miles from downtown. The complex has a square with sculptures and striking panoramic views from the hill. Other museums cluster around the Plaza area.
Georgia O'Keeffe Museum
Georgia O'Keeffe moved to New Mexico and became one of its most renowned artists. The museum has rotating exhibits from its collection of her art, as well as documentaries about her life and work.
217 Johnson Street, Santa Fe 87501. Tel: +1 505 946 1000
Georgia O'Keeffe Museum website
New Mexico Museum of Art
The large collections of the New Mexico Museum of Art highlight regional and national works. They include paintings by Georgia O'Keeffe and photographs by Ansel Adams. The inner court has contemporary sculptures and fountains.
107 W. Palace Avenue, Santa Fe 87501. Tel: +1 505 476 5072
New Mexico Museum of Art website
Historic Santa Fe
Santa Fe's long history is reflected in many of its buildings as well as museums. The Palace of the Governors, built in the early 1600s, is the oldest public building in the US, and San Miguel Mission Chapel, also from the 17th century, is the country's oldest church still in use. There are museums dedicated to Native Americans of the Southwest and to the period of Spanish colonization.
New Mexico History Museum
Located behind the Palace of the Governors, the New Mexico History Museum tells the story of the state's original inhabitants, the era of Spanish colonization, Mexican rule, the Santa Fe Trail, and 19th- and 20th-century development of the area.
105 W Palace Avenue, Santa Fe 87501. Tel: +1 505 476 5100
New Mexico History Museum website
Native American culture
Native American history and culture infuse Santa Fe and its surroundings. Museums and galleries show historic as well as contemporary Indian arts and crafts. Native Americans display and sell their pottery and jewelry in the shade of the Palace of Governors. You can visit the nearby Indian pueblos, such as Tesuque, for a close-up look at what life was like in an Indian settlement.
Museum of Indian Arts & Culture
On Museum Hill, the Museum of Indian Arts & Culture has multimedia exhibitions and offers special workshops and demonstrations.
710 Camino Lejo, Santa Fe 87505. Tel: +1 505 476 1250
Museum of Indian Arts & Culture website
Santa Fe's musical offerings
Santa Fe has a very active music scene. Its professional symphony orchestra performs year-round and welcomes national and international guest musicians. Summer brings the opera season and the Santa Fe Chamber Music Festival, which usually takes place between mid-July and late August. It features some of the world's finest musicians of the genre as well as renowned soloists.
Santa Fe Opera
Santa Fe Opera has its home in the Crosby Theatre, a striking piece of contemporary design set in spectacular scenery. You'll find both the views of the surrounding hills and the world-class productions a memorable experience.
301 Opera Drive, Santa Fe 87506. Tel: +1 505 986 5900
Santa Fe Opera website