From Fireworks to Craft Beer and Stand-Up - Anaheim Nightlife
From Fireworks to Craft Beer and Stand-Up - Anaheim Nightlife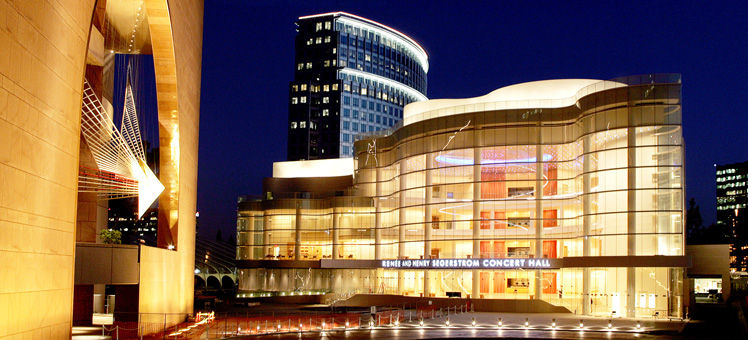 Anaheim's nocturnal fireworks aren't limited to the ones lighting up the sky over Disneyland® Resort. There are plenty of different ways to have a good time after the sun goes down, from indulging in a local craft beer to laughing the night away. No matter where you spend your evening, you'll head back to your hotel room with a smile on your face.
The local brewery scene
One of the best ways to tap into Anaheim's nightlife is to sample its beer. The Anaheim area is a hotbed for microbreweries that pour their IPAs, saisons, and porters steps from where they're made. A number of the breweries are located in industrial parks, and you'll often find food trucks parked outside their doors, ready to pair your brew with a bite.
Noble Ale Works
You'll find this brewery between Angel Stadium and Honda Center. Plenty of Angels and Ducks fans head here on game day, enjoying tasty craft brews like Naughty Sauce Chocolate Milk Stout.
1621 South Sinclair Street, Anaheim, CA 92806Tel: +1 714 634 2739
Noble Ale Works website
Bottle Logic Brewing
The list of beers at this science-themed brewery includes several limited release brews and experimental concoctions, playing with traditional styles like lagers and IPAs. Other craft beers are served more routinely, like the popular She Shot First Wheat Ale.
1072 North Armando Street, Anaheim, CA 92806. Tel: +1 714 660 2537
Bottle Logic Brewing website
Country dance halls
Anaheim's bar scene is proof that Orange County cowboy culture is alive and kicking. Several watering holes are devoted to various aspects of the country-western lifestyle, from the old-school outlaw vibe to the modern pop-infused scene. You won't find a hint of pretentiousness at these places. Instead, you'll see drink specials, line dancing, the occasional live act, and plenty of hat-wearing patrons looking for a good time.
InCahoots
Two-step lessons and drink specials are hallmarks of this lively bar. If you're brave enough, there's also a mechanical bull to ride.
1401 S. Lemon Street, Fullerton, CA 92832. Tel: +1 714 441 1666
InCahoots website
The Ranch Saloon
This sleek, spacious spot features 70 feet of bar space and a massive dance floor for line dancing. The saloon occasionally books local and touring country acts to play on the venue's stage.
1025 E. Ball Road, Anaheim, CA 92805. Tel: +1 714 817 4200
The Ranch Saloon website
Wine bars
The Anaheim area's burgeoning wine bar scene is perfect for a lively yet sophisticated night on the town. Most of these places serve up bites to pair with your bubbly white or full-bodied red, ranging from simple cheese plates to sandwiches and entrees. Selections from California's major wine making regions abound, but you'll also find plenty of wines from around the globe.
The Twisted Vine
Enjoy a global selection of reds and whites by the glass, along with various small plates, flatbreads, and paninis. You can also compare and contrast certain selections by ordering their weekly wine flight.
127 West Commonwealth Avenue, Fullerton, CA 92832. Tel: +1 714 871 1200
The Twisted Vine website
Colony Wine Merchant
This downtown Anaheim spot features nightly 3-course wine flights and live music every Tuesday and Sunday. If you really like what you're drinking, you can pick up a bottle at their onsite retail store.
280 S. Lemon Street, Anaheim, CA 92805. Tel: +1 657 208 1860
Colony Wine Merchant website
Comedy clubs
Orange County's comedy club scene runs the gamut from nationally-known chain venues to independent, intimate spots. It's not uncommon for legends like Jon Lovitz and David Alan Grier to take the stage at the larger spaces. Most clubs carry a 2-item minimum, which can be food, drink, or a combination of the 2. Some spots are also home to local improv groups, whose on-the-fly antics have great potential to induce giggles.
Brea Improv
The biggest names in comedy take the stage here during the weekends. You'll also be able to catch up-and-coming comedians on select weekdays.
120 South Brea Blvd., Brea, CA 92821. Tel: +1 714 482 0700
Brea Improv website