San Jose's Arts and Culture - Modern Art, Exciting Museums, and Concerts
San Jose's Arts and Culture - Modern Art, Exciting Museums, and Concerts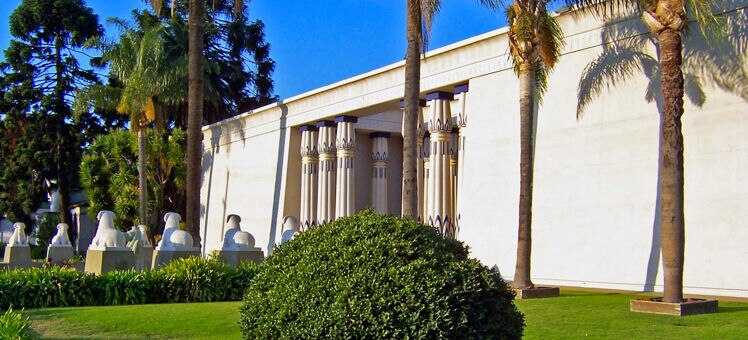 Known for its ties to technology, San Jose also takes pride in celebrating culture, history, and great works of art. The city hails local art in sophisticated galleries, where the public is welcome to view exhibits and converse with the artists themselves. Downtown is the place to check out live concerts and Broadway shows, and Winchester Mystery House is a historical landmark that's truly one-of-a-kind.
Modern and local art
San Jose is known for its appreciation of fine art and sculpture, which is evident in the many public art spaces throughout the city and surrounding areas, including Google's world-renowned campus. But art lovers are in for a special treat when visiting local galleries. Being part of Silicon Valley, modern art works on themes of innovation and technology are common. Californian and West Coast culture is also often an inspiration for local artists.
San Jose Museum of Art
This is the place to visit in downtown San Jose, next to Plaza de César Chávez park, for excellent local and modern art in stylish surroundings. Many of the exhibitions emphasize the relationship between technology and architecture.
110 South Market Street, San Jose, CA 95113Tel: +1 408 271 6840
San Jose Museum of Art website
San Jose Institute of Contemporary Art
Also in downtown San Jose, this gallery likes exhibiting challenging work that engages and enlivens visitors. Admission is free, and you can listen to artists discuss their pieces, watch live performances, or simply wander through the gallery.
560 South First Street, San Jose, CA 95113. Tel: +1 408 283 8155
San Jose Institute of Contemporary Art website
Live concerts and performances
The city hosts a variety of live shows every year at first-rate venues. You'll find Broadway plays, award-winning musicals, and elegant ballets all within city limits. Downtown San Jose is home to 2 performing art centers, making it a breeze to get to and from a show. Check out City National Civic for sports games and concerts in the heart of Silicon Valley.
San Jose Center for the Performing Arts
This Art Deco-style theater is where Ballet San Jose and Broadway San Jose perform. You can catch world-class musicals, such as "West Side Story," or award-winning plays like "The Book of Mormon."
255 South Almaden Boulevard, San Jose, CA 95113. Tel: +1 408 295 9600
San Jose Center for the Performing Arts website
City National Civic
The City National hosts performances from popular symphonies and musicals. With over 3,000 seats, family-friendly productions such as "Legend of Zelda" and "Disney Live! Three Classic Fairytales" are also held here.
135 West San Carlos Street, San Jose, CA 95113,. Tel: +1 408 792 4111
City National Civic website
Victorian-era landmark
A short walk from Santana Row shopping mall is one of the most bizarre Victorian-era landmarks in the world - Winchester Mystery House. This impressive mansion was once the home of Sarah Winchester, who inherited a fortune when her husband passed away in 1881. After consulting with a medium, who claimed to channel her dead husband, she continued adding befuddling rooms and other elements onto the property until her death in 1922 - all in an effort to protect herself and her fortune from meddling ghosts. The result is a hair-raising landmark that must been seen to be believed.
Winchester Mystery House
The Winchester Mansion is an elaborate maze, including a staircase that descends 7 steps before ascending 11, and winding hallways leading to secret passages inside walls.
525 South Winchester Boulevard, San Jose, CA 95128. Tel: +1 408 247 2101
Winchester Mystery House website
Exploring museums
Although highly attuned to new technology and modern innovation, San Jose celebrates history and culture through exciting local museums. The heart of Silicon Valley wouldn't be complete with "The Tech," a museum devoted to providing hands-on experiences to visitors in the form of interactive exhibits, each of which has a technological theme. Or you can step way back in time to ancient Egypt through one of the world's best collections of Egyptian artifacts, set within a building that was designed to resemble the culture's renowned architecture.
The Tech Museum of Innovation
Whether you're a kid or just a kid-at-heart, The Tech Museum of Innovation is a must-do. The museum offers experiential learning opportunities, such as "Social Robots" - where you can build your own robot.
201 South Market Street, San Jose, CA 95113. Tel: +1 408 294 8324
The Tech Museum of Innovation website
Rosicrucian Egyptian Museum
The Rosicrucian Egyptian Museum in the city's Rose Garden neighborhood will delight fans of ancient Egyptian history. It holds the largest collection of Egyptian artifacts in Western North America, and is set within an Egyptian-themed park.
1660 Park Avenue, San Jose, CA 95191. Tel: +1 408 947 3635
Rosicrucian Egyptian Museum website