Arts and Culture in Galveston - History, Visual Arts, and Opera
Arts and Culture in Galveston - History, Visual Arts, and Opera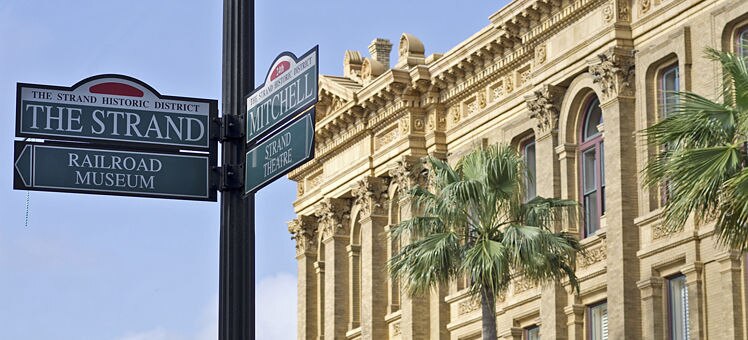 In Galveston, history is everywhere you go. A bygone era is still alive in its grand Victorian mansions. Museums chronicle land, air, and water stories. The opera house is a piece of history in itself. Restored buildings house a variety of inviting shops and restaurants. Antiques stores and art studios are also part of the island's vibrant scene.
Opera and theater
The main venue for opera, plays, and theatrical productions in Galveston is a marvelous building dating from 1894. The structure, in the heart of the island, has been restored to its former beauty. A couple of blocks away, Island ETC shows movies and hosts a professional theater company that presents 5 to 6 productions each year.
Grand 1894 Opera House
Completed in 1894, "The Grand" has survived hurricanes and years of neglect. Today, it's on the National Register of Historic Places, and it's the Official Opera House of Texas. The renovated building hosts opera, Broadway shows, and other productions.
2020 Post Office Street, Galveston 77550Tel: +1 409 765 1894
Grand 1894 Opera House website
East End Historic District
The area between 10th and 19th streets and Mechanic and Broadway streets is on the National Register of Historic Places, and has also been designated a National Historic Landmark. The neighborhood is filled with old houses and mansions with manicured gardens. You can tour some of them and get a first-hand look at what life was like in 19th-century Galveston.
Moody Mansion
Completed in 1895, the limestone-and-brick Moody Mansion is one of the prettiest Victorian mansions in the East End Historic District. Take a tour of the 28,000-square-foot restored home to see its ornate furnishings, stained-glass windows, and hand-carved wood.
2618 Broadway Street, Galveston 77550. Tel: +1 409 762 7668
Moody Mansion website
Visual arts
The East End Historic District is also the center of visual arts in Galveston. There are plenty of art galleries and studios in the area, especially along Post Office Street. They exhibit and sell paintings, sculptures, photographs, and multimedia works by local, national, and international artists. In October, the opera house is the setting for ARToberFEST, a juried fine-art festival.
Galveston Art League Gallery
The Galveston Art League Gallery is a local association of artists and art lovers. The group showcases local art, holds workshops, and hosts an art walk every 6 weeks, when galleries stay open late and offer refreshments.
2117A Post Office Street, Galveston 77550. Tel: +1 409 621 1008
Galveston Art League Gallery website
Museums
You'll find an impressive array of museums here that educate and fascinate - especially if you're into history. Ships, trains, and war planes from decades past are the main attractions. You can also learn about a famous pirate, a monstrous hurricane, and Galveston's role as a gateway for immigrants from around the world.
Texas Seaport Museum and the Elissa
Located on the water, this museum features the Elissa, an 1877 merchant sailing ship. The ship is a National Historic Landmark and has been designated an American Treasure. There's also an exhibit on the ship's restoration process.
2100 Harborside Drive, Galveston 77550. Tel: +1 409 763 1877
Texas Seaport Museum and the Elissa website
Lone Star Flight Museum
On the west end of the island, this museum has an incredible collection of war planes. Most of them are still operational, and you can take a ride in some. The museum also houses the Texas Aviation Hall of Fame.
2002 Terminal Drive, Galveston 77554. Tel: +1 409 740 7722
Lone Star Flight Museum website
History and a hurricane
Just walking around the Strand and the East End Historic District will give you a glimpse of what life was like in the late 19th and early 20th centuries. To learn about the massive hurricane of 1900 that shattered the island, see The Great Storm at the Pier 21 Theater.
Pier 21 Theater
You'll have a choice of 3 shows: a digitally restored documentary about the devastating hurricane of 1900, a presentation about pirate Jean Lafitte, and a documentary about the thousands of immigrants who came to the US through Galveston.
2100 Harborside Drive, Galveston 77550. Tel: +1 409 763 8808
Pier 21 Theater website