Family-Friendly Clearwater Beach - From Festivals, to Aquariums, and State Parks
Family-Friendly Clearwater Beach - From Festivals, to Aquariums, and State Parks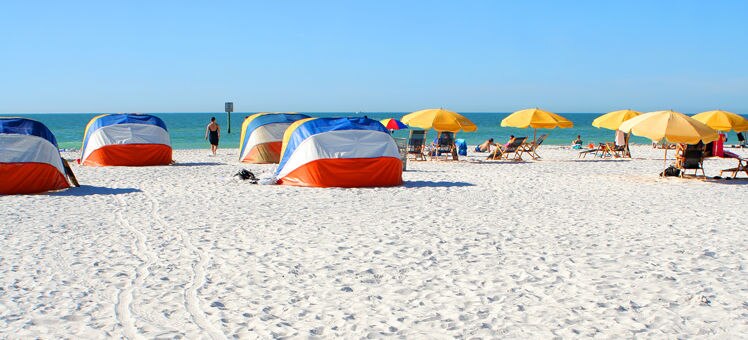 You'll find Clearwater Beach a family-friendly haven, from the sparkling white sand beaches, to the many restaurants that offer children's menus. If you've had your fill of building sandcastles, there's no need to worry here. The area offers an array of kid-friendly activities including canoeing, thrilling boat rides, festivals, and aquarium tours. Even on the rare rainy day, your family will have plenty of options for fun in Clearwater Beach.
Meet non-human locals
Getting up close and personal with area marine life is guaranteed to keep your family's beach bliss at all-time highs. And while you don't want to meet stingrays at the beach, it's a treat to marvel at them behind aquarium glass. If you prefer to see marine animals in their natural habitats, you'll also have myriad dolphin-spotting tours available, and even pirate-themed cruises.
Clearwater Marine Aquarium
This aquarium is fun, for sure, but it's also a great way to include education into your family vacation. You'll find sea turtles, otters, and stingrays here, and can meet Winter, the aquatic star of the movie "Dolphin Tale."
249 Windward Passage, Clearwater, FL 33767Tel: +1 727 441 1790
Clearwater Marine Aquarium website
Sea Screamer
The Sea Screamer is one of the world's largest speedboats, and offers an experience like no other. As you zip around the gulf, the boat creates a wake that attracts dolphins who love frolicking in the waves.
Clearwater Municipal Marina Slip #15, 25 Causeway Boulevard, Clearwater Beach FL 33767. Tel: +1 727 233 4970
Sea Screamer website
Parks and playgrounds
Clearwater Beach is tucked between 2 parks brimming with opportunities for family adventures. Sand Key Park is a quick 10-minute drive south, while Caladesi Island State Park is a 20-minute ferry ride to the north. Both are an excellent way to experience Florida's fascinating ecosystems, such as salt marshes and mangroves. Add that to the parks' playgrounds and nature trails, and you've got the recipe for a fun family outing.
Caladesi Island State Park
The ferry ride to the park is exciting to be sure, but the fun's only just begun. The park has a playground and beautiful beaches perfect for swimming and collecting seashells. You can also paddle mangroves in rental canoes.
Offshore Island, Dunedin, FL 34698. Tel: +1 727 469 5918
Caladesi Island State Park website
Family fun after dark
For post-beach fun, you can head to Pier 60 for the daily sunset festival. The excitement kicks off 2 hours before sunset, and winds down 2 hours afterwards. There's plenty to be enjoyed by both kids and adults, including street performers, vendors, movie screenings, and live music. And few sights parallel with the pinks, purples, and oranges of a Gulf of Mexico sunset, which you can watch from the patio at kid-friendly Frenchy's South Beach Café.
Sunsets at Pier 60
This free festival has been a Clearwater Beach tradition for over 20 years. The little ones can get henna tattoos or balloon animals, as jugglers and fire-eaters put on enthralling shows. Check the calendar for live music and movie dates.
1 Causeway Boulevard, Clearwater Beach, FL 33767. Tel: +1 727 434 6060
Sunsets at Pier 60 website
Frenchy's South Beach Café
A fun-filled family day is sure work up some appetites. When tummies start to rumble, you can head to Frenchy's South Beach Café. The children's menu here features favorites like grilled cheese sandwiches, corn dogs, and pasta with marinara sauce.
351 South Gulfview Boulevard, Clearwater Beach, FL 33767. Tel: +1 727 441 9991
Frenchy's South Beach Café website