Entertainment and Nightlife in Asheville - Beer Fests, Live Music, and Festivals
Entertainment and Nightlife in Asheville - Beer Fests, Live Music, and Festivals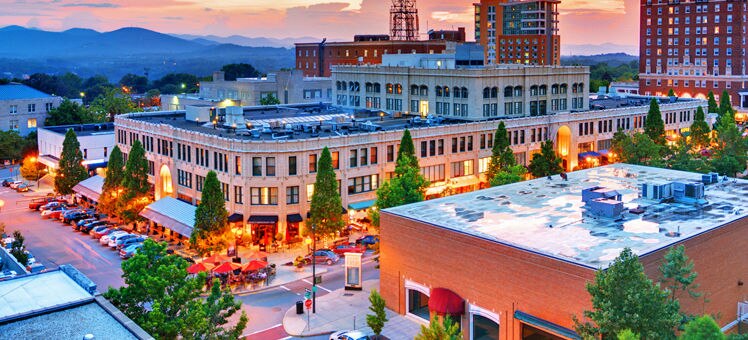 On any weekend, 50 or more live performances can be enjoyed in and around Asheville. Many venues offer dinner or food trucks and plenty of local beer. Restaurants take on a bar vibe with tables spilling onto sidewalks, and rooftop bars serve up inventive cocktails with a side of mountain views. Every weeknight too you'll find entertainment in this lively mountain city.
Live music
With almost 30 live music venues, Asheville's music scene delivers a show nearly every evening. By day, buskers are on the streets, playing unusual homemade or traditional instruments. International touring acts often include Asheville as a stop because they enjoy the intimate venues and the city's enthusiasm for music. The city is home to The Orange Peel, billed as one of America's top music venues.
The Grey Eagle
Part taqueria, part music venue, the industrial-vibe Grey Eagle has become a favorite concert spot for touring musicians.
185 Clingman Ave., Asheville 28801Tel: +1 828 232 5800
The Grey Eagle website
The Orange Peel
Named one of USA's top 5 music venues by Rolling Stone magazine, The Orange Peel attracts both rising and established acts. Downstairs, guests can watch live shows on lounge furniture.
101 Biltmore Ave., Asheville 28801. Tel: +1 828 398 1837
The Orange Peel website
Breweries and beer events
The brewery scene in Asheville offers more than just beer. Breweries host music, food trucks, and movie nights weekly. New kegs of small-batch brews are tapped daily, and over 100 local beers can be sampled on any given day. Beer-centric events fill up the local calendar with brewer lectures, the Beer City Festival in May, Brewgrass in September, and beer fests throughout the summer. Highland Brewery Company, Asheville's oldest brewery, offers family-friendly music shows frequently.
Beer City Festival
Considered the city's premier festival, Beer City Festival invites more than 30 brewers to set up booths while live music blasts in the background. Local food vendors are also in attendance.
121 College St., Asheville 28801.
Beer City Festival website
Highland Brewing Company
Highland Brewing Company is the city's oldest and most well-known brewery. It sits on the outskirts of Asheville and regularly hosts live music and food trucks, as well as beer fests and events throughout the summer.
12 Old Charlotte Hwy., Asheville 28803. Tel: +1 828 299 3370
Highland Brewing Company website
Rooftop bars
The temperate climate encourages restaurant and bar owners to make the most of any outdoor space. Popular Thirsty Monk has a rooftop bar as part of its upstairs speakeasy, while Social Lounge and SkyBar also utilize their roofs to serve high-end cocktails and appetizers. Hit these spots at sunset to gaze at the surrounding mountains awash in color.
Thirty Monk
This 3-tiered venue offers a downstairs Belgian beer bar, a middle bar with hundreds of choices, and an upstairs speakeasy with rooftop access and old-fashioned cocktails.
92 Patton Ave., Asheville 28801. Tel: +1 828 254 5470
Thirty Monk website
SkyBar
Four terraces provide sweeping views in every direction, earning this bar a reputation for the place to see Asheville's gorgeous sunsets.
20 Battery Park. Tel: +1 828 258 1058
SkyBar website
Outdoor concerts, festivals, and events
Ashevillians use any excuse to get outside, and regular events like Downtown After Five, Friday night drum circles, and monthly RiverMusic shows provide outdoor entertainment May through October. Brevard Music Center offers classical music performances, while UNC Asheville has a Monday-night tradition of Concerts on the Quad throughout the summer. In late April, Asheville hosts Moogfest, a festival dedicated to electronic music, in different venues across town.
Brevard Music Center
Serving as a summer institute and festival, this venue got its start as a music camp through Davidson College. Today, Brevard Music Center attracts world-renowned musicians and offers educational opportunities for 7 weeks every summer.
239 Andante Ln., Asheville 28712. Tel: +1 828 826 2100
Brevard Music Center website
UNC Asheville
The concerts put on by University of North Carolina are family-friendly events, often with food trucks on site. Bring your own chairs and blankets, and enjoy a relaxing evening of outdoor music.
1 University Hts., Asheville 28804. Tel: +1 828 251 6600
UNC Asheville website
Music bars and late-night eats
Many of Asheville's bars have a swanky vibe, thanks to high-end cocktails and slick decor. You can add entertainment to your night out at Off the Wagon Dueling Piano Bar or Tressa's Downtown Jazz & Blues. Moonshine cocktails can be sampled at Lex 18. For late-night snacks you can head to MG Road, which serves as a pop-up restaurant location for a rotating cast of chefs providing food until midnight on the weekends.
Tressa's Downtown Jazz & Blues
Aiming for an Old New Orleans vibe, Tressa's makes you want to dress up a bit and sip on small-batch bourbons, rums, or tequila. Their calendar stays full with acclaimed blues, jazz, and funk acts.
26 Broadway Ave., Asheville 28801. Tel: +1 828 254 7072
Tressa's Downtown Jazz & Blues website
MG Road Lounge
This lounge is owned by Chai Pani's award-winning chef who invites other chefs to conduct restaurant takeovers in this space for the ultimate late-night munchies. Cocktails and fanciful drink choices are on hand too.
19 Wall St., Asheville 28001. Tel: +1 828 254 4363
MG Road Lounge website