From Happy Hours to Club Culture - Nightlife in Santa Monica
From Happy Hours to Club Culture - Nightlife in Santa Monica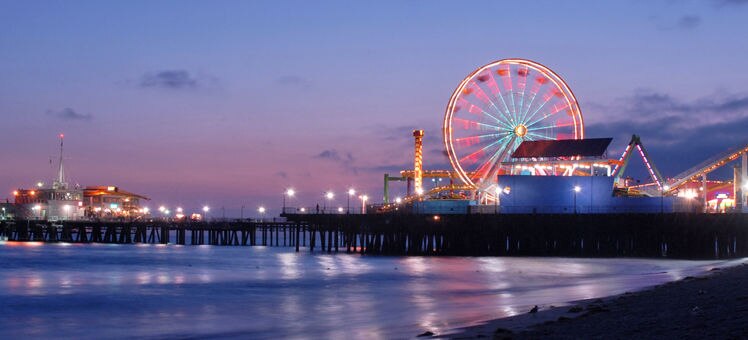 Santa Monica may sleep earlier than its Hollywood neighbor, but it still parties after sundown. Happy hours are found in nearly every corner of the city, from beachfront cafés and swanky wine bars, to neighborhood taverns and upscale lounges. Those with stamina can enjoy live music joints and dance clubs pumping into the wee hours.
Happy hours
An early evening wander along downtown's Third Street Promenade rewards with discounted glasses of wine, beer, and cocktails, along with snacks like fish tacos and wings. Enjoy a tropical drink paired with the setting sun at an oceanfront café, a craft microbrew at an old-school bar, or sangria at a ritzy restaurant.
The Misfit Restaurant + Bar
If you fancy hanging with gastropub-loving hipsters, saunter into this clock tower building dating to the 1920s, decorated with retro-chic flair.
225 Santa Monica Blvd., Santa Monica 90401Tel: +1 310 656 9800
The Misfit Restaurant + Bar website
Barkowski
Named after author Charles Bukowski, the 1960s-style bar has a vibe that's at once cozy, dark, and a little loungy.
2819 Pico Blvd., Santa Monica 90405. Tel: +1 310 998 0069
Barkowski website
Main Street scene
While Third Street dominates the happy hour arena, Main Street claims the nighttime crowd. Along the mile-long stretch you'll find handcrafted cocktails at fashionable lounges, artisanal beers at neighborhood bars, and Irish pubs with large whiskey menus. Modern dance clubs are busy late into the night, while live bands rock time-honored hangouts.
Finn McCool's
The Emerald Isle went west when proprietor Geraldine Gilliland shipped the contents of her stepfather's Irish pub to Santa Monica. Finn McCool's serves draft beers, 200+ whiskeys, and traditional grub.
2702 Main St., Santa Monica 90405. Tel: +1 310 452 1734
Finn McCool's website
Circle Bar
In its heyday, Circle Bar served to famous hard-drinking artists like Jim Morrison and Truman Capote. Today, it's packed with a younger crowd, enlivened by DJs on weekends.
2926 Main St., Santa Monica 90405. Tel: +1 310 450 0508
Circle Bar website
Live music
Not all L.A.'s live music venues are in Hollywood. Around Santa Monica's downtown, you can dance up a sweat to blues, rock, or reggae at cozy joints that have been hosting bands for decades. DJs rally up high-energy parties at cutting-edge clubs with pulsating light shows, as well as at seaside-chic lounges.
Harvelle's Nightclub Santa Monica
Since 1931, Harvelle's Nightclub has been hosting local and international artists, with funk, jazz, and rock bands taking the stage.
1432 4th St., Santa Monica 90401. Tel: +1 310 395 1676
Harvelle's Nightclub Santa Monica website
The Room Santa Monica
Listen to DJs spin while sipping a cocktail in a cozy booth, or join locals on the dance floor at this low-lit nightspot.
1323 Santa Monica Blvd., Santa Monica 90404. Tel: +1 310 458 0707
The Room Santa Monica website
Wine bars
A few hours' drive from California's wine country, Santa Monica stocks some of the best vintages in the state. Both at Third Street Promenade and farther inland, you can enjoy a glass paired with tapas, or small farm-to-table dishes. Wine selections range from international labels to small producers, as well as handcrafted cocktails and small-batch beers.
Bodega Wine Bar
This self-described "anti-wine bar" is an casually comfortable lounge with a crowd ranging from Millennials to 40-something professionals. Pours are moderately priced.
814 Broadway, Santa Monica 90401. Tel: +1 310 394 3504
Bodega Wine Bar website
Sonoma Wine Garden
On the rooftop deck, ocean views are paired with a huge menu of California wines, along with international vintages, cocktails, and sangria.
395 Santa Monica Place, Santa Monica 90401. Tel: +1 424 214 4560
Sonoma Wine Garden website
Discover
Find your perfect holiday in Santa Monica
From 40 hotels.