Nightlife and Entertainment in Branson - Music Lounges, Sports Bars, and Movie Theaters
Nightlife and Entertainment in Branson - Music Lounges, Sports Bars, and Movie Theaters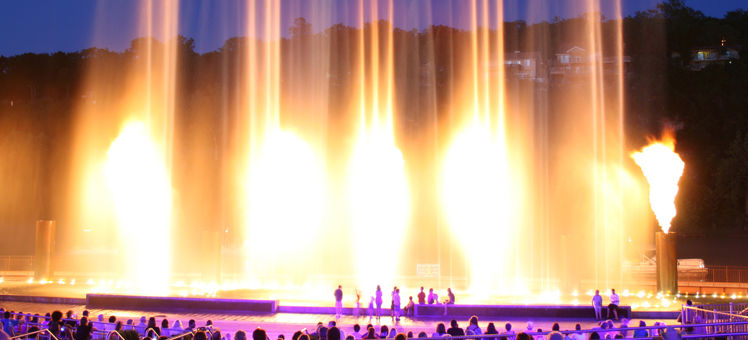 Considering its predisposition for family-friendly entertainment, it may come as a surprise that Branson's nightlife options for grownups are varied and exciting. Night owls can enjoy the city's watering holes where cocktails and beers are the perfect accompaniment to live music and dancing. You can also hit up a karaoke bar or opt for a visual thrill ride at one of the city's modern movie theaters.
Music lounges
Live entertainment is top of mind in Branson, which is why most lounges and restaurants also feature live music. While cover bands performing big rock 'n' roll tracks from the last 6 decades are the most ubiquitous, blues, country, and bluegrass acts often take the stage as well.
Ernie Biggs Piano Bar
One of the few Branson venues catering to adults, the Ernie Biggs barroom showcases a rotating lineup of crowd-friendly pianists covering old rock 'n' roll classics, soundtrack themes, and pop hits. Call ahead to reserve a table.
505 Branson Landing Blvd., Branson 65616Tel: +1 417 239 3670
Ernie Biggs Piano Bar website
Rowdy Beaver Restaurant & Tavern
This roadhouse-style joint features a full menu and bar, a raised stage for local bands, and a dance floor where patrons often move along to a soundtrack that shifts between bluegrass, folk, and country-inflected rock.
1810 West 76 Country Blvd, Branson 65616. Tel: +1 417 334 7409
Rowdy Beaver Restaurant & Tavern website
Sports bars
While Branson doesn't field a team in any of the country's major leagues, its status as an American tourist hotspot brings out fans that regularly want to catch the big game of the night. In addition to offering drink specials during events like football Sundays or playoff games, establishments are usually happy to change one of their massive TV screens to a customer's preferred match.
Time Out Sports Bar & Grill
With a 9-by-12-foot projection screen, 17 TVs, an outdoor patio, weekly karaoke, DJ nights, and even (you guessed it) live music, Time Out has no shortage of entertainment. Their menu features bar staples like hot wings and beer specials.
3265 Falls Parkway, Branson 65616. Tel: +1 417 337 8463
Time Out Sports Bar & Grill website
Movie theaters
If you're looking to sit back and watch the latest Hollywood releases, Branson is home to an IMAX theater and 2 multiplex cinemas. Both multiplexes regularly screen 3D films and offer deals on snack bar concessions like refillable popcorn.
Branson's IMAX Entertainment Complex
The IMAX theater shows nightly blockbuster movies specifically shot to be shown on the ultra-large, 6-story screen. The complex also houses a 3-screen cinema for Hollywood releases, an intimate theater for live music, and a shopping center.
3562 Shepherd of the Hills Expressway, Branson 65616. Tel: +1 417 335 3533
Branson's IMAX Entertainment Complex website
Branson Meadows Cinemas
This multiplex houses 11 screening rooms - including some 3D theaters - and features a fully digital Sony 4K projection system.
4740 Gretna Road, Branson 65616. Tel: +1 417 332 2884
Branson Meadows Cinemas website