The Arts in Columbus - Museums, Music, Movies, and More
The Arts in Columbus - Museums, Music, Movies, and More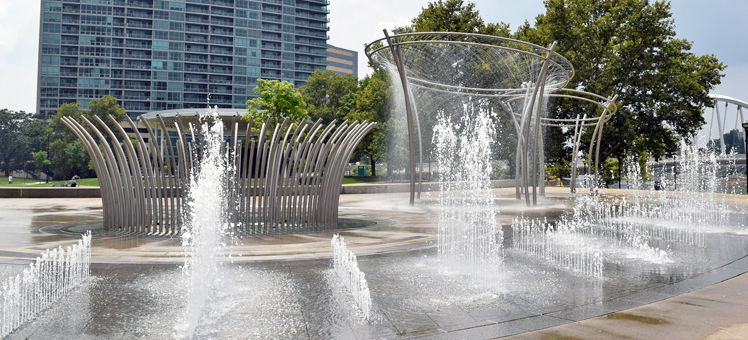 Columbus has a vibrant arts and culture scene. Visitors to the city can explore museums housing world-class art, local crafts, historic war artifacts, and even vintage designer clothing. Top performing arts centers such as the Ohio Theatre and Wexner Center for the Arts host concerts by the Columbus Symphony, along with dance and theater.
A mix of museums
Columbus is home to an eclectic mix of museums. The acclaimed Columbus Museum of Art is known for its European Modernist and 19th-century American pieces. Other fascinating spots to visit include the Motts Military Museum, with its vast collection of historic war artifacts, and the Ohio Craft Museum, showcasing the works of local artisans. The Early Television Museum is a must-see for TV buffs.
Columbus Museum of Art
Located downtown, this museum features a permanent collection of late 19th- and early 20th-century art from Europe and America. Highlights include paintings by Paul Cézanne, Pierre-Auguste Renoir, and Edward Hopper. The museum also hosts a variety of rotating exhibits.
480 E Broad Street, Columbus 43215Tel: +1 614 221 6801
Columbus Museum of Art website
Performing arts
In Columbus, you'll find a variety of places to see a play, listen to an orchestra, and even watch a rare movie. The Columbus Symphony calls the Ohio Theatre home, but this venue also hosts performances from BalletMet and Broadway Across America. Wexner Center for the Arts, located on the campus of Ohio State University, is a contemporary arts center with galleries and performance spaces.
Ohio Theatre
Opened in 1928 as a "movie palace," this Columbus landmark is a stunning example of Spanish-Baroque architecture. Check the schedule for Columbus Symphony concerts and other noteworthy performances throughout the year.
39 E State Street, Columbus 43215. Tel: +1 614 469 0939
Ohio Theatre website
Wexner Center for the Arts
This expansive arts center at Ohio State University features the 2,500-seat Mershon Auditorium, as well as the Wexner Center Film/Video Theater, which screens classic Hollywood movies and rare films.
1871 N High Street, Columbus 43210. Tel: +1 614 292 3535
Wexner Center for the Arts website
Downtown dance
BalletMet Columbus, one of the largest dance companies in the nation, performs in several downtown Columbus theaters. You might see a world premiere, a beloved classic, or that perennial holiday favorite, The Nutcracker. The Columbus Dance Theatre combines traditional ballet with contemporary dance, with highly creative and captivating results.
BalletMet Columbus
Founded in 1974, BalletMet Columbus performs classic ballets in the Ohio Theatre, the Capitol Theatre, and the BalletMet Performance Space.
322 Mt. Vernon Avenue, Columbus 43215. Tel: +1 614 229 4860
BalletMet Columbus website
Columbus Dance Theatre
The Columbus Dance Theatre presents its unique fusion of ballet and contemporary dance in the Fisher Theatre. The company also partners with other local arts organizations for special performances.
592 E Main Street, Columbus 43215. Tel: +1 614 849 0227
Columbus Dance Theatre website
Short North Arts District
The Short North Arts District is the hub of the public art scene in Columbus. Take a stroll through the area, and you'll see multiple installations, including the Short North Arches, the Short North Gothic Mural, and Poplar Park obelisk titled "In Dreams Again." After you've explored the public art, take some time to visit the numerous local galleries, such as the decidedly different Lindsay Gallery.
Lindsay Gallery
Here, you'll find an intriguing array of outsider and folk art, mostly by Ohioans. Check the calendar before you visit, as the gallery also hosts rotating exhibits.
986 N High Street, Columbus 43201. Tel: +1 614 291 1973
Lindsay Gallery website
OSU arts and culture
Located on the OSU campus, the Historic Costumes & Textiles Collection houses more than 11,500 pieces of textiles and clothing dating from the mid-18th century to the 21st century. Also worth a visit: the Billy Ireland Cartoon Library & Museum, also part of OSU. Just off campus, Gateway Film Center shows indie films, classics, and blockbusters - and there's even an undersea-inspired bar for a pre- or post-movie drink.
Historic Costumes & Textiles Collection
This fascinating collection includes 20th-century designer pieces and 19th-century evening gowns, as well as fashion magazines, fashion plates, and patterns.
1787 Neil Avenue, Columbus 43210. Tel: +1 614 292 3090
Historic Costumes & Textiles Collection website
Discover
Find your perfect holiday in Columbus
From 250 hotels.