Daytona Beach Eats - From Italian Antipasto to Southern Fried Alligator
Daytona Beach Eats - From Italian Antipasto to Southern Fried Alligator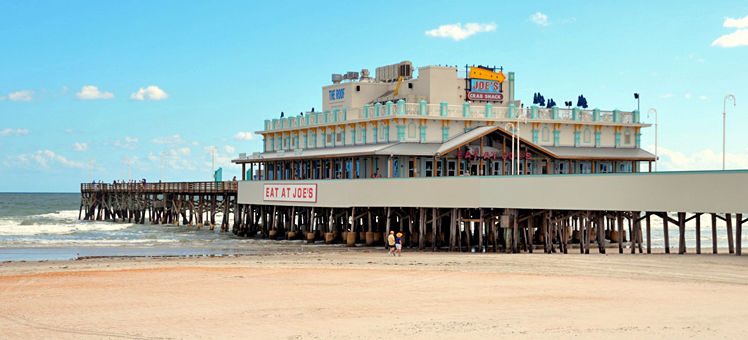 Seafood lovers will be thrilled to see fresh catch like shrimp and grouper star on many Daytona Beach menus. Thanks to Florida's reputation for growing stellar produce, local citrus and vegetables are readily available. Many eateries offer Southern and American classics, but Daytona caters to eclectic palates, so you'll easily find your favorite Thai or Italian dishes here. No matter the cuisine, you'll discover everything tastes better at the beach.
Typical dishes
Conch fritters, barbecue, and hush puppies, fried balls of sweet cornbread, are local favorites. Fresh fish caught that day by area fishermen is also ubiquitous.
New Smyrna's traditional flavors
For seafood and Deep South flavors, head to Outriggers Tiki Bar and Grill. You can start off with an upscale twist on fried green tomatoes before dining on seafood so fresh it's called the "fish of the moment." Few places match the ambiance of The Garlic, a rustic Tuscan eatery with cool New Smyrna vibes. You can enjoy pasta pomodoro and braised pork ossobuco amid a backdrop of lush palms and vines. The open-air restaurant has extensive wine offerings, which are best enjoyed under the twinkling terrace lights.
Ormond Beach eats
If you're looking for a simple meal with ocean views, head to The Beach Bucket. This no-frills bar and grill serves up dishes like eggs Benedict made with chorizo and blue crab for breakfast, and burgers and fish tacos for lunch and dinner. The outside deck has fire pits perfect for enjoying beers and bar snacks. For some Creole classics, try RiverGrille. You can warm up with alligator appetizers before moving on to jambalaya and fried fish with hush puppies. Afterwards, you can stroll to the dock to watch alligators sunning in the Tomoka River.
Downtown Daytona dining
Need a break from fried food? You'll find it at Dancing Avocado Kitchen. This cozy restaurant offers vegan and vegetarian breakfasts and lunches, with options for omnivores, too. Favorites include avocado sandwiches and fresh-pressed apple juice. Make sure you ask for a side of Dancer Dust, the restaurant's house seasoning. Ivory Thai Kitchen is also in the downtown area. Here you can order your favorite Thai classics, like coconut milk soup and pad Thai. The restaurant also puts a spin on regional ingredients, like Thai-inspired frog legs, soft shell crab, and tilapia.
South Daytona's local favorites
Martini's Chophouse features a European-inspired menu emphasizing locally sourced seasonal and organic ingredients. You can treat yourself to grass-fed filet mignon, escargot wrapped in puff pastry, and grilled Brie served with in-season fruits and berries. Floridians love their barbecue, so to eat as natives do check out Backyard Boys BBQ. The menu offers an array of meals including pulled pork, fried flounder fillets, and ribs. The restaurant also serves Southern sides, so you can fill up on fried okra, macaroni salad, and collard greens. And, of course, no Southern meal is complete without a slab of cornbread.
Discover
Find your perfect holiday in Daytona Beach
From 870 hotels.