Jackson Hole Dining - From Mountain Cuisine to Nouveau American
Jackson Hole Dining - From Mountain Cuisine to Nouveau American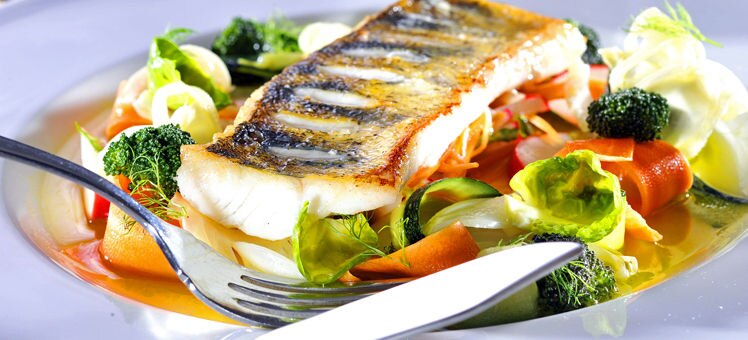 Healthy and sustainable mountain cuisine is the norm in Jackson Hole, with many menus highlighting fresh vegetables, breads, and meats sourced from local vendors. Thanks to the town's mix of residents and the throngs of tourists who flock here yearly, dining options are varied and numerous, ranging from friendly saloons with plenty of beer on tap to fine dining restaurants with award-winning wine lists.
Typical dishes
You'll have plenty of opportunities to dine on premium beef - notably, American-style Kobe beef - and game. Bison and elk steaks are popular menu items, as are artisanal breads, and organic fruits and vegetables.
Teton Village dining
Most Teton Village restaurants are focused on regional cuisine, which means you'll find elk burgers, steaks, and local seafood, including Idaho rainbow trout and salmon from the Pacific Northwest on many menus. For a unique dining experience, you can hop the gondola that will take you up to Couloir Restaurant at the Rendezvous Lodge, where floor-to-ceiling windows offer sweeping views of the valley. If you're seeking a casual atmosphere, you can head to Mangy Moose Saloon for a satisfying après-ski burger and brew.
Casual downtown dining
The streets surrounding Jackson Town Square are home to plenty of restaurants serving hearty fare in a relaxed atmosphere. Merry Piglets Mexican Grill is a sunny spot where you can dine on fish tacos or flame-grilled fajitas amid Mexican-themed wall murals. If you're in the mood for a traditional American meal, you can go to Local Bar & Restaurant where you can tuck into a Montana-raised buffalo burger or Wagyu steak and fries accompanied by one of the many beers on tap.
Fine downtown dining
Despite its small population and rural location, Jackson Hole is home to a growing number of innovative and upscale restaurants. Snake River Grill is regarded as one of the best restaurants in town. Located steps from Jackson Town Square, it serves elegant dishes like crispy pork shank and cornmeal-crusted trout in its fireplace-accented dining room. The Blue Lion is housed in a renovated 1930s structure, originally built as a private residence, and serves French-inspired dishes including roasted rack of lamb rubbed with Dijon mustard, and elk tenderloin finished with a mushroom port sauce.
Chuck wagon dinners
For a taste of cowboy culture, you can opt for a chuck wagon dinner that includes live music entertainment. Bar J Chuckwagon is located on a cattle ranch and offers a Western-themed dinner theater experience complete with heaping plates of barbecue and singing cowboys. If you want an authentic traditional experience, you can book a dinner with Castagno Outfitters. Their Grand Teton Chuckwagon Cookouts take you on a 20-minute journey through the Buffalo Valley to a cookout area where you'll enjoy an alfresco steak dinner accompanied by live cowboy music.