Travel Tips to Streamline Your Sedona Vacation
Travel Tips to Streamline Your Sedona Vacation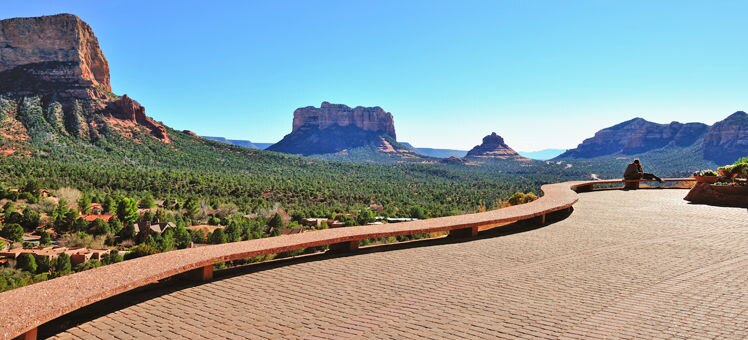 Surrounded by the stunning red rock formations of the Coconino National Forest and famed for its vibrant energy, Sedona has a long history as a gathering place for travelers and artists. While many visit to immerse themselves in nature, the city's luxury side is equally appealing. Best of all, Sedona's high desert location means warm weather year-round.
Best time to travel
Spring and fall are the best times of year to visit Sedona, with temperatures in the mid-70 degrees F (23-25 C) during the day and dropping to mid-40 degrees F (6-8 C) at night. This makes for ideal hiking weather. During the summer, temperatures can rise to an average of 95 degrees F (35 C), but Sedona's altitude keeps them from topping 100 degrees F (38 F) like in nearby Phoenix. During rainy season in July and August, downpours can be strong, but they normally happen in the afternoon, vanishing just in time for you to dine under the stars.
Not to miss
The red rocks of Sedona are too inviting to pass up, and you don't have to be an extreme athlete to experience them. Whether you choose hiking, biking, or exploring by horse, ATV, or Jeep, you'll want to see these rust-colored formations up close. However, they're not the only feast for your eyes. Sedona's vibrant art scene has around 80 galleries to wander through, as well as other attractions and historical sites. Yearly art, music, and film festivals are also a huge draw for Sedona visitors.
Getting around
You'll want a car to see Sedona right, either a rental or your own. Free shuttles can take you around the more touristy areas of Sedona, but many of the area's top sights require a vehicle. If you're flying in, the best airport depends on where you're coming from. A little over 2 hours from Sedona, Phoenix Sky Airport (PHX) is the closest international airport. But if you're traveling domestic, Flagstaff Airport (FLG) is closer at around 40 minutes.
Cuisine
Although Southwestern and Mexican food is a local theme, a wide variety of tastes and styles can be found in Sedona, from French to Italian to health-conscious cuisine. You'll discover that while most restaurants in Sedona have high-quality options, the best dining experiences are all about the view. If you're eating in Uptown Sedona, choose a place where you can see the red rocks from your table. If you're eating in the south side of town, opt for a place on Oak Creek with a view of the bubbling water.
Customs and etiquette
Sedona is located in the high desert with generally warm to hot temperatures and dry air. In addition, the atmosphere is casual and welcoming, so a comfortable shirt or t-shirt along with shorts or jeans is acceptable attire anywhere you go. Be sure to bring shoes or boots suitable for hiking, and a light jacket or sweater for the sometimes cooler evenings. If you're visiting in July or August, bring a rain parka. Generally, tipping for things like food service, tour guides, drivers, or spa services is 15 to 20 percent.
Fast facts
Population: 10000

Spoken languages: English

Electrical: 110 volts, 60 Hz, plug type A, B

Phone calling code: +1 928

Emergency number: 911