How Much Does it Cost to Visit the Leaning Tower of Pisa?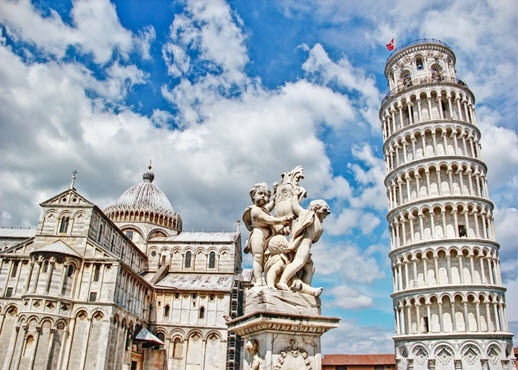 Tickets to climb the Leaning Tower of Pisa cost EUR 18. This is one of the major tourist attractions in Italy. You can book your tickets in advance to avoid long queues. Just read on and find all the information you need about the tower and other nearby sites.
Ticket prices
You can also book online for a price of EUR 18. You may also get discounts if you visit as a student group. There are other sites near the tower that you can visit; the cathedral and the baptistery, as well as the graveyard. A visit to the cathedral will cost you nothing if you purchase tickets for any of the other attractions; visiting one building costs EUR 5, while visiting the four of them is just EUR 9 (this doesn't include the tower, of course).
Practical info
The
opening hours for the Leaning Tower of Pisa
vary from one season to another. From November to February, the tower is open from 10 AM to 5 PM with an exception during Christmas festivities (9 AM to 6 PM). In March, the tower opens from 9 AM to 6 PM, then from April to September this site opens from 8 AM to 8 PM; in October, the tower is open from 9 AM to 7 PM. Also, it is worth knowing that this visit is not suitable for heart patients, as there are no lifts in the tower and visitors must climb 297 steps.
Get the most of your visit
You can buy advance tickets online to avoid last minute dash. To avoid waiting in the regular Tower Line, you can tick the box that indicates you will pick your ticket at the central ticket office when making your booking. You can also ask for
guided tour to the tower and other nearby sites
.
Enjoy your Italy vacation
Other sites that you can visit are the Cathedral and the Baptistery, the graveyard, the museums, and the old city near the touristy tower; there are also many hotels and restaurants in the area. The Leaning Tower of Pisa is a wonderful place to visit especially during winter when other sites like the cathedral and the baptistery are free to enter.
Discover
Find your perfect holiday in Pisa
From 270 hotels.