11 Fun Facts About Juliet's House in Verona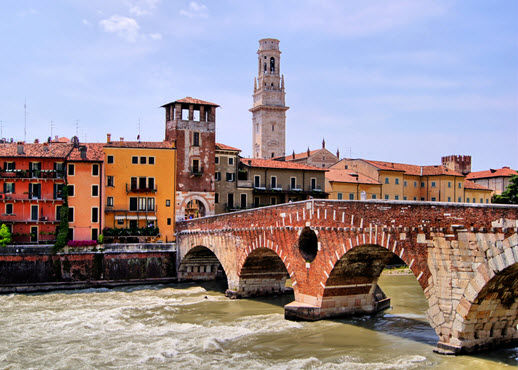 Verona is one of the most beautiful and refined cities in Italy, and a top destination with visitors. A favourite attraction is the 'Casa di Giulietta' or 'Juliet's House' the home of one of Shakespeare's favourite, though decidedly unlucky, heroines. However, did you know?
Juliet never lived here
she is a fictional character and never 'lived' anywhere.
2. The house was bought from the Cappello family by the city of Verona in 1905, and the similarity of their name to Capulet (Juliet's surname in the famous play) resulted in the city burgher's declaring that it was 'Juliet's House' and so the famous tourist attraction was created.
3.
Tiny love notes cover the courtyard walls.
It is said that if you leave a declaration of your love at Juliet's House you will be together forever.
4. However, thanks to people sticking their notes up with chewing gum and damaging the structure of the building, if you stick a note there now you can be fined 500 euros!
5. If you touch the
right breast of the statue of Juliet
, it will bring you luck in finding your own true love. Perhaps a safer option than love notes today.
6. People still write letters to Juliet, asking for her advice in love. A team of volunteer 'Juliet's secretaries' answer them. They work out of an upstairs room in the house.
7. The house, and letters became the subject of a film 'Letters to Juliet' starring Amanda Seyfried and Vanessa Redgrave.
8.
The house does in fact date from the 14th century
, and is a wonderful example of Gothic architecture.
9. You can see the famous balcony where Juliet stood as Romeo serenaded her.
10.
The balcony is not however an original feature
of the house, a former inn, but was cobbled together from pieces of a 17th century sarcophagus, and attached to the wall specifically to provide Juliet's House with a balcony
11. The rooms are filled with authentic pieces from the time of Romeo and Juliet, allowing you to really get an idea of life in a well to do house in Verona in their lifetime.
Each year, thousands of people visit Juliet's House, and real or not, it's a beautiful place to visit on a romantic break. With dozens of
romantic hotels in Verona, Italy
to choose from at Hotels.com.com you can really get a feel for the romance and elegance of this exciting and exceptional city. Why not book a stay for a special anniversary, a romantic Christmas break or for a truly special Valentine's Day treat?
Discover
Find your perfect holiday in Verona
From 900 hotels.