Top 5 Local Dishes in Zurich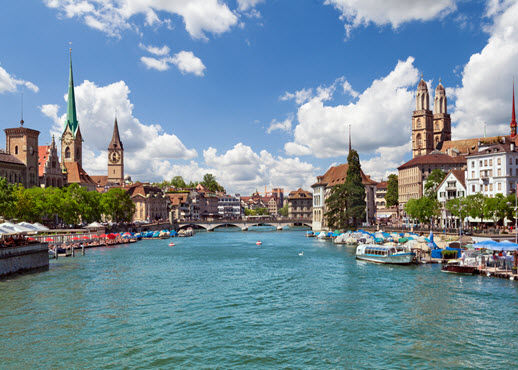 Swiss cuisine is mainly known for its cheese dishes: fondue and raclette. Here are the top 5 Swiss dishes to try in Zurich, and some tips for vegetarians.
1. Zurich Geschnetzeltes
If you can manage to pronounce this one, try Zurich Geschnetzeltes, made with small pieces of veal cooked in a creamy mushroom and white wine sauce. Zurich Geschnetzeltes is usually eaten with noodles.
2. Fondue
Probably the most famous of
Swiss foods
, fondue is typically a pot of melted cheese into which you dip pieces of bread. Although
cheese fondue
is the most popular, fondue does not necessarily have to be made with cheese; there are
meat fondues
too. Fondue is usually shared between a group of people and generally you'll need at least two eaters if you want to order fondue in a restaurant.
3. Raclette
Raclette is another traditional Swiss dish. Slices of cheese are placed on a raclette grill and the melting cheese is eaten with boiled potatoes. Raclette is usually served with gherkins and other pickled items.
4. Rösti
Rösti is a
potato dish
that resembles hash brownies. Grated potatoes are fried in a pan and flattened into a sort of a round cake. Rösti is often eaten with bacon or fried eggs; vegetarians can try a cheese topping.
5. Swiss Breakfast
Breakfast is one of the best meals in
Switzerland
. Muesli was invented in Switzerland and is always available for breakfast. Switzerland also has a great variety of breads. The Zopf is a white bread, often eaten on Sundays for breakfast with butter, cheese, jam or honey.
Traditional Swiss cuisine
is not known for vegetarian varieties but fortunately Zurich is also home to Switzerland's oldest
vegetarian restaurant
. The Hiltl (
Sihlstrasse 28
) offers lacto-ovo-vegetarian and vegan foods, and makes veggie versions of many traditional meat dishes.
Discover
Find your perfect holiday in Zürich
From 340 hotels.