Top 5 Record Stores in Ibiza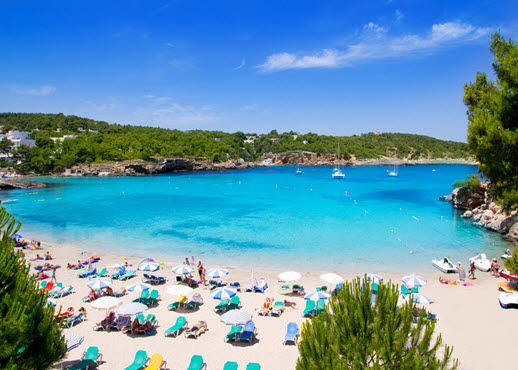 It goes without saying that Ibiza has some of the best record stores around. Here's 5 of the best stores on there island.
Spending time in
Ibiza
certainly gets the blood pumping. For
dance music
lovers, this is not bad thing. Wherever you go in
Ibiza
you can hear electronic music being played, 24 hours a day. From blissed out
Balearic Islands
beats, to pumping house in the bars and big room trance in the
nightclubs
, you're never far away from a toe-tapping moment.
So it goes without saying that Ibiza has some of the best
record stores
around. Whether you're a budding
DJ
looking for that super
exclusive
, white-label import, or simply a music fan after some decent tunes to relax with by the pool, here are the five best places to get your musical fix on the island that never sleeps.
Megamusic
Megamusic
opened the doors to its first shop in May 1995, in the heart of San Antonio's West End. Now it is the largest chain of music stores in Ibiza, with two shops in
San Antonio
and
Santa Eulalia
.
Stocking one of the largest selections of music in Ibiza, as well as an array of
merchandise
and
club tickets
, if they don't have it in Megamusic, it's probably not worth having.
Delta Discos
Priding themselves on offering the best music in Ibiza,
Delta Discos
was the first record shop on the island and has been selling music to a very loyal fan base for more than 40 years – since 1967 in fact, when Ibiza was still a little-known hippy hang-out.
In the centre of Ibiza town, the shop's owner, Juan, is a bit of a legend amongst dance music aficionados and has amassed a vast and varied collection of
CDs
and
vinyl
from all genres.
Terminal
Back in San Antonio is
Terminal
, previously known as
Ebop café
. This is an
internet café
, bar and record store all rolled into one. Set up in conjunction with
Plastic Fantastic
– one of London's leading independent record stores – Terminal is probably the only place you can check your hotmail, have a beer and buy some records all at the same time. There's normally even a live DJ spinning tunes, in case you were in two minds about which records to choose.
Solo Records Ibiza
Another good choice in San Antonio is
Solo Records
. Owned by an English ex-pat that has been living, working and playing music in Ibiza since 1992, the shop is a bit of a hub for all things musical, selling everything from
branded clothes
to key rings and souvenirs, as well as a huge catalogue of CDs and vinyl.
Discos M-15
One of the island's smaller shops, the staff at
Discos M-15
certainly know their stuff. The shop is a favourite among visiting DJs and is often their first port of call when looking for new tunes on the island. If you can't find what you're looking for in the very varied catalogue, the helpful staff will even order it in for you.
Discover
Find your perfect holiday in Ibiza Town
From 90 hotels.