How to get to UK from Netherlands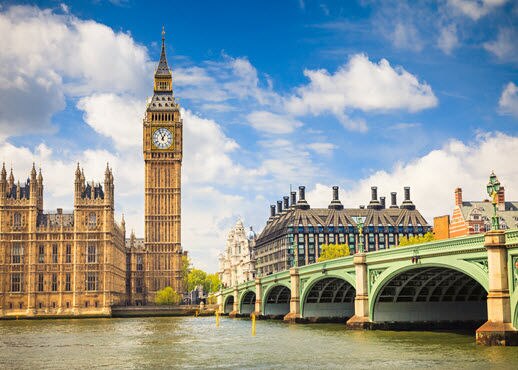 Our guide on how to get to the Netherlands from the UK
Imagine this scenario. Say you are visiting
Amsterdam
or
Rotterdam
; it might be for a two week holiday; or it very well could be to enjoy short term visit.
In such instances, most of us will ending up asking that vital question – Should we drop by the
UK
? After all, we are already here and it's just across the
Channel
, we tell ourselves.
It could be a concerted effort to nab two birds with one stone. It is more likely due to sulking friends/family in the UK who will be terribly hurt if we didn't come by.
And so there is the question –
What are the different ways to travel from Amsterdam
(or any major city in
Netherlands
) to the UK?
Good news is, there are four ways to
reach the UK via Netherlands
(through Amsterdam or Rotterdam). And they are train, coach, good old airplane flights and of course, the much talked about ferry ride.
How to get to U.K. from Netherlands by train
If you get jittery on airplanes or feel a tad seasick on boats, having the
train ride
option will be a welcome surprise.
So what's this useful
train trip
all about? If you check the Hispeed website (yep, the site is in Dutch and English), you will see the handy option of
reaching London from Amsterdam
. The trip itself is close to 6 hours and excepting one train switchover in
Belgium
, the whole ride offers to be a relaxing uneventful trip.
It's a two part trip: first half involves the
Intercity train from Amsterdam to Brussels
; the second half requires taking the
Eurostar from Brussels to the center of London
right down to St Pancras station.
Do note that Amsterdam is not the only Dutch city that can take you to
Brussels
. Apparently you can take the
Intercity from Amsterdam, Schiphol
, The Hague HS, Rotterdam, Dordrecht or Roosendaal. This way you can hop over to the station closest to you.
It seems like a return fare for one person can cost Euro 99 if you opt for certain type of fare (2nd class, super saver, etc. etc.).
How to get to U.K. from Netherlands by coach
Then there is
coach
. This is another handy option for those who get a tad woozy on flights.
Eurolines seem to the popular option when
traveling by coach
. It's good to note that these buses travel all over Europe, offering trips to nations across the
Channel
(Great Britain) or to the far flung East European countries (Ukraine) as well as to the ones across the Mediterranean Sea (Morocco).
There are several stops for
Great Britain
itself (all of which are located either in
Canterbury
,
London
or Dover). While prices differ according to date and type of fare (e.g. Flexible or Cheap), the starting price, on average, for one person seems to be between Euro 65 – 80.
These are all
non-smoking coaches
, most of which allow you to bring your own food and drink. And no need to fret about getting restless on the journey; apparently there will be multiple stops whereby you can walk around to stretch your legs or buy a refreshing cup of coffee.
How to get to U.K. from Netherlands by air
Enough about travel by land, what if you prefer flying?
Good news about
flights
is that a number of
airlines travel between Amsterdam and Great Britain
. KLM, British Airways and BMI are just some of the options.
If you check any of the popular booking sites, you can find a number of
flight options.
Hence flights won't be covered in great detail. While prices vary, it does seem like return tickets for one person can start out at Euro 125.
How to get to U.K. from Netherlands by ferry
Admittedly, this is one of the most popular means of
traveling between Great Britain and Netherlands
. In this case, it must be the festive atmosphere and jovial social mingling that adds to the appeal of the
ferry
.
There seems to be several options available for the happy seafarers. Firstly, you can choose the
ferry from Rotterdam to the port of Hull in East Yorkshire
. It's an overnight trip boasting good food and onboard entertainment and thus looks to be interesting just for the
ferry ride
itself. The starting price (per person and applying to those traveling by foot) is Euro 69.
Then there is the
Hoek Van Holland to Harwich
option. This ferry ride offers days trips as well as overnight trips. It starts out at Pounds 75 for day trips but do keep in mind this price does include payment for cabin.
For those of you who would rather stick to
Northern Holland
for the duration of the trip, there's always the
Amsterdam (IJmuiden)-Newcastle
option. Ferry services of DFDS offer trips between Netherlands and Great Britain. Ijmuiden is a port located outside Amsterdam.
To get there, travelers can catch the
train to Driehuis
or jump on the
DFDS Seaways shuttle
from the
Central Railway Station in Amsterdam
to
Felison Terminal in Ijmuiden
. Those catching the train might want to double check the bus routes from this site. The
Driehuis station
is a bit of a distance from the ferry and getting there might involve two buses and a bit of walking. Since the site is in Dutch, here's a bit of heads up. Van means from; for this bit, click treinstation (
train station
) and type Driehuis as station name. Naar means to; I choose the postcode for DFDS Seaways which was 1975 AG. Vertrek means departure so keep that checked. When you choose geef reisadvies, you will be given a breakdown of how to get to
Ijmuiden from Driehuis
. Be sure to check the route from Google Maps so as to have a good idea of where you are headed.
After choosing cabins and meals for both trips (to and from
Newcastle
), you might end up with close to Pounds 220 per person for the return trip.
And there you have it.
Four different ways to get to U.K. from the Netherlands
.