How to shop on a budget in Copenhagen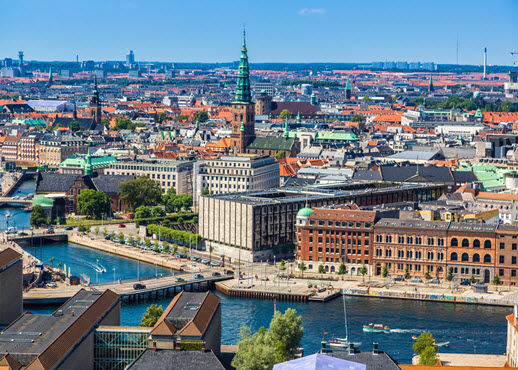 Copenhagen, Denmark, is definitely a shopper's paradise.
Are you looking for exquisite china, trendy houseware, or fashionable ensembles for all occasions? It can all be found in this city, and very often on the same street, the famous pedestrian
Strøget
. You can find it, all right, but can you afford it? That's literally a million-dollar question. Well, follow me, my friends, and I'll show you how it's done when you are on a budget.
Fashion
The most
popular pedestrian shopping street
in Copenhagen is
Strøget
. It's a very touristy place, and rightly so, since there is an abundance of souvenir shops and beautiful sights. Strøget is a very long street interrupted by two beautiful squares with remarkable fountains. That's enough reason to venture into Strøget.
But I digress. We are on a mission here,
hunting for bargains
.
Let's start at the
City Hall Square
(
Rådhuspladsen
)
on
Hans Christian Andersen Blvd and head East. First stop, right off the square is
Vero Moda
, a little trendy store for the young ones and the ones young at heart. The store carries the latest trends with a Scandinavian twist. It also offers a wide variety of jeans by a brand called
ONLY
. If you pay attention to the back pockets of jean-wearers on the streets of Copenhagen, you'd notice the little red label with the word ONLY quite often. The jeans are very reasonably priced to boot.
Just a few more steps down Strøget from the square, on the right-hand side you'll find a store called
Taxi
. It's Copenhagen memorabilia paradise, with a wide variety of T-shirts, lingerie, sweaters and sweatshirts, featuring logos like "
I love CPH
" (an abbreviation for Copenhagen), and other trendy things, all for fairly reasonable prices.
Next stop – a store called
New Yorker
, where the prices are really astounding. The place offers all the latest
youth fashion trends
, according to the current season, as well as an impressive playful lingerie collection. If you find the lower level of the store, you are in luck since this is where the sales are. I personally am a proud owner of some great finds from that store at a price of only five euros.
Another great label is
Vila
, offering a European twist on the latest trends. Right now, sequins are "it," and there are plenty of sequined dresses and cardigans on display at Vila. Let's not forget the prices – the numbers on tags rarely rise here above fifty euros.
Zara
, a Spanish brand flagship store on Strøget, is the epitome of
modern stylish elegance
and trendiness combined, if there is ever such a thing. Beautifully sewn pieces offer great basics for any wardrobe. But the store also carries quirky outfits that are both unique and trendy, a hard-to-pull-of combination. And yet, the prices stay beyond hundred-Euro limit, sometimes falling as low as ninety nine Danish crowns (around eighteen dollars) for a beautiful knit sweater.
Of course, the large
H&M
across from the Church of the Holy Ghost is the Mecca for fashion-conscious-but-budget-watching shoppers. Here, you'll find anything from the
latest looks
(at laughable prices) to hosiery to lingerie to sleepwear to any kind of accessories, including makeup.
At this point of our excursion, we have reached the second beautiful square on Strøget, with a fountain featuring elegant cranes. On the corner of the square, we see
Illum
, not a very cheap store, and from there on, to
Kongens Nytorv
square, we would find mostly luxury brands, such as Louis Viutton, Gucci, Max Mara, and the likes. Of course, it depends on your budget, but on ours, the prices there are a little too steep. So, let's stick to our agenda, which is
budget-shopping
. The rest of the way to the square, you'll encounter another H&M and another Vero Moda, in case you missed those previously.
Of course, Strøget is not the only place to shop for fashion, on a budget or not, in Copenhagen. There are three major malls in the city, one being the enormous
Field's
, situated not far from
Copenhagen airport
, in Amager district. Another one is
Fisketorvet
, a new shopping center near downtown, steps away from Dybbølsbro train station. The third shopping paradise is
Frederiksberg mall
, which can be entered right from the Frederiksberg metro station. In any of these three places, you'll find all the stores mentioned previously, except for Zara, which is exclusively represented at Field's.
Let me assure you, we haven't even gotten beyond the tip of the iceberg when it comes to fashion shopping, even on a budget, in Copenhagen. But that's a start, so get going.
Housewares
Of course, you will encounter numerous elegant souvenir and house ware shops on Strøget, like
Royal Copenhagen
, Georg Jensen flagship store, and
Illum Bolighus
. But there, you will be putting your budget at risk, and that is contrary to our mission. So follow me, and I'll show you where savvy shoppers hunt for the fashionable trinkets at reasonable prices.
We'll have to abandon the city center and venture into a district called
Frederiksberg
where the above-mentioned
Frederiksberg fashion center
is situated. In this part of town, you will find a
Søndre Fasanvej's factory outlet
, located at Søndre Fasanvej 9, and that is our destination. It's a real treasure chest for china-loving, candle-holders-adoring public. Here, you will find high-quality items by Royal Copenhagen and
Georg Jensen
, as well as second-rate products, and all for the prices that are much lower than the ones on Strøget.
Amber
If it looks like gold, it must be gold, right? Wrong, but it's not necessarily such a bad thing if it's gold-plated, instead. And plenty of wonderful gold-plated, amber-encrusted jewelry, as well as silver-encased items, can be found at
Amber Specialist
, back on Strøget, not too far down from the Town Hall square, on the left-hand side. Do not confuse it with the nearby Amber Museum since their prices are steeper.
Miscellaneous
Thought the
99 Cents Store
could only be found in the United States? Wrong again. There are perfect Danish equivalents, such as Tiger and Sostrene Grene.
Tiger
has several locations, but one of the largest is located on
H. C. Andersen Boulevard
, just opposite the City Hall square. It's the perfect little store where prices rarely go higher than twenty Danish crowns, and most of the items cost just ten. And what items: anything from dishes and kitchenware to office supplies to gifts to candles to toys and games to CDs and DVDs… and more.
Sostrene Grene
, on the other hand, while similar, offers a wider variety of products at a wider variety of prices, but here you can find things for even less than ten crowns. The store officers a perfect array of
gift ideas
, ever-present candles, art supplies, dishware, and much, much more, like teas and coffees from all over the world, and perfect little packages of candy, as well as spices, jellies, sodas… But come and see for yourself. You can't miss it on Strøget, right next to H&M. Sostrene Grene can also be found at the shopping centers like Frederiksberg, Fisketorvet and Field's.
So, what are you waiting for? Get going, and happy bargain-hunting!
Picture of Danish coin originally posted by robert.linden
About the author
Tatiana Cantor was born in Moscow, Russia, but in 1998 she moved to the United States where she met her husband and became a United States citizen through marriage. She is an attorney specializing in Immigration Law. She has traveled extensively in her life, mostly in Europe, and had spent five years of her childhood in Egypt, due to her father's work. Currently, she resides in Copenhagen, Denmark.
Discover
Find your perfect holiday in Copenhagen
From 440 hotels.