6 places to eat German pretzels in Munich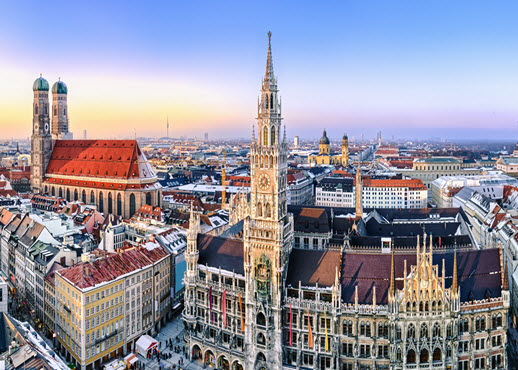 The German pretzel (Bretzel, Brezl, Breze, or Brez'n in German, depending on location) is one of the world's greatest culinary carbohydrate creations, and belongs to the Laugenbrot, or lye bread, category. Before baking, Laugenbrot products are boiled in a solution containing the chemical compound sodium hydroxide, which ensures a golden brown crust with soft, chewy insides. Ancient documents mention the pretzel as far back as the 8th Century, but its exact origins remain unknown. Some say the pretzel's unique
Visiting Munich
and not eating a fresh-baked pretzel is akin to ordering a salad in a steakhouse— except this time your friends will make fun of you for it.
The
German pretzel
(Bretzel, Brezl, Breze, or Brez'n in German, depending on location) is one of the world's greatest culinary carbohydrate creations, and belongs to the
Laugenbrot
, or lye bread, category. Before baking,
Laugenbrot
products are boiled in a solution containing the chemical compound sodium hydroxide, which ensures a golden brown crust with soft, chewy insides.
Ancient documents mention the pretzel as far back as the 8th Century, but its exact origins remain unknown. Some say the pretzel's unique shape mimics the interlocking arms of a child. Others claim it is a monk at prayer. Nevertheless, the mystery surrounding the pretzel makes it taste all the better. So eat your crust out, French bread: the pretzel is in a league of its own.
In
Munich's bakeries
, Brez'n come in two sizes: awesome and awesomer. The standard pretzel is available for around €0,50, and the larger
Zopfbreze
will run you about €1,50. In one of the city's
Bierhallen
, a jumbo-pretzel costs around €3. One bite and you'll see: it's well worth it.
Yours truly put a handful of Munich's pretzel-mongers to the test, and after several rounds of deliciousness, the results are in:
Discount Bäckerei und SB-Café
U-Bahn Station Sendlinger Tor, Sendlinger Strasse 29
Hours: Mon.–Fri. 6:30am–8:00pm; Saturday 7:30am–8:00pm; Closed Sunday
Price: €0,35
Grade: B-
Belongs to a class of bakeries in Germany offering customers lower prices by eliminating the middleman, i.e. the person removing your bread from the shelf and putting it in a bag. It's all self-serve here. Granted we love saving money, but 35 cent pretzels are better suited for purchase en masse. The product was dry and undoubtedly a day old (testing began at 8:00am). On the other hand, if you have a hoard of barbarians that needs to be fed, this place is the best value.
Hofpfisterei
U-Bahn Station Marienplatz, Viktualienmarkt 3
Hours: Mon.–Fri. 7:00am– 6:30pm; Saturday 6:45am-5:00pm; Closed Sunday
Price: €0,55
Grade: C+
Taking advantage of the Germans' love for organic food, the Brez'n from this "Bio-Bäkerei" come with a higher price tag. Although I could munch in confidence knowing that there were no additives or preservatives in my eco-pretzel, it was noticeably smaller than average and tasted somewhat bland. Lacking that extra dash of MSG is my guess.
Rischart
Marienplatz
Hours: 6:45am– 8:00pm Daily Cost: €0,49
Grade: D
Conveniently located on Marienplatz. However, the test sample was burnt, tasted more of lye than bread, and the salt had too much of an iodized flavor (My thyroid is fine, thank you very much!). But Rischart has got the best
Müsli
rolls I've had yet. Look for the
Müslisemmel
in Bavaria and
Müslibrötchen
most everywhere else in Germany.
Die Backstube
U-Bahn Station Sendlinger Tor, Sendlinger Tor Platz
Hours: Mon.–Fri. 6:30am– 8:00pm; Saturday 8:30am-6:00pm; Closed Sunday
Cost: €0,49
Grade B+
Bravo,
Backstube
! Their pretzels encompass the Gold Standard, and were definitely baked that morning. The superior balance of salt and moisture in the dough made for a satisfying pretzel-experience. Just don't get caught when you try and sneak ridiculous amounts of pretzels and other baked goods past the ushers into the movie theater next door.
Brezelbäckerei Ditsch
U-Bahn Station Hauptbahnhof (Munich Central Station)
Hours: 4:00am-12:00am Daily
Cost: €0,55
Grade: B+
The pretzels from Ditsch are terrific, and a favorite among the natives. You can't go wrong here. Nevertheless, Ditsch isn't exactly a bakery (as they claim), but more like German fast-food. The workers behind the counter wear crisp, bright yellow shirts and little "diner-style" paper hats. Yeah, yeah, real cute guys: let's cut the flair and stick to the baking, shall we? And as with all fast food, it's only good up to a certain point: I could probably eat somewhere between 4,000–7,000 pretzels from Ditsch, but it only takes one too many and the craving is gone forever. Try a
Laugensemmel
if you get bored. Side note: huge fan of the business-hours; it's one of the benefits of being located in the train station.
Woerner's Confiserie und Café am Dom
Marienplatz Hours: Mon.–Fri. 7:30am– 7:30pm; Saturday 8:00am-7:00pm; Sunday 10:00am–6:00pm
Cost: €0,50
Grade: A
Outstanding! Superb! Extraordinary! I am not one to trust the quality of the eateries located on Marienplatz, but the pretzels from Woerner's stand as a delicious exception. With a slight crunch, the firm crust gave way to the soft insides of this fresh-baked little wonder. Maybe it was purely happenstance, or a close encounter of the yummy kind…this calls for more investigating!
Good luck putting the pretzel through your own personal test. I'm confident you'll enjoy the results as much as I did. Oh and by the way, I was kidding about the whole steakhouse/salad comparison—this blogger is a vegetarian.
Want to visit Germany and sample the best Bavarian beer and cuisine? Check out our selection of
Munich hotels
on hotels.com.
Discover
Find your perfect holiday in Munich
From 650 hotels.