Shop till you drop in Croatia – malls, markets and marvellous boutiques
Shop till you drop in Croatia – malls, markets and marvellous boutiques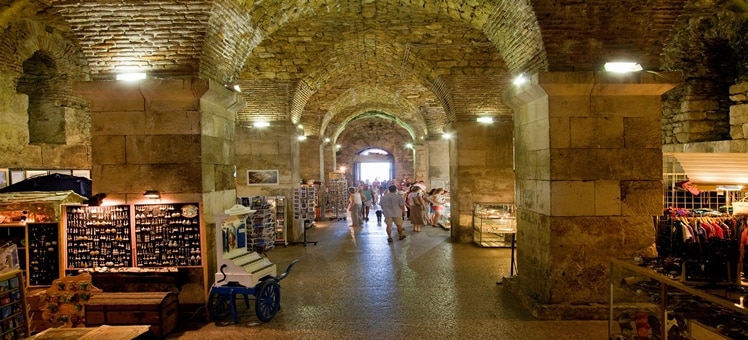 Whether you are looking to deck yourself in designer goods, kill a few hours in a glitzy shopping mall or pick up some local arts and crafts for your nearest and dearest back home, Croatia has all bases covered. Inland towns and cities are where the majority of the large shopping malls are located while coastal villages are ideal places to source local produce and home-grown specialities.
Zagreb
For Croatian's young or old, dressing their best is part of the culture. As the capital city of Croatia, Zagreb is also the capital city of shopping and home to a wide range of fashion forward stores like Maria or The Core carrying labels such as Yves Saint Laurent, Givenchy and Lanvin. Those not shopping on a budget will be impressed with the selection. Keep your eye out for local designers Aleksandra Dojcinovic, Monika Sablic or up-and-coming Anamarija Asanovic as their threads will certainly appeal to trend seekers. Numerous fashion events such as Cro-a-Porte or Dreft Fashion Week will provide the perfect showcase for those wishing to find something chic and stylish along with an evening of schmoozing with the colorful celebs of Croatia. Trendy boutiques and great souvenir stores dot almost every street of the old city core.
Outside Zagreb
Shopping malls with an extremely wide variety of stores and entertainment options are located just outside the main city core. Westgate Mall is the largest shopping center in the region. An enormous children's play center, rides including a train, merry-go-round and a large arcade area along with various stores and cafes make it worth the 15 minute drive on a rainy day. City Center One East and West, Avenue Mall and Arena Center are all very close in proximity to each other, with movie theaters, bowling alleys, an endless array of retail stores and numerous cafes and restaurants they offer something for the whole family. Roses Outlet Mall and Garden Mall are more widely known for great deals and excellent discounts on brand name threads.
Dubrovnik
Shopping in Dubrovnik is less varied than the capital; however, there are still some gems to be found, especially if you are looking for local produce and more unique items. If gems are literally what you're searching for, Dubrovnik Treasures is all about handmade jewelry using a variety of semi-precious stones to create a unique keepsake of your visit. Designer boutiques can be found if you hanker after something more mainstream, Maria Boutique is a good place to start. For local produce the best place to browse is the city's oldest open air market (Gunduliceva Poljana) in the old town. Here you can pick up fresh fruit and veg as well as flowers, spices and even homemade brandy.
Split
Split is a popular tourist hotspot and as such shopping here is more varied. For those wanting to start big, Split is home to two shopping malls, City Center One being the biggest and Joker, divided over four levels and within walking distance of the center. For a more intimate shopping experience, Šuština Design tailor-makes dresses to suit your needs. With a variety of original designs and over twenty years' experience you are in safe hands. Local produce can be sought out at Stella Croatia, where jams, olive oils and other tasty treats are packaged up and ready for your suitcase. Markets are also an option for traditional items and the open air market to the east of the Diocletian Palace, Pazar, has a good selection of farm produce as well as cheap clothes and souvenirs.
The islands
Coastal destinations although not as abundant in mega shopping malls and designer stores are equally equipped with great local boutiques, excellent souvenir shops and traditional stores offering local gourmet specialties such as dried figs, local wines or olive oil.
Shopping Tips
For bargains on fresh, local produce, it's worth hanging around until markets start packing up – you never know what stock they might be looking to clear. As well as boutique food stores and local markets it's also worth checking out the supermarkets. Konzum is the main Croatian supermarket chain.
Discover
Find your perfect holiday in Dubrovnik
From 1110 hotels.