An Izmir shopping guide – where to shop and what to buy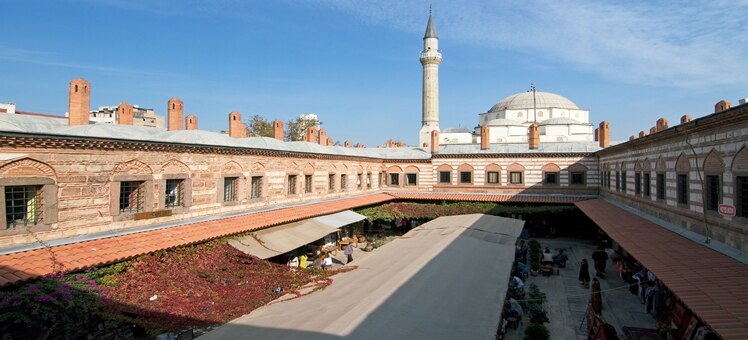 Hardcore shoppers are in for a blast in Izmir. Whether your passion is fashion, shoes, accessories, homeware, or local items, the city boasts a huge collection of shops selling every item imaginable. Walk down the streets to discover designer boutiques, antique establishments and local crafts or come across street sellers that wander from corner to corner.
If you are looking for luxury and western brand names, head to the big and bustling shopping malls in Bornova, which also offer numerous eating, leisure and entertainment opportunities. Some of the greatest shopping can be experienced in the open-air markets or bazaars, however, where you can put your haggling skills to test and find the best bargains in the area. Although Kemeralti Bazaar is the heart and soul of Izmir, don't miss out on the opportunity to find unique and original holiday souvenirs in the neighboring resorts of the city.
Kemeraltı
Get lost in the maze of Kemeralti, the historical market area of Izmir and one of the liveliest places in the region. Time will fly by as you browse from stall to stall for the best bargains in the city. Pick up items like clothing or jewelry, but be ready to barter. From Konak Square, head down Anafartalar Caddesi, the principal thoroughfare where you'll find shops specialized in different trades. For antiques and traditional craftwork like pottery and carpets, wander the glorious Kizlaragasi Han, a smaller version of Istanbul's famous Covered Bazaar.
Alsancak
If the hustle and bustle of the Bazaar isn't for you, put on your fancy garments and shop till you drop in Alsancak, the Beverly Hills of Izmir. Slightly up-market by Turkish standards, this is the place to buy fancy clothes. Alsancak's buzzing streets are full of designer outlets and most western brands, including Mango, Zara and Guess, which are open until late. Are those wedding bells ringing? Alsancak is idyllic to shop for a fairy tale wedding dress. But this area offers much more, it's also home to retailers selling Turkish goods and even to an alley specialized in American merchandise.
Bornova
Bornova houses two of the largest shopping malls of Izmir, Forum Bornova and Park Bornova. While the former offers great opportunities to shop for homeware as well as leisure and entertainment facilities, Park Bornova is Izmir's largest outlet center and boasts its own movie theaters, indoor bowling and entertainment center. Here you'll find Turkish and international fashion brands at outlet prices. Don't pass up the bazaars here every Wednesday and Sunday which sell a large variety of fresh fruits, vegetables, clothing, kitchenware and crafted products.
Agora Shopping Center
Agora Shopping Center is a shopper's delight. With an area of 29.400 m2 closed space and 89.000 m2 open space; this is the biggest mall in Izmir. From clothing to accessories, cosmetics, household items, textiles, music, book stores, electronics, movies, toys, and endless entertainment options, there's nothing you won't find in this massive mall, home to 178 national and international stores. Take a break from shopping and grab a bite at one of the many restaurants serving Turkish and international cuisine. Children won't get bored here either, as there is a huge entertainment area just for them.
Izmir shopping tips
Don't be afraid to haggle; this is a common practice in Turkey, and vendors expect you to barter for every item. If you are looking for exclusive souvenirs, hand-painted pottery and carpets made in Izmir are goods you won't find elsewhere. Don't forget to check out the shopping district of Kersikaya Carsi where you can find clothing with a traditional Izmir style. Even though this is a safe and friendly city, beware of pickpockets who mostly operate in the Bazaar area.
Discover
Find your perfect holiday in Izmir
From 240 hotels.