Where to eat in Jamaica - top spots to grab some grub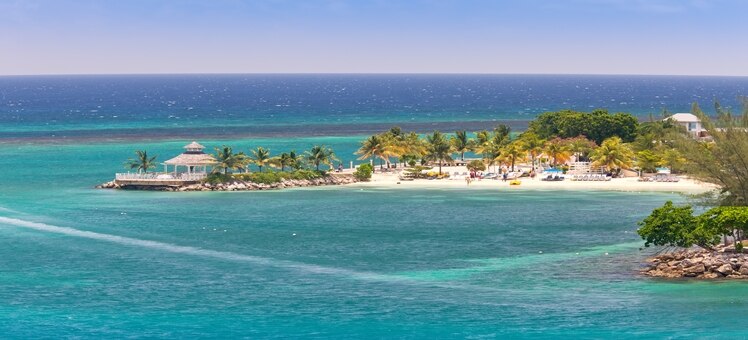 Anyone visiting the island of Jamaica will immediately be engulfed in the colorful, vibrant and varied culture, and this is wonderfully reflected in the eclectic array of cuisine they serve up. Whether you're looking for a roadside snack or a fine dining experience, you'll be sure to experience tasty treats like never before.
Throughout history, a wide range of nationalities have inhabited Jamaica, and as a result British, Spanish, African and Chinese cultures have combined to create a fabulous fusion of cooking techniques and flavors. Many people have heard of the famous 'jerk chicken' and have even tried whipping it up in their own kitchens, but there is far more to Jamaican cuisine than just that. Classic dishes include rice and peas, salt fish and even curried goat. All washed down with a hearty slug of their local rum or a can of red stripe beer.
Kingston
Just outside of Kingston in Port Royal, lies a humble yet world renowned outside eatery known as Gloria's. Although the dining area is formed of plastic seats and you'll often struggle to catch one in amongst the locals, people drive here from miles around. Due to its popularity, food does take a while, but once it gets there it is completely worthwhile. Opt for the fish dish and you'll be treated to a melt-in-the-mouth plate of heaven.
•
Gloria's Seafood
, 5 Queen Street, Port Royal, +1 876 967 8220.
Negril
Sitting elegantly on Negril beach, the Charela Inn hosts one of the town's tastiest restaurants, Le Vendôme. Inspired by both the French and Jamaican owners, the menu uses fresh local ingredients served with elegant French style. If you were thinking jerk chicken croissant you wouldn't be far off. Each night, not only do they provide an extensive a la carte menu, but they experiment with a five course gourmet spectacular which is really worth a taste.
•
Le Vendôme
, Charela Inn, Norman Manly Beach, Negril. +1 876 957 4277.
Montego Bay
The Houseboat Grill in Montego Bay is exactly as the name suggests; grilled fare aboard an old boat. Serving a sizzling selection of grilled meats, seafood and delicious sides of mashed plantain and goats cheese, just the thought is enough to get your mouth watering. On a balmy evening you can sit out on the 'moon' deck and accompany your homemade ice cream with some stargazing. With the bar flowing 'til the early hours, Houseboat Grill is a popular dig for the local middle class so booking is advisable, especially at weekends.
•
The Houseboat Grill
, Southern Cross Blvd, Montego Bay. +1 979 8845.
Ocho Rios
It wouldn't be a visit to Jamaica without the essential stop at a local jerk chicken joint. And Ocho Rios Jerk Centre (don't let the name put you off) is as traditional as it gets. One of the liveliest eateries in town, the restaurant serves jerk pork, chicken and conch as well as more alternative daily specials like the goat head soup. Whilst you're waiting for your order, grab a red stripe, catch the latest sport on the big screen and truly embrace the laid-back Jamaican lifestyle.
•
Ocho Rios Jerk Centre
, 16 DaCosta Dr, Ocho Rios. +1 974 2549.
So, if you've always loved a spot of reggae reggae sauce on your chicken, or even if you're a Jamaican cuisine novice, the island serves some of the tastiest, quirkiest, and culturally influenced food to really get your taste buds tingling.