A Rotorua city guide – volcanic landscapes, geysers and extreme sports
A Rotorua city guide – volcanic landscapes, geysers and extreme sports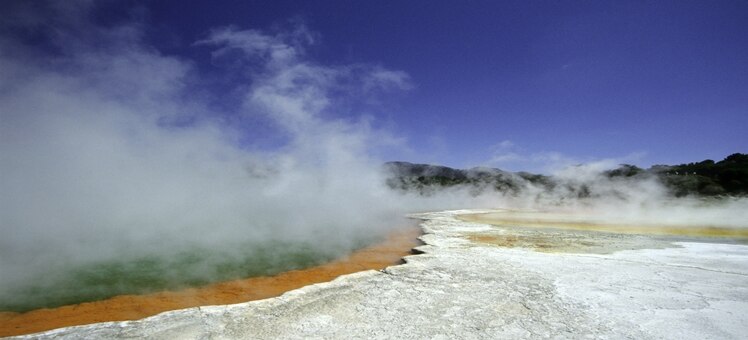 Over a million visitors a year descend on Rotorua, a city where the distinct aroma of sulphur gives away its geothermal nature. Established as a spa town, Rotorua has evolved into one of New Zealand's biggest hot spots, combining vibrant lakes, historic Maori villages and hair-raising extreme sports. To experience an extra buzz, visit during the Rotorua Bike Festival in February, or New Zealand's only reggae festival, Raggamuffin.
Adventure sports
Getting a taste of adrenaline is definitely a Kiwi speciality. Get your kicks in Rotorua by starting with the home-grown extreme sport of zorbing, where participants bounce down a hill safely inside an inflatable ball. Continue your adventure by white water rafting on the Kaituna River, jumping on a jet boat at Lake Rotorua, or braving the bungy jump over the beautifully blue Waikato River. Still not satisfied? Screw on your head for heights and either take a scenic flight with Volcanic Air Safaris, or go all out and jump from the plane, with a sky dive from 15,000 feet above nearby Taupo.
Maori culture
The region surrounding Rotorua is the hub of New Zealand's Maori culture, with nearly 40% of the population identifying themselves as Maori and a wealth of historical Maori attractions to explore. Te Puia is one of the best, combining geothermal thrills with a traditional Maori village, 'haka' performances and examples of Maori arts and crafts. In the city, Rotorua Museum documents the Maori legacy with interactive exhibits while Tamaki Maori Village allows visitors to experience Maori village life complete with a traditional 'hangi' feast. Further south, Te Wairoa Buried Village and the Wairakei Terraces near Taupo are worth a visit, highlighting the historic relationship between local tribes and unique geology of the area.
Geothermal attractions
New Zealand is the meeting place of two giant pieces of the Earth's crust, and the friction created here is centered in the Rotorua region, where geothermal pools, crater lakes and bubbling mud pools dot the landscape. Wai-O-Tapu is a must visit thermal attraction, with bubbling mud pools, lively geysers and an orange icon: the Champagne Pool. Other exciting highlights near Rotorua include Hell's Gate – with the famous hot waterfall Kakahi Falls – and the active volcano of White Island. Don't forget to take advantage of all the local hotspots by visiting a spa; book a relaxing mineral soak and massage at Polynesian Spa on the shore of Lake Rotorua.
Lakes, forests and parks
Rotorua is surrounded by lakes but it's Lake Rotorua that defines the city landscape, with water of an unusual yellowish-green hue, thanks to its high sulphur content. You can take guided tours to Mokoia Island – a place steeped in legend – and soak in the island's geothermal Hinemoa's Pool. To the south of the lake is the popular Whakarewarewa Forest, with towering redwood trees, leafy bridle paths, exciting walking trails and some of the world's best mountain biking. Further afield, but well worth the drive, is huge Lake Taupo and the thunderous Huka Falls, plus Tongariro National Park; a volcanic wonderland of waterfalls, vibrant lakes and rust red peaks.
Bay of Plenty
Less than an hour's drive from Rotorua, you'll find the beautiful coastline of the Bay of Plenty – one of New Zealand's favorite holiday destinations. Head to Whakatane, where you can go dolphin watching, try big game fishing, or take a tour to White Island, the country's most active volcano. Nearby city Tauranga is also well worth a visit, with annual cultural events including the Tauranga Moana Seafood Festival and the National Jazz Festival. If you prefer a bit of peace and quiet, explore the secluded beaches and agricultural towns that line the bay – Waihi Beach and the kiwi fruit capital of Te Puke are a couple of highlights.