Pattaya Food and Dining Guide - Restaurants, where to eat, and more
Pattaya Food and Dining Guide - Restaurants, where to eat, and more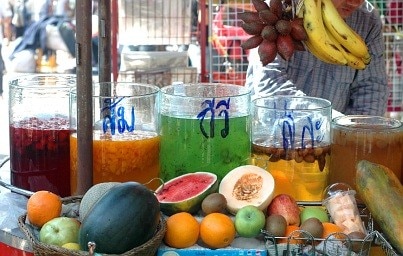 If you are after traditional Thai food, Pattaya may not be the best place to try it as most restaurants here cater to Western tastes. There are a large number of international restaurants offering food from around the world and Thai restaurants serving up standard Thai dishes such as noodles, green and red curries, and fried rice.
Street vendors serve up some of the most authentic food in the city and if you are looking for a real taste of Thailand, try to avoid the touristy areas and head to local restaurants in back lanes and toward Jomtien Beach.


Pattaya Beach
Regardless of whether it is a quick snack or a gourmet three-course meal you are after, you will find plenty to choose from all along this beach. You will find restaurants serving up cuisine from across the world as well as an assortment of tasty Thai treats. The prices are very competitive and most restaurants are open late. Restaurants and bars serve snacks all day and night and many businesses located on the beach serve up all-day breakfasts, fresh seafood and light bites.


Jomtien Beach
While Jomtien isn't as busy as central Pattaya, there are still many places to eat here and there is a much better selection of authentic Thai restaurants. You will also find an excellent selection of seafood restaurants here serving up seafood which has been freshly caught. Restaurants are generally cheaper here than they are in central Pattaya.


Naklua and Wong Amat
This is one of the quietest areas in Pattaya and as such, the choice of restaurants is not as wide. However, there is a number of hotels serving up delicious buffets and à la carte menus every day as well as a small selection of expat-owned bars serving up delicious pub grub.


Pattaya restaurants
Mantra
240 Beach Road, North Pattaya
Phone: +66 38 429 591
Mantra is a very stylish restaurant serving up favorites from Japan, China, Thailand, India and the Mediterranean. There is an à la carte menu or a set menu on offer and while are not as cheap as other places around town, the quality of the food here speaks for itself.

Green Tree
436/1 Beach Road, North Pattaya
Phone: +66 38 414 355
This is an open-air restaurant set among beautiful surroundings and serving up a wide array of Thai seafood dishes which diners can enjoy while listening to live music provided by the resident band. It is very popular with local Thais and also those who travel from Bangkok. Due to its popularity with the locals, the prices are extremely reasonable and the food is of exceptional quality.

Siam Elephant Bar and Restaurant
Walking Street, South Pattaya
Phone: +66 38 428 678
This lively restaurant is found at the end of Walking Street and is one of the most popular Thai restaurants in the city. It serves up a range of dishes in a stunning location. It boasts a lively atmosphere and is never empty. If you are visiting at the weekend, or are with a large group, it is advisable to book in advance.

Boathouse Wine and Grill
380/5-6 Jomtien Road
Phone: +66 38 756 143
The popular Boathouse grill is located in Jomtien and along with its mouthwatering grill menu, it also has an excellent selection of wines on offer. It is popular with both tourists and expats and a must-visit for anyone looking to stock up on their meat intake.

Find more information about Pattaya and hotels in the area:
Pattaya hotels | Thailand hotels