Ho Chi Minh City Food and Dining Guide - Restaurants, where to eat, and more
Ho Chi Minh City Food and Dining Guide - Restaurants, where to eat, and more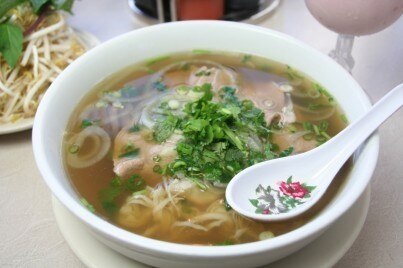 Diners in Ho Chi Minh City can sample a wide variety dishes from all over Vietnam, as well as an array of international flavors. One of the joys of eating out in Vietnam is finding quality authentic food for a cheap price. Unfortunately, restaurant prices are on the increase in the city, rising 30 percent each year, and as the city becomes more cosmopolitan, finding bargain food is almost impossible.
Pho is the main constituent of Vietnamese diet. Locals can be spotted slurping this meaty noodle broth on every pavement around the city. It's definitely worth sampling while in Vietnam and if you don't fancy dining street side, there are plenty of sanitary, air conditioned pho restaurants around.

International food is readily available in Ho Chi Minh City, and ranges from Japanese sushi to American-style hamburgers. A wide selection of fine French restaurants also adds a generous sprinkle of European flavor to the scene. International and tourist orientated restaurants are mainly located around the downtown district.


Dong Khoi
This area of downtown Saigon is home to the city's swankiest eateries, strategically dotted around the five-star hotels. Many of these upmarket restaurants offer both international food and Vietnamese dishes. Diners can choose from Brazilian, Italian, Mexican, Spanish, Chinese and other cuisines. Prices are on the high side, but you can expect excellent service and incredible ambiance.


Phu My Hung
This newly developed urban area is home to a growing dining scene catering for the Western palate. Restaurants in this area are less crowded and serve up a good selection of international and local dishes.


Le Thanh Ton
This street is peppered with mid-range restaurants catering for tourists. A long list of cuisines is on offer including Japanese, Italian and French.


Ben Thanh Market
This night market comes alive after dark, just outside the daytime market enclosure. An exhaustive list of tasty local dishes and sweet snacks are available from the many vendors.


Pham Ngu Lao
This area caters for backpackers and budget tourists. The main strip has a good selection of cafés but stray to the side streets to find the real gems.


Ho Chi Minh City Restaurants
ZanZbar Restaurant and Bar
41 Dong Du Street,
District 1
Phone: +84 3822 7375
This upmarket modern restaurant serves a wide range of international and Vietnamese cuisine, including some fantastic vegetarian dishes. The food is divine, cocktails are delicious and the mixed crowd of locals, expats and tourists, adds to the establishment's delightful ambiance.

Nam Kha
46-50 Dong Khoi Street,
District 1
Phone: +84 823 8310
This beautiful restaurant is evocative of an imperial court. Plush fabrics and elegant design create an opulent setting to enjoy the delectable Vietnamese food.

Au Manoir de Khai
251 Dien Bien Phu,
District 3
Phone: +84 8930 3394
Set in a stunning villa with spacious courtyard and lavish interior, this five-star offering was opened by Khai, Vietnamese fashion guru and owner of Khai Silk. Au Manoir de Khai undoubtedly serves the best French cuisine in Saigon.
Discover
Find your perfect holiday in Ho Chi Minh City
From 2230 hotels.