Macau Sightseeing Guide - Visit notable attractions and landmarks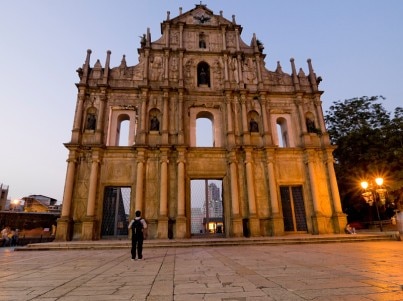 Macau features a large number of stunning colonial buildings such as St Paul Cathedral so visitors might wonder at first if they are really still in China. The Portuguese influence can be seen all over the island, making Macau a fascinating place to explore for those who are interested in architecture.
However, the Chinese influence reveals itself in Macau's ornate temples, many of which are situated atop hills to offer visitors spectacular views. Chinese Buddhism is widely practiced here, providing an interesting contrast to the Christian churches and cathedrals that were built under Portuguese rule.

There are some excellent hotels to be found as well as gourmet restaurants, many of which can be found in Macau's large casinos. Some of the casinos here are so large and lavish that they are an attraction in themselves and provide the ultimate entertainment centers once the sun sets.


St Paul Cathedral
Built at the start of the 17th century, St Paul's Cathedral is one of Macau's most impressive landmarks. Despite having been largely destroyed by a fire in 1985, visitors can still see the façade, with its splendid statues and reliefs. The cathedral is located on Rua de São Paulo in the Central Macau Peninsula.


Largo do Senado square
Located in the very heart of town along Avenida de Almeida Ribeiro, this is Macau's urban center. Also known as Senate Square, a large number of impressive buildings can be found here such as St Dominic's Church and the Holy House of Mercy. A large number of buses are available to take tourists to the square from all over Macau.


Guia Fort
Built in 1638 at the top of Macau's highest point, this pretty fort offers spectacular views of the entire region including Lantau Island. Visitors will also find the 15 meter tall Guia Lighthouse and Chapel of Our Lady of Guia. It is possible to take a cable car to the top from outside the Flora Garden, which is located on Rua do Túnel.


A-Ma Temple
One of Macau's most famous temples, this large Chinese Buddhist temple situated halfway up the western slope of Barra Hill. Visitors can climb up to the temple for stunning views of the area and to present to the sea goddess Mazu offerings of incense.


Maritime Museum
This interesting and informative museum follows Macau's maritime history. Taking a trip around the Maritime Museum features a number of colorful displays including the boats used in the Dragon Boat Festival. It is located on Largo do Pagode da Barra, Southwestern Macau Peninsula.