Beijing Travel Guide - Your destination overview of Beijing, China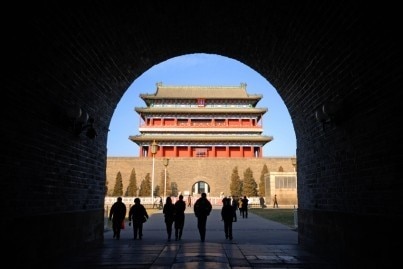 The capital of the People's Republic of China is the political and economic heart of this vast country and boasts its most outstanding landmarks and monuments including the likes of the expansive Tiananmen Square, the labyrinthine Forbidden City, and part of the iconic nearby Great Wall of China.
The city is split into several districts that converge on downtown Beijing, each with its own historical flavor and cultural nuance. Most tourists will never need to deviate from the main neighborhoods, apart from when visiting the Great Wall and prominent outlying temples, as everything is contained within the city center.

The most popular districts in downtown Beijing come with plenty of historic sights, along with extensive shopping and dining options and a dash of entertainment.


Dong Cheng district
Dong Cheng is the heart of Beijing and has the main attractions. Tiananmen Square is in Dong Cheng, along with Mao's Mausoleum and the Forbidden City. It is decidedly touristy, meaning there is also lots of eating, shopping and hotels.


Chong Wen district
Chong Wen lies just south of downtown Beijing and is particularly famed for the Temple of Heaven. Chong Wen is also home to the bustling Hong Qiao Market where tourists can haggle for everything and anything.


Wang Fu Jing district
This is the main shopping area of Beijing and is largely traffic-free along Wang Fu Jing Road. It is quite hip and modern and loaded with malls and markets, with Sun Dong An Plaza and Wang Fu Jing Night Market being prime examples. Hotels in Wang Fu are also in abundance.


San Li Tun district
San Li Tun is a fun part of northern Beijing and is popular with tourists and expats due to its bars and clubs. The district is centered on San Li Tun South and San Li Tun North and comes with a decent amount of shopping at San Li Tun Market.


Jian Guo Men Wai
Lying just south of San Li Tun, Jian Guo Men Wai is a posh, business-like region of Beijing, having some of the tallest real estate and widest roads in the city. There are major hotels and shopping areas here, like Silk Alley, and visitors staying here are well placed for seeing the city's big attractions.


Hai Dian district
This is the university district, which lies in northwest Beijing and is trendy and young at heart. There is some good, cheap eating and shopping here along with mid-range guest houses and hotels.