A United States of America travel guide – awe-inspiring national parks, action-packed cities, and lip-smacking local dishes
A United States of America travel guide – awe-inspiring national parks, action-packed cities, and lip-smacking local dishes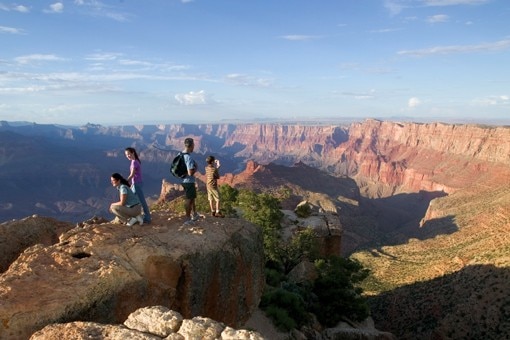 Vacations in the USA mean everything from skiing down rugged mountains to sunbathing on world-famous beaches. Book a United States hotel to discover a country with a city to suit every personality and mile after mile of beautiful wilderness.
Get your bearings
Bookended by the Pacific and Atlantic oceans, and bordered by Canada and Mexico, the United States of America is a mural of wide open spaces dotted with urban centers. Dense forests, sloping green hills and cultural hotspots like Boston and New York flow south from New England to the grassy plains of the Midwest. The genteel south rises from the swamplands near Miami and New Orleans and moves westward across the deserts of Texas and New Mexico. The rugged Rocky Mountains give way to the Grand Canyon. This, in turn, leads to the beaches of southern California and its cosmopolitan centers of Los Angeles and San Francisco.


Diverse cities
For a cultural holiday in the United States, start in New York City with a tour of the Metropolitan Museum of Art. Art Deco fans can drive by the mansions on Miami's South Beach or marvel at the colonial Spanish townhouses of New Orleans's French Quarter. Willis Tower (formerly Sears Tower) stands tall over the Chicago skyline, and glitzy Los Angeles lays out the red carpet for its Hollywood stars. Art and music thrive in San Francisco, while slot machines rattle under the casino lights in Las Vegas. See the Liberty Bell in Philadelphia or tour the White House in Washington D.C., the nation's capital.


A shopping paradise
Every possible type of shopping awaits you in the United States, from Madison Avenue in New York City to Chicago's Magnificent Mile. Find local art and jewelry in New England and New Orleans, or search for Native American trinkets in Utah, Arizona and Washington. Fashionistas can hunt for the latest designs on Rodeo Drive in Los Angeles or Union Square in San Francisco.
Culinary showcase
Book a United States hotel and taste food from every corner of the world. In the northeast, try the succulent Maine lobsters, or dig into Pacific Dungeness crab in Seattle. Pizza lovers will salivate over Chicago's deep-dish pies or the wood-fired thin crust of a New York City pizza. In the south, eat smoky barbecued dinners in Memphis or spicy crawfish etouffee in New Orleans. For dessert, try Florida's key lime pie or Washington State's apple pie.


Great outdoors
The rugged Atlantic coastlines of Maine and Cape Cod's beachside hamlets invite cool morning strolls. The white-sand beaches of Florida and southern California provide ample spots for sunbathing and swimming. Take a raft along the white-water rapids of the Grand Canyon, or navigate a canoe through the lush islands of Seattle's Puget Sound. Skiers will have their pick of the mighty slopes of Vail and Aspen in Colorado. Yellowstone National Park provides scenic vistas and diverse wildlife – see it all up close on a bike. Bring hiking boots for a trek through the rocky red canyons of southern Utah, or comfortable shoes for a stroll through New York City's leafy Central Park.