A Seattle travel guide – a young and glittering city surrounded by sea and mountains
A Seattle travel guide – a young and glittering city surrounded by sea and mountains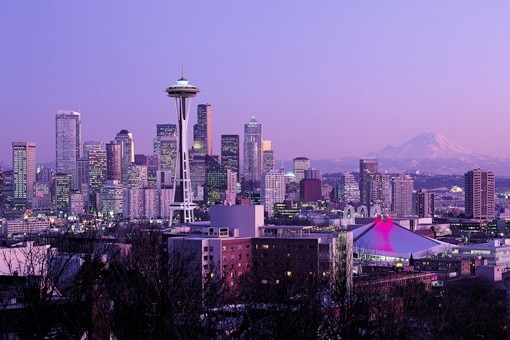 Experience the best of the Pacific Northwest on your Seattle vacation. Get active exploring Puget Sound and the Cascade Mountains, examine Indian art and natural history in one of many museums or feast on fresh-caught seafood. Use your Seattle hotel as a base for discovering this Pacific coast jewel.
Get your bearings
Water defines Seattle. Puget Sound forms the western boundary of the city, mirroring its glittering Downtown high-rises and separating Seattle from the slower-paced San Juan Islands and Olympic Peninsula. East of Downtown, Lake Washington creates a buffer between busy Seattle and suburban Bellevue, home to moderately-priced shopping malls and seafood restaurants. The eclectic University District with its hodgepodge of boutique shopping, cafes and theatres is wedged between Union Bay and Lake Union, while the northernmost tip of Lake Washington nourishes Seattle's wine country near Woodinville.


Mountain and sea
Cheerful white avalanche lilies speckle the hiking trails of Mount Rainier National Park and thickets of fern glisten under heavy dew at Olympic National Park. Both parks are favorites of outdoor types in Seattle during summer. In winter, locals head for the mountains near Snoqualmie for skiing. For kayaking and other waterborne activities, Puget Sound is not far away. The telltale splash of black and white orcas rewards sightseers on whale-watching cruises from the San Juan Islands.


Fresh seafood and Asian flavors
Expect fresh-caught seafood dishes citywide, thanks to Seattle's marine location. Pike Place Market displays giant crab legs and fresh salmon nestled atop mounds of crushed ice. A colorful array of fresh peaches, berries and apples complement the seafood, as do oversize bouquets of fresh-cut flowers. Celebrate Seattle's history as America's Pacific gateway, dining on Asian stir-fries or Korean bulgogi in family-owned restaurants in the International District.
Culture
The Seattle Art Museum is the place for Northwest Coast Indian artworks, bold and colorful in their depiction of Pacific birds and sea creatures. The Asian cultures that helped settle this city take center stage at the Seattle Asian Art Museum, its display cases filled with delicate calligraphy and celadon (Chinese porcelain). Jimi Hendrix, Nirvana and Seattle's home-grown grunge music scene stand in stark contrast, their songs exploding from within the walls of the Experience Music Project interactive museum.


Urban parks
Use your Seattle hotel as a base for exploring the city's urban parks. Discovery Park near Salmon Bay provides a quick dose of nature with shaded hiking trails. Stretch out on a beach and watch colorful sailboats dotting Puget Sound. Green Lake's paved walking paths are perennial family favorites, allowing for easy strolling and inline skating. Gasworks Park on Lake Union forms a green oasis near the University District where you can feed the ducks against a backdrop of Seattle's skyline.