A Portland travel guide – gallery walks, green spaces and mouth-watering seafood
A Portland travel guide – gallery walks, green spaces and mouth-watering seafood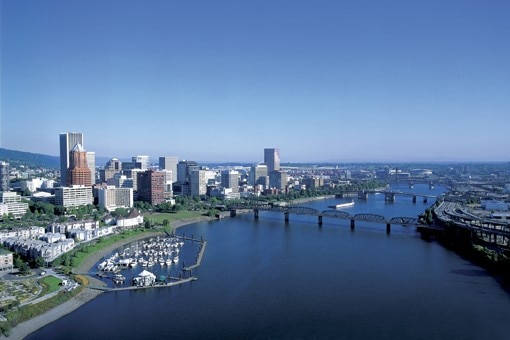 Expect delightfully varied and unique experiences during a Portland vacation. Against a scenic hillside backdrop lies a jumble of sophisticated restaurants, colorful gardens and galleries, and lively brewpubs. Book a Portland hotel and discover its intoxicating treasures.
Get your bearings
The Willamette River flows through Portland's center, creating a natural dividing line between east and west. Burnside Street travels between the two. On the west bank, below Burnside, downtown thrives with upscale restaurants and hotels, beckoning art lovers with performing arts centers and the Portland Art Museum. Above Burnside is bustling Chinatown and The Pearl District, where night life sizzles with cafés, galleries, wine bars and stylish restaurants. To the west lies the Victorian enclave of Nob Hill, home to sophisticated shopping and some of the city's finest restaurants. East of the river lies funky Irvington, filled with specialty shops and laid-back bars.


Getting outside
Rent a bike or hike the verdant trails of Forest Park, where more than 100 species of birds flutter in towering old-growth trees. Washington Park is worth visiting for the tranquil ponds and vibrant- colored flowers of The Japanese Garden. Nearby, the sweet fragrances of the International Rose Garden beckon. Rent a kayak and paddle around Ross Island on the Willamette River for a skyline view. Or ride through downtown on a vintage street car. Get up early at your Portland hotel to beat the crowds for a peek at the elephants at the Oregon Zoo.


Where art thrives
European impressionist paintings vie with intricately crafted American Indian artefacts at the Portland Museum of Art. The Oregon Symphony makes its home, and some exhilarating music, at Arlene Schnitzer Concert Hall. Art lovers can spend an afternoon browsing the art galleries in the Pearl District. And during First Thursday Art Walks, galleries stay open late to show their newest exhibits, often offering local wine and enticing hors d'oeuvres. In summer, spread out a blanket on the grass at the Oregon Zoo for a picnic and a free concert.


Regional delights
The nearby Pacific provides Portland with a bounty of tasty treasures. Pair an icy plate of Pacific oysters with a pint of Widmer wheat beer at a cozy brewpub. Treat yourself to a succulent sturgeon filet at a restaurant with a Willamette River view. Or stop for a sample flight of Oregon's wines at a stylish Pearl District wine bar. Linger over a double espresso in a café while pondering your next Portland city vacation.


Shopping local
The well-heeled step out at Nob Hill to browse the hip jewelery and clothing shops. Funky specialty stores set in stylish lofts are common in the Pearl District, home to world's largest bookstore, Powell's City of Books. Downtown, upscale chains like Tiffany and Nordstrom line the blocks around Pioneer Square. Across the river, Hawthorne outfits its patrons with vintage clothing from one-of-a-kind boutiques. Stay the weekend to sift through the bounty of homespun crafts at the Portland Saturday Market.