Days Inn Bridgend Cardiff M4
M4 J36 Motorway,

Bridgend,

Wales,

CF32 9SY,

United Kingdom

, ‏

‎855-238-1590

‎
< Previous

Page 1 of 3

Next >
"Just fine for what we needed: clean and quiet"
The location is not ideal for many things: restaurants and services in particular. However, for going out to see the sights in the surrounding countryside, it was very satisfactory. There are many things for history buffs like us to see all over Wales. This motel's location next to the freeway and other main highways (such as they are in Wales) made it easy to drive out to see what we wanted to see and to find our way back to the motel. The staff were friendly and helpful. It would have been nice to have a second chair in the room for the writing desk and a small table suitable for board games. We play cribbage at lunch every day.
Genuine Hotels.com guest review
"Overnighter on a drive."
Functional good clean place. Excellent staff.
Genuine Expedia guest review
The staff were really friendly and helpful, the room was big spacious and very clean, extra tea and coffee in the reception if needed, our stay there was great, and it's 2 mins away from the shopping outlet. We would definitely stay there again.
Genuine Venere guest review
Bridgend town centre lacking in quality restaurants.
Genuine Venere guest review
"Very accomodating staff"
I couldn't be happier with this Days Inn. We arrived about 10 a.m. after a 20 hr. flight from Utah. The staff was able to make us a room available very quickly even though we were way early for checkin. There is a major grocery store about 15 mins. (walking) away. The only thing I would do differently is ride a train from the airport to Bridgend - then take a taxi to the hotel (5 pounds). I will most likely visit Wales again AND use this hotel.
Genuine Hotels.com guest review
In the request section of my reservation I asked for 2 single beds. I reserved 2 weeks ahead, but still had a double bed. So my buddy went to sleep on the pull out couch and found a dirty plate tucked in the bed... The staff was friendly, but the cleanliness was terrible. Also, our door did not lock unless we physically locked it from the inside and tugged on it to shut. We spent an entire day away from the room and came back and I simply pushed on the door and we gained access to the room. Not that impressed.
Genuine Hotels.com guest review
Excellent service, value, staff and great location for travelling around South Wales. Only downside was the clientele was primarily males and that maybe a bit intimidating for lone female travelers. Overall, I would not hesitate in returning and would definitely recommend the hotel.
Genuine Venere guest review
The following English reviews were posted by hotels.com guests from other countries:
"Worst hotel stay I've ever experienced!"
What an absolute disaster of a night. Started well room looked clean and reception staff were friendly. However it quickly went down hill. Not only were 2 guests given access to my room and strolled in at 6am in the morning whilst I was in bed but also the cleaners strolled in just after 11am after I'd paid an extra £10 for late checkout at 1pm and then made a point of shouting Well tell her to get out of the room it's gone 11 Finally the location of the room meant that there was so much noise from guests when leaving the hotel and doors slamming meant that I doubt I got more than 3 hours sleep last night. What an absolute joke! Can honestly say I am absolutely exhausted after staying there and can honestly say I will NEVER stay there again or recommend anyone else too. Have no idea why it has a 2 1/2 star rating on trip advisor because it would be lucky to get 1 star. I know it's a budget hotel but surely you can expect them to get the basics right at the very least Worst £44 I've spent
Genuine Hotels.com guest review
No internet. No bath only shower no nearby restaurants would not stay again
Genuine Hotels.com guest review
"Pleasant stay, clean room and welcoming!"
Nice clean room, great bathroom and comfy bed. We wasn't in the room a lot just over night but the stay was pleasant and the staff were nice and welcoming. Would recommend as a place to stay between journeys or just to rest your head of a night.
Genuine Hotels.com guest review
"Great stop over stay would recommend"
Staff on reception very pleasant we arrived late with 2 young children who were tired and crying the front desk staff calmed Them giving them little treats and we went straight to our room which was spotless! Breakfast the next day was lovely great choice very clean and food of a high standard
Genuine Hotels.com guest review
Stayed for 3 nights during the rugby world cup. The hotel was very reasonably priced compared to other options. You either need your own car or to take taxis to and from the hotel. Walking is not an option. The staff were extremely friendly and helpful. The hotel itself is basic but fine. Could have been a little cleaner.
Genuine Hotels.com guest review
Stayed due to watching Rugby in Cardiff. Had 2 rooms - one was perfect. The other hadn't been completely cleaned and previous guests towels were still on the floor and the bed wasn't made. Very close to motorway so can be heard throughout the night. Cost £70 for the room for 2 people. Wouldn't advise anyone to stay unless cheaper per person or desperate.
Genuine Hotels.com guest review
Staff were helpful. Decor a bit tatty. Ripped chairs downstairs etc. Bath hadnt been cleaned as i had to rinse away black hairs, but apart from that it was very good.
Genuine Hotels.com guest review
"Little tired, but improvements being made."
Ultra helpful and friendly staff at this former Travelodge site. Plenty of coffee / tea / sugar / milk available in foyer or upon request. Nice to still have a bath in the recently spruced up bathroom, and to see that further improvements are ongoing. Good value price. Could do with better signage and lighting to the premises from the main round and on the roundabout, as the hotel is not immediately visible.
Genuine Hotels.com guest review
Staff were very friendly and helpful, would definitely stay here again
Genuine Hotels.com guest review
A quick stay over and it do the job
Genuine Hotels.com guest review
The staff are very friendly and courteous and made you feel welcomed. I feel the hotel could do with some updating,especially the beds and bedlinen as they need replacing.
Genuine Hotels.com guest review
2 broken beds. Only 2 plug sockets in whole room and lights that didnt work
Genuine Hotels.com guest review
Everything in relation to the stay was fine.
Genuine Hotels.com guest review
"Close to retail stores / Sainsburys etc."
Location is a good place to explore south Wales / Swansea.
Genuine Expedia guest review
i injoyed my stay with my 3 grandchildren right up till the last night while we was all doing a clean up ready to leave in the morning my 5 year old granddaughter found some sexul pleasure juice thing from under the bed did upset me a little to think that it wert picked up by the cleaners did hand it into the man on dutie that morning which would of been the 14th would stay again but be cheacking under beds from now on bad enuff for a adult to find something like so but 5 year olds don't need to now things like so many thanks Teresa
Genuine Hotels.com guest review
Staff were helpful, I asked to change room as there were a few things wrong with the room that I was in, they did it straight away and apologised. Good location for getting out about.
Genuine Hotels.com guest review
I was a bit worried about staying in a hotel at services but was pleasantly surprised! The young man on the front desk was very professional and very helpful, the room was spotless and the shower was great! I never sleep well at hotels, this time I slept like a log! Will definitely stay there again! And just to add we were by the motorway but it was quiet and we were in walking distance of the shops and cinema etc
Genuine Hotels.com guest review
I had no problems finding this Hotel, although I had read it was difficult on some web sites. Whether travelling West, or East - Leave the M4 @ J36 and follow the signs to the Services. Reception provided a Speedy, Efficient check-in, which was also warm and friendly. All staff I spoke to were Very Helpful, and Very knowledgeable about the surrounding areas. I asked twice for directions to places I wanted to see, and was given an alternative route easier to the ones I had in mind. Local knowledge is a fabulous thing to have on tap when your travelling. Plenty of easy parking available.
Genuine Hotels.com guest review
"Not a Pleasant Hotel Experience"
wasnt a pleasant experience. was given a smoke room and i had no other choice. room had no air conditioning so was stuffed in smoke. worst hotel experience in my opinion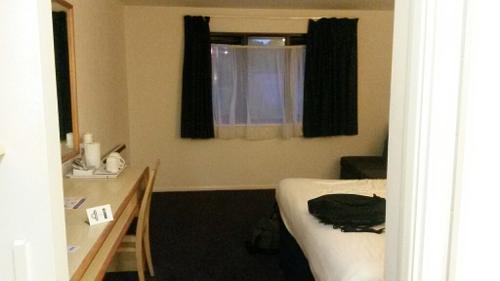 Genuine Hotels.com guest review
3 Adults one child and a dog, three nights, very tight budget. I did not fancy camping as I didn't want to get wet and cold, my knees demand a high bed and my bladder wants a loo...well, when it wants a loo! I was lucky enough to get a double smoking room with sofa bed for approx the same price as a tent with electric hook-up . The receptionist made us feel very welcome. The room was basic, clean and, because it is a smoking room there was a very feint smell of cigarettes - although I am a non-smoker the slight odour did not bother me - it is a smoking room after all! The hotel is just off the M4, but traffic noise was distant - even though we had the windows open all night long. Bed was very comfy, the curtains blacked out the early morning light...great! The shower was hot enough with shower jel and soap dispensers and towels. We had to ask reception for an extra one as we only had three, we also asked for extra pillows. As far as I remember, the sheets were not changed for the three nights we were there but towels were and room cleaned daily. Some may find this all very poor service and give the hotel a bad review...I say, I don't change my sheets every day at home and don't expect it from a basic hotel, laundry and staff costs and I would rather the price be kept down and shower at night to keep my sheets clean then to have unnecessary bed changing! If you want fancy service go find a fancy hotel with a fancy price. Me? I'm just glad I wasn't camping!
Genuine Expedia guest review
Good quality hotel.
Genuine Hotels.com guest review
"Hotel stunk of smoke. So we left without staying"
Very disappointed. Room was very. Smoky ...couldn't stay
Genuine Expedia guest review
Didn't stay. Much too smoky. Smell of smoke too overpowering
Genuine Hotels.com guest review
"Hotel OK, services limited"
Stayed one night - hotel is basic but fine, the actual services has minimal meal options, Burger King or Starbucks...was surprisingly quiet in my room given the proximity to the M4.
Genuine Hotels.com guest review
Just the one night as seeing family cheap hotel limited facilities as to be expected but staff were very polite and extremely helpful days inn need to spend some money on the hotel but staff are exceptional
Genuine Hotels.com guest review
Stayed for 2 nights with 2 teens to see 1d concert . Staff were fantastic extremely helpful couldn't do enough, even when we overslept Location just off the m4 so good base with Porthcawl about 20 mins away and shopping village round the corner
Genuine Hotels.com guest review
I was a little worried about staying here as its next to the services and I am a bit of a clean freak. But to be honest it was fine. The room was clean the bathroom was clean. there is a pub, supermarket and an outlet just 2 minutes drive away. The train station is only down the road if you want to go in to Cardiff like we did. The service from the staff was amazing!!! could not do enough for us. Well worth it.
Genuine Hotels.com guest review
"Ground floor rooms for families with children."
Had real problem with family in room above ours. Very noisey child, jumping on/off bed and thumping around room until gone 11.00pm. I brought this to staff's attention but was told I would have to speak to family myself. I approached parents but they denied their child was causing problem and noise continued. Requested another room for 2nd night's stay and staff obliged, thank goodness. 2nd night very peaceful! Can I suggest where possible, families with small children are put in ground floor rooms where possible.
Genuine Hotels.com guest review
Fabulous stay for minimal money. Very comfortable and exceptionally big hotel room with very pleasant staff who were more than helpful. If you ever stay here make sure you ask where the local pub is as its a little gem.
Genuine Hotels.com guest review
Really enjoyed it . Second time visited . Nothing to complain about really . Some mornings received free paper with breakfast and others not but all in all great sleep with lovely comfortable beds .
Genuine Hotels.com guest review
Room 7 stayed a week excellant bed large room, the hotel offers communial use of microwave and toaster. Close to Odeon cinema designer outlet, restaurants. Close to motorway for acces to all locations. Sign up for Welcome /daysinn loyalty card first to get extras. Very good rates.
Genuine Hotels.com guest review
"Hotel was ok, massive room. free wifi"
Hotel was ok. The room was massive, with a double bed and a double sofa-bed, much bigger than any other hotel room I have been. Free wifi. Positive is that shortbread was in the room, but only 2 out of 3 days. Bed was not made every day, as I find more commonly in this big chains.
Genuine Hotels.com guest review
Good value,spacious room.
Genuine Hotels.com guest review
"Adequate but left things to be addressed"
Ran out of milk and breakfasts
Genuine Hotels.com guest review
"Very clean. Everything I needed. Friendly staff."
With such a reasonable price (I paid £70 for 2 nights), I wasn't expecting too much to be honest. But it was lovely. Very clean, and the corridors smelled of lovely fresh cleaning products. The bed linen was crisp, white and clean, and the bed was sooo comfy (nice double for just me). The downstairs rooms, which I was originally checked into, had a brand new bathroom and just a shower (double), which was lovely, but after a day of driving I was dying for a soak in a bath, I asked at reception and was conveniently moved with no problems at all to an upstairs room with a bath. The staff were friendly and helpful. Nice smiles from the chambermaids. Tea and coffee in the room, TV, free wifi. Very spacious room. I had a back room with a lovely view of the mountain. I also thought it would be noisey being quite close to the motorway but I could hardly hear it and slept like a log. Very pleasant and convenient. Well recommended.
Genuine Expedia guest review
"Our 2 night stay at Days Inn Bridgend Cardiff"
It was really nice and the staff were brilliant. They sorted out any minor problems and gave directions of places to go. Even offered us the chance to have a takeaway delivered.Only down side they dont do cooked breakfast. But overall great value for money.
Genuine Hotels.com guest review
Had a lovely time wond come back again
Genuine Hotels.com guest review
Was very good, wish I had longer there. I stayed just because I wanted a break anywhere but for people who need a quick break since its a welcome break, it would be excellent.
Genuine Expedia guest review
"Many thanks for a great service"
Very impressed with our recent 7 night stay there to visit family. Hotel was spotless, room was large, huge shower in bathroom, plenty of parking and staff were extremely friendly. Highly competitive room rate, which made our stay affordable for 7 nights. In all honesty, I didn't expect the hotel to be as nice as it was for that price, so we were very pleasantly surprised. Will be staying again next time we visit. Highly recommend.
Genuine Hotels.com guest review
Stayed recently for a friends wedding, we arrived early Saturday but staff were great and let us into a spare room to freshen up and get changed. Rooms were basic but comfortable and offered great value for money
Genuine Hotels.com guest review
Nice location for a flying visit to cardif, staff friendly. Room dirty, beds uncomfortable. Would not stay again. But suppose you get what you pay for....
Genuine Expedia guest review
it's so good, clean, nice.... we saw rabbit at night
Genuine Hotels.com guest review
More than adequate for the price, only downside is a lack of onsite food and drink facilities, you either go to the service station or across the M4 junction to get cooked food.
Genuine Hotels.com guest review
Reviews and ratings contained within this site are the subjective opinions of customers and suppliers; they do not represent or reflect Hotels.com's position. Neither Hotels.com nor the parties involved in providing review content shall be held liable for any damages of any sort resulting from use of these reviews
< Previous

Page 1 of 3

Next >